---
DEVELOPMENTAL DISABILITY SERVICES
---
Caseload of Children Under Age Three Has Increased At a High Rate
Individuals with developmental disabilities reside in developmental centers (DCs) or receive services in the community through regional centers. As shown in the graph, the number of clients residing in the community has been increasing in recent years, and will grow significantly (23 percent) between 1993 and 1994 for clients under three years of age. This was due primarily to the implementation, in October 1993, of Part H of the federal Individuals with Disabilities Education Act, which:
Expanded DDS's responsibility for early intervention services provided to infants and toddlers, under three years of age, and their families;
Led to the implementation of a funding cap on early intervention services provided by the Department of Education, resulting in increased referrals to regional centers for assessment and treatment services; and
Funded public awareness and outreach activities.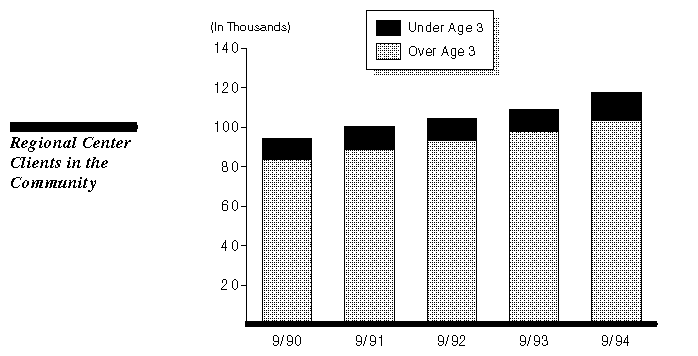 ---
Many Developmental Center Clients Are Being Placed in the Community
Due primarily to the settlement of the Coffelt v. Developmental Services lawsuit, there has been an increase in the placement of DC residents in the community and a significant decrease in admissions to DCs. The DC population is anticipated to decrease from 6,544 at the end of 1991-92 to an estimated 5,265 residents at the end of 1994-95--a reduction of 20 percent in three years.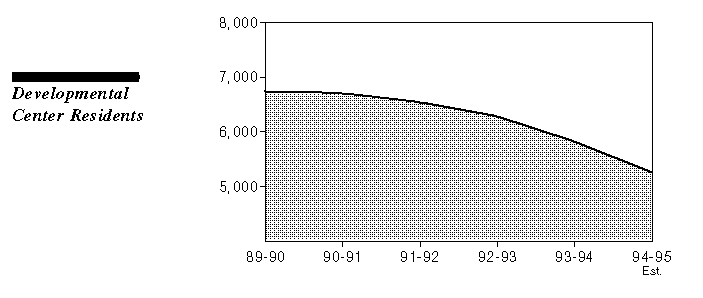 ---
While Most Developmental Center Clients Require Intensive Services in the Community, Net Savings Are Still Substantial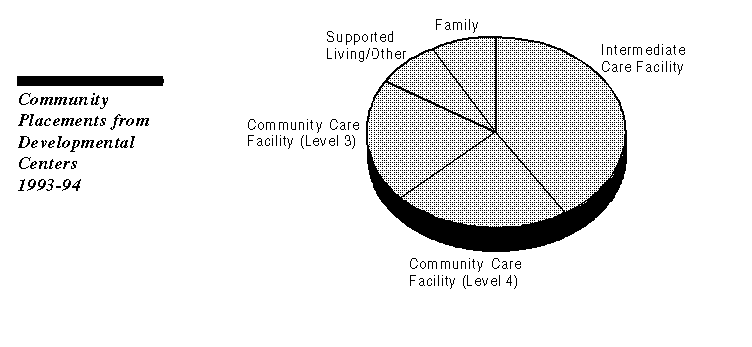 Of the developmental center clients placed in the community in 1993-94, 63 percent were placed either in intermediate care facilities (licensed medical facilities) or in the highest service category ("level 4") of community care facilities. The average cost for a DC resident is about $92,000 per year, while the average cost for a DC client placed in the community is estimated to be approximately $45,000 per year.
---
ALCOHOL AND DRUG PROGRAMS
---
Drug Use Often Initiated During Teenage Years
Heroin and alcohol users constituted 42 percent and 30 percent, respectively, of total admissions to treatment programs in 1993-94, while amphetamine and cocaine users each accounted for approximately 10 percent of admissions.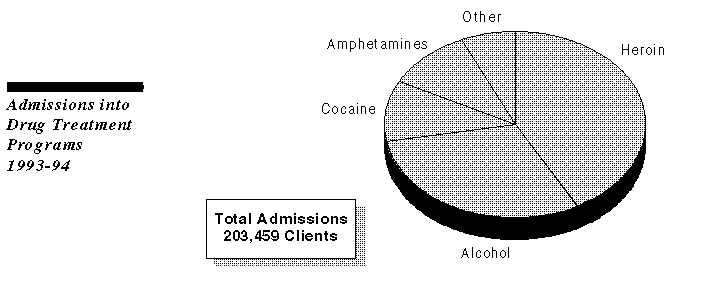 About 50 percent of all clients who received treatment in 1993-94 first used the drug before age 18. This suggests that prevention efforts should be targeted towards school-age youth.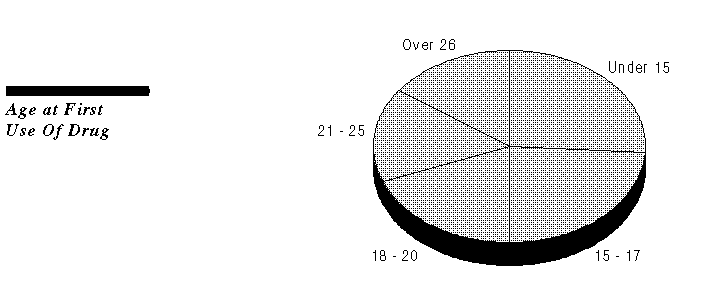 ---
Type of Drug Use Differs By Ethnicity and Race
The figures show that Whites constituted 78 percent of amphetamine users, 57 percent of alcohol users, and 45 percent of heroin users entering treatment programs. On the other hand, Blacks were 57 percent of cocaine treatment admissions and 13 percent of heroin admissions.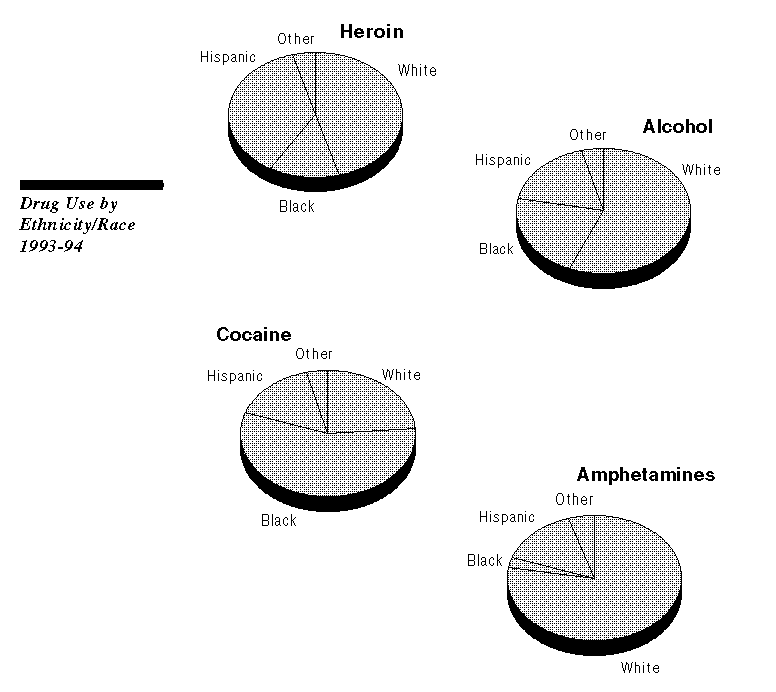 ---
Return to Cal Guide Table of Contents