---
FUNDING TRENDS
---
State Aid a Reduced Share of School Funding
The two largest funding sources for schools are state aid and local property tax levies. Since 1985-86 support from state funds has grown at a much slower rate (36 percent) than support from local property tax levies (163 percent). This is due to a shift of $3.5 billion in local property tax revenues to schools from other local government entities in 1992-93 and 1993-94.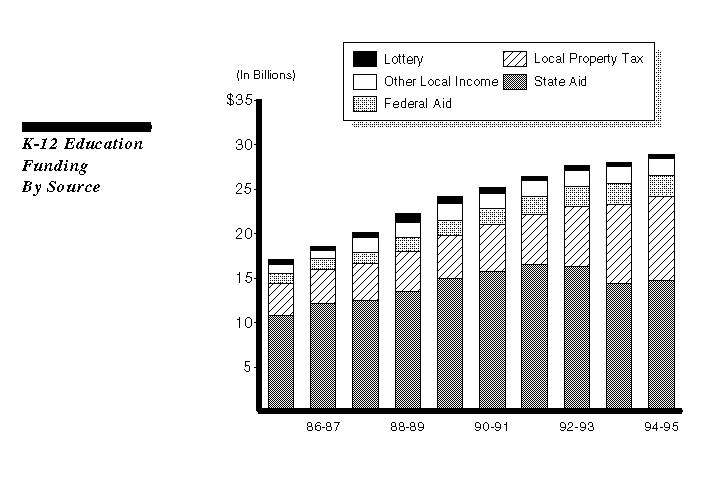 ---
Inflation-Adjusted Funding Per Pupil Has Declined Since 1989-90
Funding per pupil has increased since 1985-86. On an inflation-adjusted (constant) basis, however, it has declined 7.3 percent since 1989-90.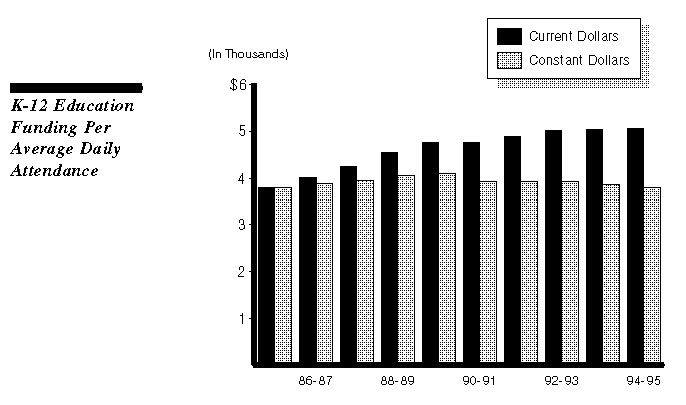 Because per-pupil funding has not kept pace with inflation, school districts have faced shortfalls in developing their budgets the past several years. They have reported using the following strategies to cope with these shortfalls:
Consolidation of functions and reduction of administrative, maintenance, and custodial staff.
Elimination or reduction of instructional support.
Elimination or reduction of pupil support programs.
Elimination of athletics and other extracurricular activities, or shift of costs to participants and/or community support groups.
Increases in class size; elimination or reduction of elective programs.
Imposition of caps or reductions in employee compensation.
---
California's Spending Per Pupil Has Dropped Below The National Average
In 1983-84, California's spending per pupil was about equal to the national average. In 1992-93, it is estimated that California's spending per pupil was about 13 percent below the national average.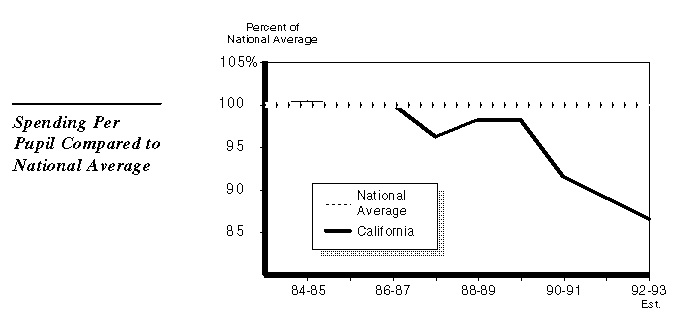 California's spending per pupil is now the lowest among the ten most populous states.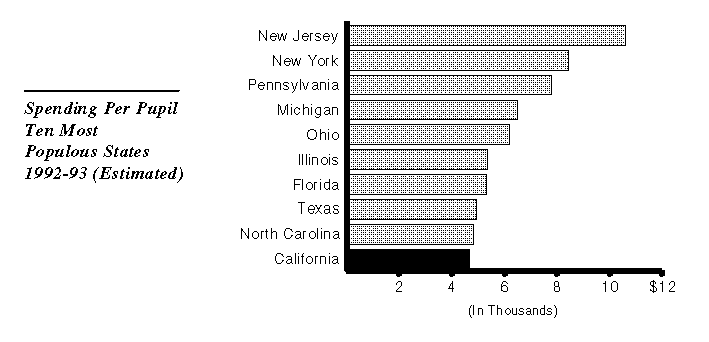 ---
Return to Cal Guide Table of Contents