---
BENEFITS
---
Retirement Benefits: Most State Employees Are PERS Members
As part of overall compensation of state employees, the state contributes to various retirement benefit plans. Most full-time state employees are mandatory members of the Public Employees' Retirement System (PERS). The table lists the active state employee members of the PERS and other state retirement systems as of June 30, 1993.

---
PERS Retirement Plans
Most full-time state employees are mandatory members of the PERS, and are entitled, after specified periods of service, to defined retirement benefits. Employees are members of one of seven benefit plans, based on the nature of their position. Each of these plans has distinct benefits, all of which are specified under state law, and are contractual obligations of the state to current and retired employees. The following chart summarizes eligibility for these plans.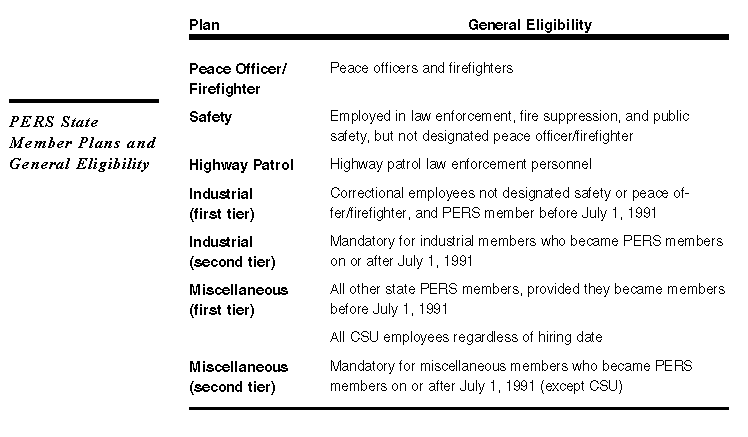 The following chart lists the seven retirement plans for state members with the number of active members and retirees.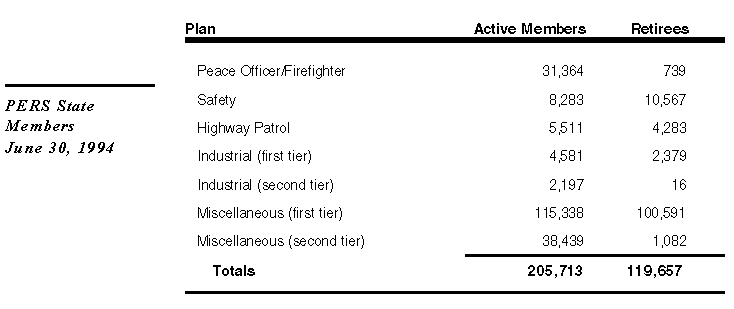 The three plans pertaining to public safety employees generally provide for better benefits at earlier retirement ages than do the miscellaneous and industrial plans. All the plans provide an annual cost-of-living-adjustment (COLA) to pensions (up to 3 percent for second tier miscellaneous and industrial; up to 2 percent for others).
If sustained inflation occurs at higher rates, the Purchasing Power Protection Account in the PERS trust fund provides supplemental pension payments, provided adequate funds are in the account. These supplemental payments are intended to maintain pensions at no less than 75 percent of their original purchasing power.
The following chart displays the major features of the PERS retirement plans for state employees.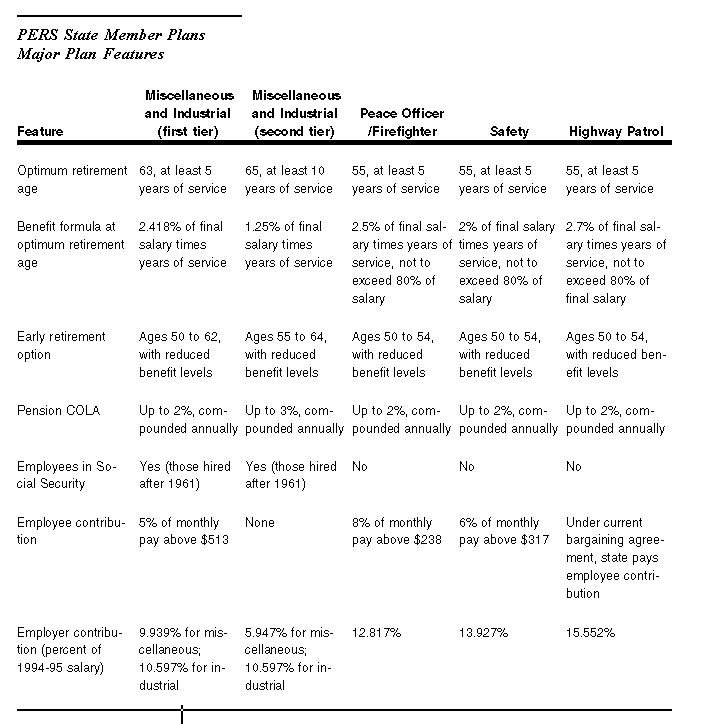 ---
State Provides Health Insurance For 188,000 Employees And 87,000 Retirees
As part of overall compensation of state employees, the state pays all or a significant part of employees' health insurance premiums. The state provides similar benefits to retired state employees and their qualifying survivors.
The Public Employees' Retirement System (PERS) administers health insurance benefits (1) for state employees and retirees and (2) on a contracting basis, on behalf of more than 800 other public entities in California. Each year the PERS and medical providers negotiate contracts specifying the benefits and premium amounts for a variety of health insurance plans from which employees and retirees may choose. For the contract year beginning in August 1994, the PERS had contracts for 24 "basic" medical plans and 24 "supplement to Medicare" plans.
Under basic medical and supplement to Medicare plans, services are provided in one of two general ways:
Health Maintenance Organization (HMO) Plans. HMOs require enrollees to obtain services from specific medical providers (doctors, hospitals, pharmacies, etc.) who contract with the HMO. A "primary care physician" is assigned to coordinate the enrollee's health care services, including referrals to specialists and other providers. These HMO features are designed to lower medical care costs. Consequently, HMO plan premiums tend to be lower than premiums for preferred provider organization plans.
Preferred Provider Organization (PPO) Plans. These provide enrollees the option of receiving medical care either from a list of "preferred providers" or from other doctors, hospitals, laboratories, etc., on a fee-for- service basis. Generally, however, a PPO plan pays a smaller percentage of the bill when services are received from a nonpreferred provider.
More than 188,000 state employees (including California State University), who work on a half-time or more basis, are enrolled in health insurance plans paid for wholly or in part by the state. Almost 90 percent of these employees enrolled in HMO plans. In addition, over 87,000 state retirees are enrolled in these plans. In contrast to state employees, over one-half of retirees are enrolled in preferred provider organization (PPO) plans.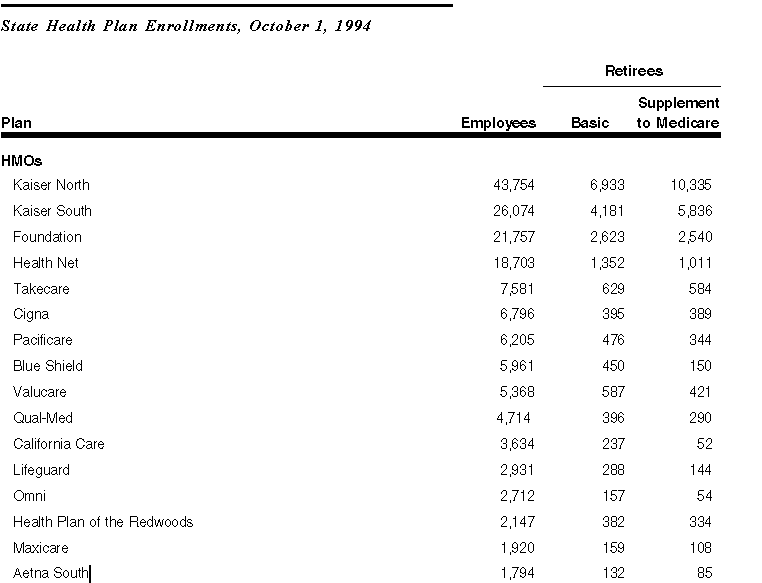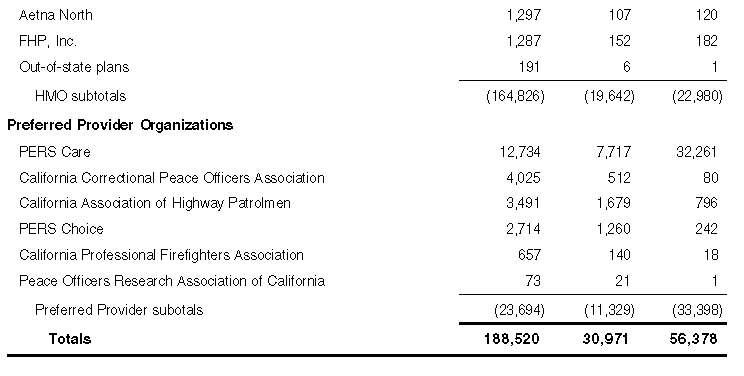 ---
State Expenditures For Employee and Retiree Health Benefits
State law prescribes the maximum amounts the state contributes toward monthly health insurance premiums for state retirees. The charts below show the amounts for 1994-95 and the monthly premium for each health plan. State law further provides that the respective state contributions toward employees' premiums be set through collective bargaining. The maximum state contributions set by the current bargaining agreements were "frozen" at the 1991-92 levels and, therefore, now are less than those provided to retirees. The state/employee contributions for future years will be an issue in the collective bargaining process scheduled to begin in January 1995.
The state will spend a projected $680 million in 1994-95 for health and dental benefits for state employees, and an additional $300 million for retirees.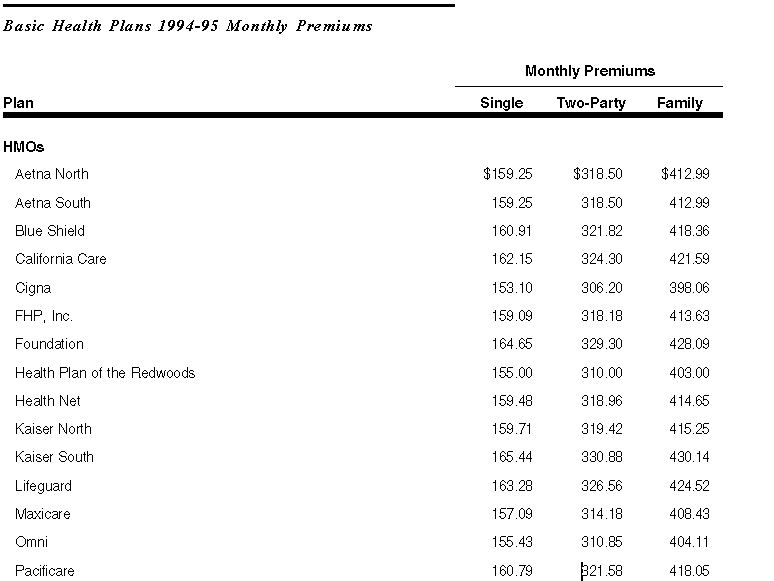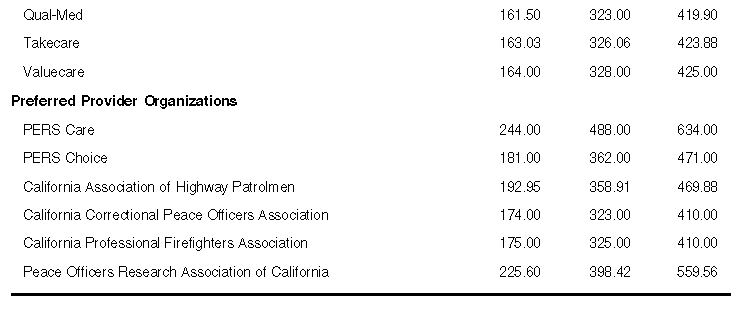 ---
Retiree Health and Dental Costs Have Grown
The chart below shows the trend in state expenditures for retiree health and dental benefits since 1985-86. (Similar data for active employees are not available.) The upward trend in those expenditures has moderated recently due to a slowdown in the growth of (1) numbers of retirees and (2) premium rates. The slowdown in the growth of numbers of retirees is probably a temporary phenomenon caused in part by individual decisions to postpone retirement in anticipation of enactment of early retirement incentives ("golden handshakes").
Future premium costs will depend on market forces, and the negotiating skills of the PERS (for health plan premiums) and the Department of Personnel Administration (for dental plan premiums).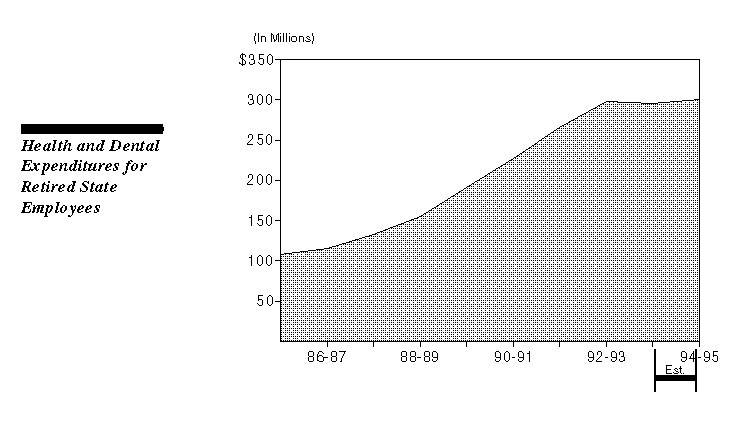 ---
Return to Cal Guide Table of Contents