---
CHILD WELFARE SERVICES AND FOSTER CARE
---
Components of the Child Welfare Services Program
The Child Welfare Services Program consists of four components:
Emergency Response is the initial intake point for the program. Social workers are required to respond to reports of child abuse or neglect and to determine whether an in-person investigation is necessary.
Family Maintenance provides support services to prevent abuse or neglect while the child remains in his or her home.
Family Reunification provides support services to the family while the child is in temporary foster care.
Permanent Placement provides management and placement services to children in foster care who cannot be returned to their families.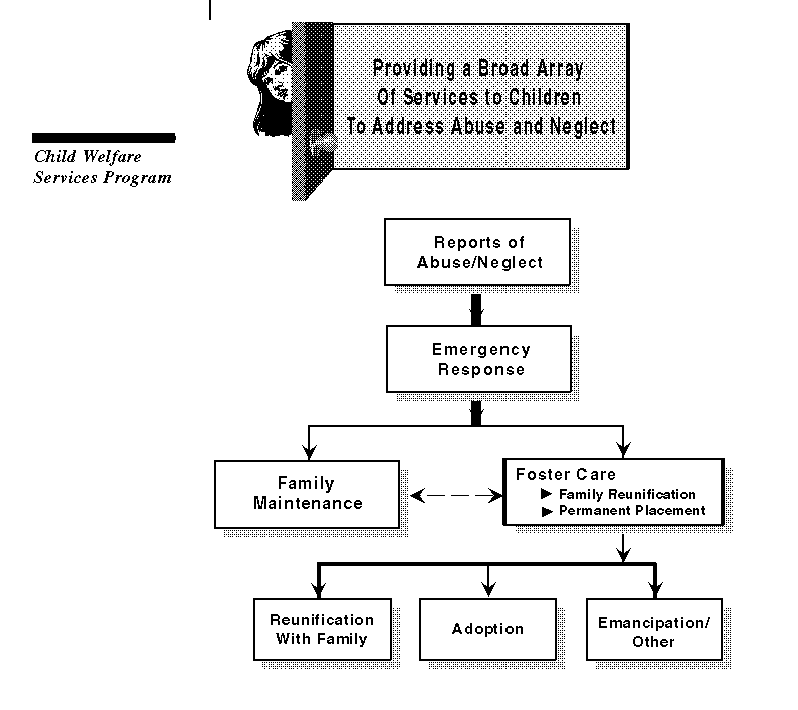 ---
Most Child Abuse and Neglect Cases Are Closed After Initial Intake
In 1993, 660,942 children were served by the Emergency Response (ER) component of the CWS Program. Of those ER cases, 90 percent were closed after initial intake services were provided, while 10 percent were continued as ongoing CWS cases or transferred to other agencies. The ongoing CWS cases consist of cases transferred to the Family Maintenance component of the CWS Program or to foster care, as part of the Family Reunification or Permanent Placement components.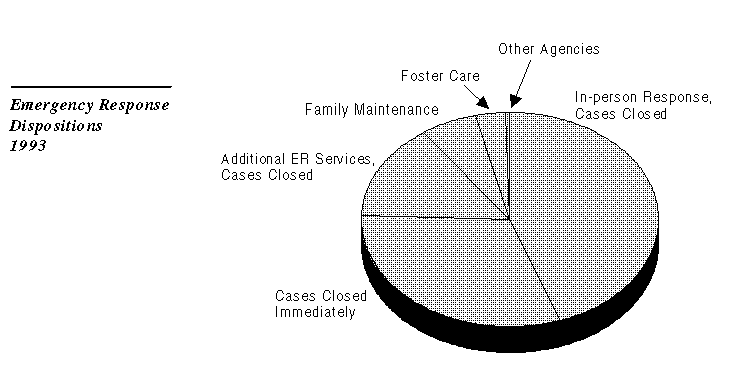 ---
Foster Care Caseload Growth Has Slowed Significantly Since 1991-92
During the late 1980's, the annual caseload growth rate in the AFDC-FC Program reached as high as 14 percent. Since 1991-92, however, the growth rate has decreased to about 3 percent, due in part to the following:
In 1991-92, the counties' share of costs for the AFDC-FC Program was in creased substantially (from 5 percent to 60 percent), giving counties a substan tial incentive to contain expenditures.
Family preservation programs have expanded throughout the state. These programs are designed to provide more intensive services to help families remain together and avoid out-of-home placements.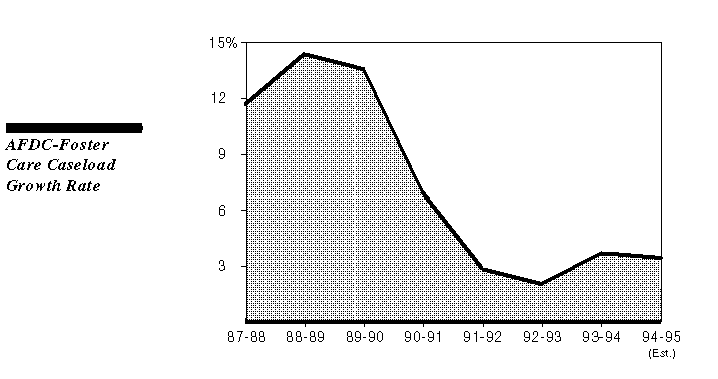 While the number of child abuse and neglect reports per 1,000 children increased almost 9 percent from about 70 in 1990 to 76 in 1993, the number of foster care placements per 1,000 children actually declined slightly since 1991. As discussed above, this decline is partly attributed to (1) the increased county share of foster care costs in 1991-92 and (2) the expansion of family preservation programs.
---
More Foster Care Children Being Placed with Relatives
An increasing proportion of foster care children are being placed with rela tives. In June 1986, children placed with relatives accounted for 24 percent of the foster care caseload, compared to 45 percent in June 1994. This increasing trend probably results from ongoing efforts to give preference to relative placements over other types of placements.
The proportion of group home placements has been rather steady while the proportion of children placed in non-relative family homes has declined.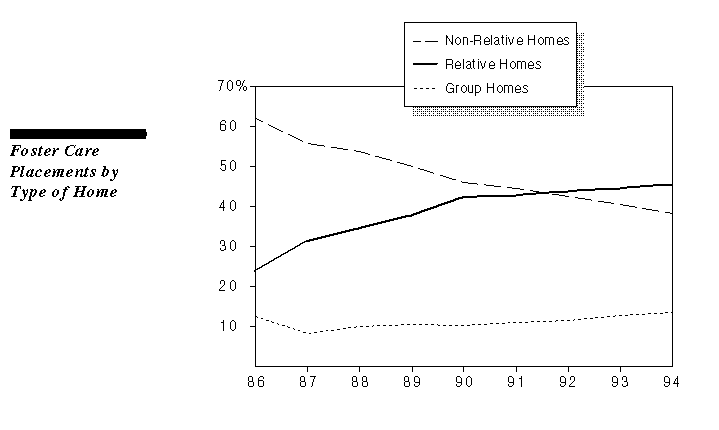 ---
Most Children Who Leave Foster Care Are Reunified With Families
During 1993-94, approximately 19,200 foster care cases were closed. The most common reason (67 percent) for this was reunification with the family. Ten percent left foster care because of adoption. These proportions have remained steady over the last five years. As of June 1994, the average length of time spent in foster care was two years.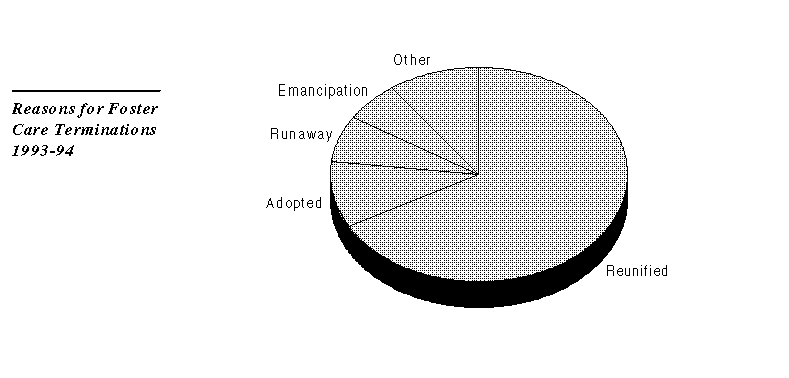 ---
Return to Cal Guide Table of Contents