Looking at how much households are borrowing can provide insights about the current and future health of the state's economy. Several recent studies have found that periods of expansion of household debt often are followed by economic slowdowns. Households accumulate high amount of debt to pay for purchases during good times, boosting economic activity to unsustainable levels. Eventually, households can no longer continue to borrow to boost spending and an economic slowdown ensues.
Although California is currently in one of the longest economic expansion on record, there is little evidence the economy is being propped up by borrowing. Household debt in California is at its lowest level in at least 15 years. As of the end of 2018, California households had about $1.2 of debt for each dollar of personal income. This is down from $1.3 five years ago and nearly $2 at the peak of the Great Recession. This low level of household borrowing generally is a good sign for the state's economy. Healthier household balance sheets also offer a reason to believe that if a recession were to occur, it would be milder than the last one.
Mortgage loans are the largest component of household debt. After significantly expanding during the housing bubble of the mid-2000s, California's mortgage debt (as a share of personal income) has declined consistently in recent years. In 2018, Californians had $0.89 of mortgage debt for each dollar of personal income, down from $1.60 in 2007. Mortgage delinquencies, similarly, have returned to low levels after spiking during the Great Recession.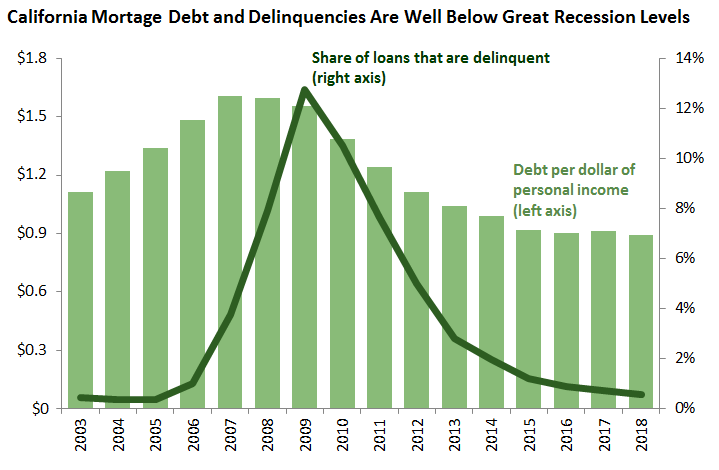 Other major sources of household debt include auto loans, credit cards, and student loans. In 2018, Californians had $0.20 of debt from these three sources for each dollar of personal income.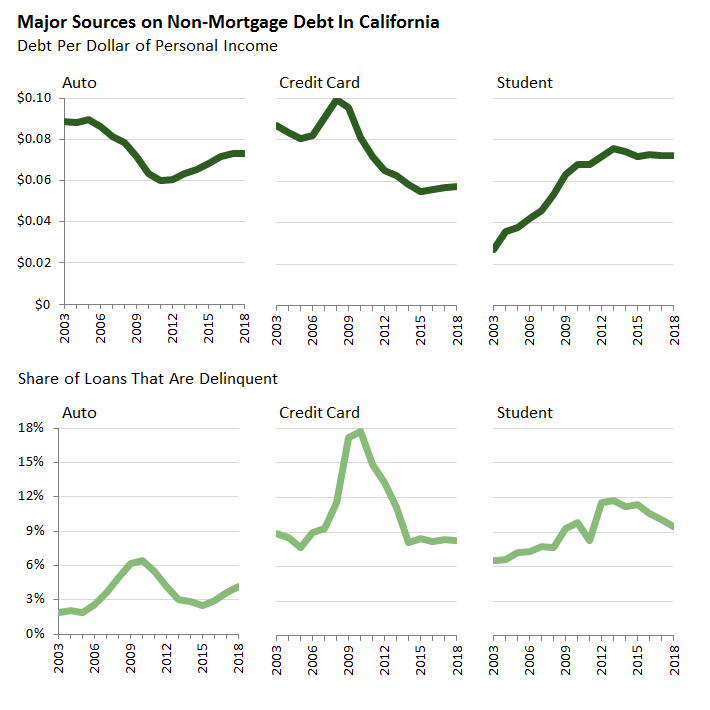 While credit card debt and student loans have seen little to no growth in recent years, auto loans have grown consistently since 2012. This increase in auto loan debt parallels a 40 percent increase in new car purchases in California since 2012. Potentially concerning is the fact that the share of auto loans that are delinquent increased from 2.5 percent in 2015 to 4.2 percent in 2018. National data suggests that most of the uptick in delinquencies has been among borrowers who are under 30 years old and who have below-average credit scores.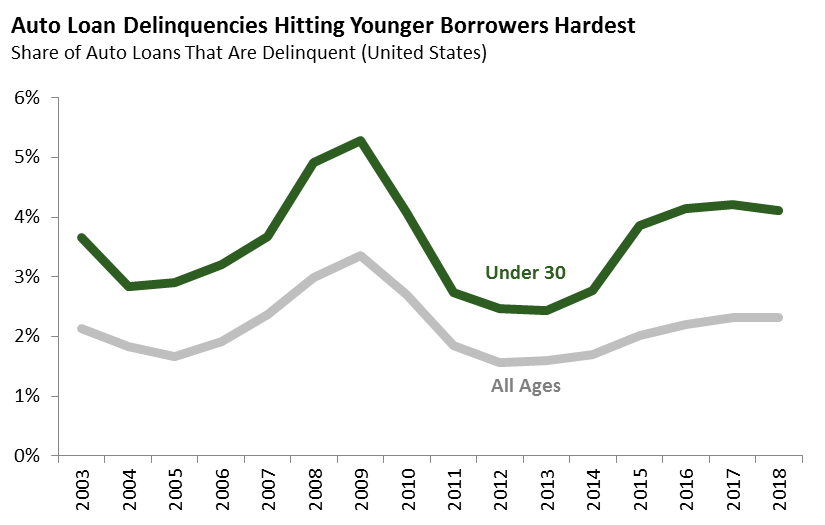 The rise in auto loan delinquencies among younger borrowers could be problematic if it leads to younger workers having a harder time obtaining loans and purchasing vehicles. Workers under 30 consistently have a harder time finding jobs than older workers. This challenge could be amplified if younger workers face difficulties in finding a means of transportation to work. Should this occur, it could place a drag on job growth going forward.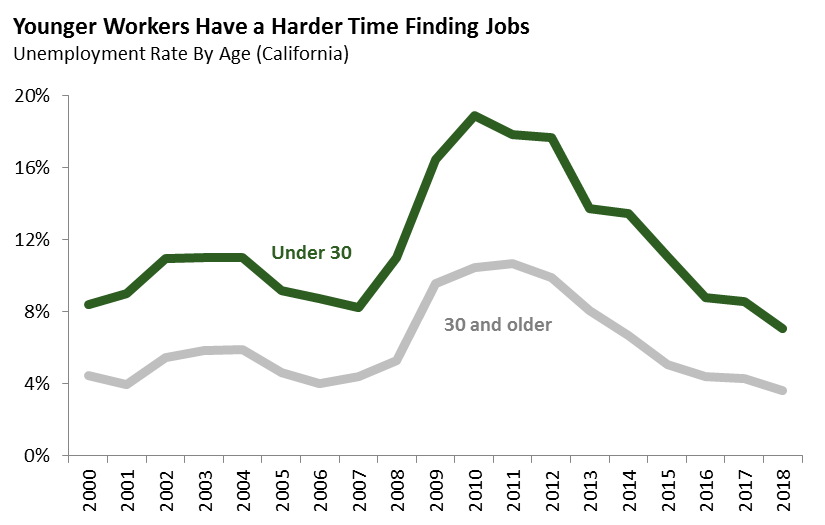 Data Source: New York Fed Consumer Credit Panel