Analysis of the 2004-05 Budget Bill

Legislative Analyst's Office
February 2004
---
The budget proposes to suspend the Proposition 98 minimum guarantee, providing $2 billion less than would be required absent suspension. The budget also proposes to postpone until at least 2006-07 payments of $518 million and $448 million needed to meet the minimum guarantee for 2002-03 and 2003-04, respectively. Taking into account both the growth in the guarantee and monies freed up from paying off deferrals in the current year, there are adequate funds to cover growth in student attendance, cost-of-living adjustments, and other purposes. Adjusting funding for deferrals funding, schools would receive $6,941 per pupil, or 2.6 percent more than the revised estimate of per-pupil expenditures in the current year.
Figure 1 displays all significant funding sources for K-12 education for the budget year and the two previous years. As the figure shows, Proposition 98 funding constitutes over 70 percent of overall K-12 funding. The increase in K-12 Proposition 98 funding is supported by a forecasted $1 billion increase in local property taxes (LPT), allowing General Fund support for Proposition 98 to actually fall by $612 million. The growth in LPT results from a combination of natural growth in school LPT, a proposal to transfer additional property tax revenues from local government to school districts through the Educational Revenue Augmentation Fund (ERAF), and transfers of ERAF revenues from schools districts to local governments as part of the "triple flip" payment mechanism for the Economic Recovery Bond on the March 2, 2004 ballot.
The budget proposes to increase non-Proposition 98 General Fund spending by almost $1.4 billion in 2004-05. Key changes in non-Proposition 98 General Fund spending include:
Increased Contributions to State Teachers' Retirement System—$497 Million. Last year, there was a large balance in a state fund that provides retired teachers with purchasing power protection. (This program ensures that retirees' pensions stay at 80 percent of their original purchasing power.) In 2003-04, the state determined that it could forego a $500 million payment on a one-time basis, and still honor statutory obligations to teachers. The Governor's budget augments spending for teacher retirement by $497 million in 2004-05 to restore the base funding level.
School Bond Debt Service Increases—$676 Million. The budget's increase in debt service on school bonds reflects a combination of (1) the recent investment the state has made in school construction and renovation through Proposition 1A (1998) and Proposition 47 (2002), and (2) the restructuring of the state's long-term debt, which reduced payments the last two years but increases them in 2004-05 and subsequent years.
Proposition 98 Reversion Account and Other Non-Proposition 98 General Fund Increases—$223 Million. Non-Proposition 98 General Fund spending increases by $223 million from 2003-04. Most of this results from funds being reappropriated from the Proposition 98 Reversion Account in 2004-05 as a result of K-14 education program savings in 2003-04 and prior years.
Deferrals Distort Year-to-Year Comparisons. The growth pattern of Proposition 98 spending is distorted because numerous expenses have been deferred from one fiscal year to another from 2001-02 through 2004-05. These deferrals make cross-year comparisons difficult. Figure 2 displays the impact that the deferrals have on the growth of per-pupil spending by moving deferred funds into the years in which the expenditures occur. We refer to this deferral-adjusted funding level as "programmatic" funding because this is when programs actually used the money, and suggest the Legislature focus on changes in programmatic funding to gauge the impact that this budget has on actual school spending. Using this calculation, per pupil spending increases by $175, or 2.6 percent, over the 2003-04 revised funding level. In contrast, funding fell between 2002-03 and 2003-04 by $30 per pupil or 0.4 percent.
Figure 3 displays the proposed major K-12 funding changes from the 2003-04 Budget Act. In the current year, the Governor's budget reflects a $261 million increase in revenue limit deferred from June to July 2003. Because revenue limits are continuously appropriated, a technical error in estimating the size of the June revenue limit payment resulted in 2002-03 appropriations being reduced by $261 million and 2003-04 appropriations increasing equivalently.
In 2004-05, the Governor's budget proposes about $1.9 billion in new K-12 expenditures. Funds for these proposals come from three main sources:
Increased Proposition 98 K-12 Spending—$433 Million. This is the growth in the total amount of Proposition 98 funding the Governor proposes for K-12 education.
Reduced Deferral Costs—$1 Billion. The budget takes advantage of $1 billion in funding freed-up from one-time uses in 2003-04. In 2003-04, the state used over $1 billion to pay off categorical and revenue limit deferrals. These costs were one-time in nature, and can be used for ongoing purposes beginning in 2004-05. The Governor uses these funds for the priorities outlined below.
Fund Shifts and Program Reductions—$469 Million. The budget takes advantage of two fund shifts to reduce the Proposition 98 funding obligations for K-12—$146 million in one-time funds in the Proposition 98 Reversion Account (funds appropriated but not spent in prior years), and $74 million in federal funds for special education. In addition, the Governor proposes savings of $249 million from (1) spending reductions in child care programs, (2) savings in the state accountability programs for low-performing schools, and (3) various other program reductions.
The budget proposes to use $1.9 billion from the sources discussed above to provide growth, cost-of-living adjustments (COLAs), and other funding increases (see Figure 3). Of the increases, the budget provides roughly $1.2 billion to increase "revenue limit" funding (available for school districts and county offices of education to spend on general purposes). Specific revenue limit proposals include:
Revenue Limit Growth and COLA—$280 Million and $555 Million. The Governor fully funds a 1.02 percent growth in revenue limits ($280 million) and a 1.84 percent COLA ($555 million). The budget proposes to continue the revenue limit "deficit factor" created in 2003-04. Specifically, the 2003-04 budget suspended the 1.8 percent COLA and reduced revenue limits by an additional 1.2 percent, but created a deficit factor requiring the state to build the foregone funding back into the base starting in 2005-06. In total, the outstanding deficit factor is around $900 million.
Unemployment Insurance Costs and Public Employees' Retirement System (PERS) Costs—$136 Million and $106 Million. Under current law, the state is required to provide funding to school districts to cover cost increases in unemployment insurance and PERS. The unemployment insurance rate increases from 0.3 percent in 2003-04 to 0.7 percent in 2004-05, costing an additional $136 million. School district PERS costs increase because the PERS contribution rate for classified employee salaries increased from 10.4 percent to 12.2 percent.
Equalization—$110 Million. The Governor proposes to use $110 million to equalize base revenue limit funding across school districts. According to the Department of Finance (DOF), the equalization funding will be distributed using the current revenue limits (as adjusted for excused absences). Equalization would occur before the transfer of $2 billion in categorical programs into revenue limits under the administration's proposal.
The budget provides growth and COLAs for those categorical programs with statutory requirements. The Governor's proposal excludes growth and COLAs for some categorical programs that have received growth and COLAs in the recent past. For example, programs like home-to-school transportation, year-round schools, gifted and talented education, dropout prevention, and tenth grade counseling will not receive growth or COLAs in 2004-05. The Governor also provides additional cat egorical funds to fully restore deferred maintenance to one-half of 1 percent of total expenditures ($173 million), and augment instructional materials funding by $188 million.
Figure 4 shows Proposition 98 spending for major K-12 programs. Revenue limit funding accounts for $30.3 billion. In addition, the Governor proposes to transfer $2 billion in categorical programs into revenue limits. The two largest categorical programs, special education and K-3 class size reduction, would remain separate programs. The budget proposes $2.9 billion for special education including local property tax revenues. The budget provides roughly the same $1.7 billion for K-3 class size reduction, reflecting a slight reduction because of lower K-3 enrollment.
Enrollment growth significantly shapes the Legislature's annual K-12 budget and policy decisions. When enrollment grows slowly, for example, fewer resources are needed to meet statutory funding obligations for revenue limits and K-12 education categorical programs. This leaves more General Fund resources available for other budget priorities both within K-12 education and outside it. Conversely, when enrollment grows rapidly (as it did in the 1990s), the state must dedicate a larger share of the budget to education. In light of the important implications of enrollment growth, we describe below two major trends in the K-12 student population.
The enrollment numbers used in this section are from DOF's Demographic Research Unit, and reflect aggregate, statewide enrollment. While the enrollment trends described here will likely differ from those in any given school district, they reflect the overall patterns the state is likely to see in the near future.
K-12 Enrollment Growth to Slow Significantly. K-12 enrollment is projected to increase by about 1 percent in 2004-05, bringing total enrollment to about 6.3 million students. Figure 5 shows how enrollment growth has slowed since 1996-97. Over the next ten years, K-12 enrollment growth will continue to slow and actually decline beginning in 2008-09. This contrasts with growth averaging 2.2 percent annually during the 1990s.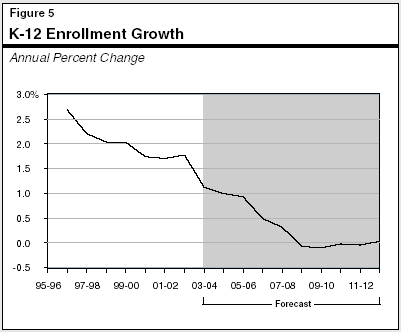 Divergent Trends in Elementary and High School Enrollment. Figure 6 shows that the steady decline in K-12 enrollment growth masks two distinct trends in elementary (grades K-8) and high school (grades 9 through 12) enrollment. Elementary school enrollment growth has gradually slowed since 1996-97. This enrollment is expected to decline annually between 2004-05 and 2010-11. From the current year through 2010-11, K-8 enrollment is expected to decline by 56,000 pupils (1.3 percent). In contrast, high school enrollment growth is expected to accelerate in the short term, reaching a 4 percent growth rate in 2004-05. Then, growth is expected to slow sharply, becoming negative in 2011-12. Expected growth from the current year to 2011-12 is approximately 200,000 pupils (11 percent).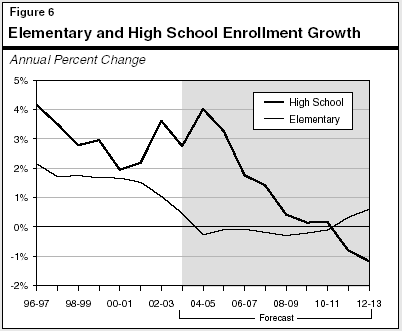 These trends have significant budgetary and policy implications for issues such as class size reduction, teacher demand, and facilities investment. A few of the major implications include:
A 1 percent increase in K-12 enrollment requires an increase of approximately $415 million to maintain annual K-12 expenditures per pupil.
As enrollment growth slows, a smaller share of the state's new revenues will be consumed by costs associated with funding additional pupils. The Legislature will then have the option of devoting these revenues to increasing per-pupil spending or to other budget priorities.
In the near term, programs aimed at elementary grades (such as K-3 class size reduction) will face reduced cost pressures related to enrollment. Programs aimed at high school grades will face increased cost pressures. This could present cost challenges for many unified school districts because per-pupil costs of educating high school students tend to be higher than for elementary school students.
Because of declining enrollment provisions in state law, more school districts will benefit from the one year hold harmless provision in current law, increasing state costs per pupil.
Despite the general downward trend in enrollment growth, significant variation is expected to occur across counties. For example, between 2003-04 and 2012-13, Los Angeles' enrollment is expected to decline over 100,000 students (a 6 percent decline) whereas Riverside's enrollment is expected to increase by almost 80,000 students (a 22 percent increase).
---
Return to Education Table of Contents, 2004-05 Budget Analysis