All Articles
Last updated: Friday, April 28, 2017, 3:30 p.m. (California time). Follow us on Twitter @LAOEconTax for daily updates.
The Big Picture
The state ended March with year-to-date General Fund revenues at $1.15 billion above the administration's 2016-17 projections. April income tax collections, however, were hundreds of millions below the administration's monthly projections for those taxes, as discussed below. Assuming that sales and other taxes (yet to be reported) meet projections this month, the weakness in April income taxes will erode most of the prior months' General Fund revenue gains. This probably will leave the state close to even with the administration's projections for 2016-17 as May begins. Both our office and the administration will release updated revenue projections for 2016-17 and 2017-18 about two weeks from now (as well as new 2015-16 estimates, delayed due to California's byzantine revenue accrual process).
April personal income tax (PIT) and corporation tax (CT) collections now have ended. A final day of refunds will be reported on Monday, which probably will lower overall totals by tens of millions of dollars more. Thereafter, tax agency staff will check and reconcile data, which typically produces small changes in monthly totals.
Wrapping Up April
April Ends "Not With a Bang..." As noted yesterday, PIT withholding at the Employment Development Department was strong in April. Franchise Tax Board (FTB) PIT collections, however, disappointed at the end of the month, ending April today "with a whimper": a terrible daily tally of only $9 million, net of refunds: more than $300 million less than the April 28 tally last year. As of today, PIT collections during April total $13.45 billion. After the last day of refunds is tallied on Monday, April PIT collections likely will fall around 4 percentage points short of this month's $14.0 billion PIT target--that is, maybe $600 million shy of the monthly target. The figure below assumes that roughly $50 million of PIT refunds booked to April will be reported on Monday.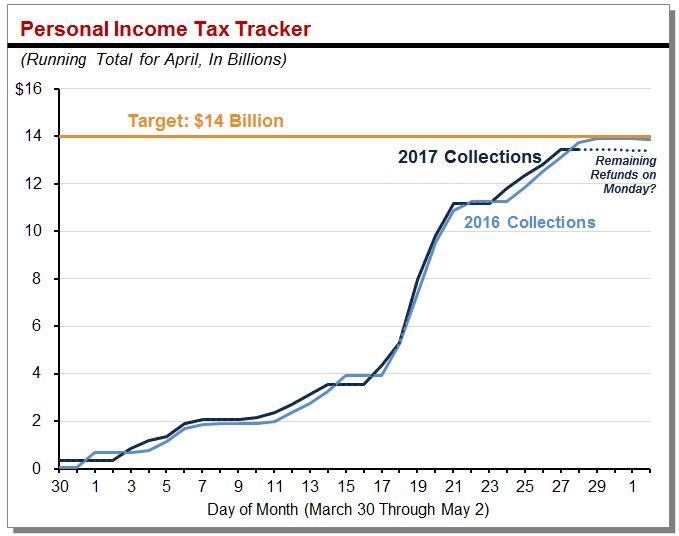 The figure essentially shows that a greater percentage of this April's PIT collections were tallied at FTB in the beginning and middle of the month, as compared to April last year. In other words, there was less left to tally at the end of April this year. The speed with which FTB processes returns is difficult to predict from year to year, but this year appears to have been yet another year of speedier processing. Prior to the widespread use of electronic filing, the bulk of big dollar collections came near the end of the month, sometimes two weeks after Tax Day. FTB's April processing is much faster now.
Corporation Tax (CT) Collections Down This Month. Through today, CT collections for the month have totaled $1.99 billion (net of refunds). With one refund day left to book to April, CT collections likely will end up around $300 million short of the administration's $2.3 billion monthly projection. As of the end of March, however, CT was $459 million above the administration's projection for the 2016-17 fiscal year to date. Therefore, this month's CT shortfall will offset those earlier results. Recent changes in CT payment deadlines (mentioned in our revenue tracking post last month) explain some of the variation from projections both in March and this month.
New Revenue Estimates in May. The administration and our office will release new revenue projections in about two weeks. In January, our office said that the administration's revenue estimates for the next fiscal year, 2017-18, seemed too low. In the coming days, we will review that assessment based on the latest consensus estimates for the economy over the next year, which consider, among other things, the recently elevated level of stock prices. Those stock prices will influence the taxable capital gains Californians report on next year's tax returns. In addition, it will be a few days before we receive solid information on which portions of this month's FTB collections were for 2016 tax liabilities and which portions were for estimated 2017 tax liabilities. That information, once received, will be important in assessing 2017-18 state revenue prospects.
Today's Numbers. Today's net PIT collections booked to the month of April ($9 million) consisted of:
Taxes Paid to FTB: $88 million
Refunds to Taxpayers: $79 million
Follow @LAOEconTax on Twitter for regular California economy and tax updates.
---