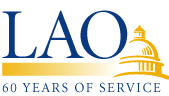 Legislative Analysts Office, September 2002
California Spending Plan 2002-03
2002-03 Budget Act—
The Challenge and The Solution
The Governor signed the 2002-03 Budget Act on September 5, 2002, a record 67 days into the new fiscal year. In enacting the $99 billion budget, the Legislature was faced with the unprecedented and formidable task of addressing a $23.6 billion shortfall. It did this through adopting a variety of program savings, borrowings and loans, transfers, deferrals, and revenue augmentations. The budget also includes a modest year-end General Fund reserve of $1 billion. In terms of the budget's growth, both current-dollar and real per capita spending in 2002-03 are down modestly from their prior-year levels.
In this chapter, we first discuss the factors underlying the major fiscal challenge facing the Governor and Legislature as they approached the 2002-03 budget, and then describe the key actions taken to address the shortfall. In subsequent chapters, we provide additional details about the adopted budget package, including its main features, its development, and its revenue and expenditure detail.
The $23.6 billion budget gap facing the Governor and Legislature in 2002-03 reflected the cumulative impact of an unprecedented decline in General Fund revenues in 2001-02 and 2002-03, along with projected continued growth in General Fund expenditures during the two years. The budgetary impact of these trends is depicted in Figure 1 (see page 2), which shows what revenues and expenditures would have been in 2000-01 through 2002-03 had there been no budget-balancing actions taken following the 2001-02 budget's enactment. (These figures have also been adjusted to exclude the $6.2 billion electricity loans in 2000-01 and their assumed repayments in 2001-02.) The figure shows that: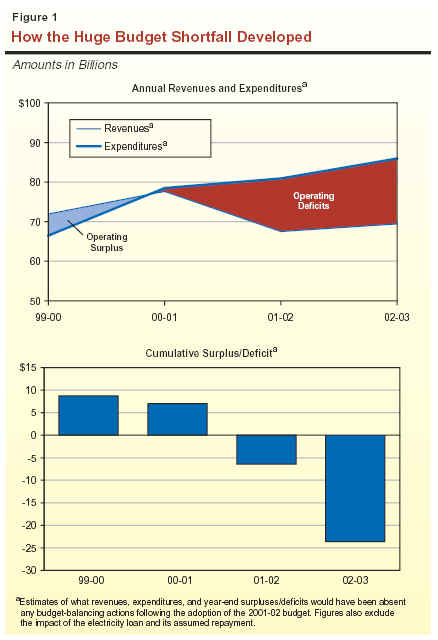 • In 2000-01, revenues and expenditures were roughly in balance, with each totaling about $78 billion. At the conclusion of that year, the state had a reserve balance of about $7 billion, which had been built up during the revenue boom of the late 1990s.
• Then, in 2001-02, revenues fell by over $10 billion while expenditures grew by roughly $3 billion, resulting in an operating shortfall of $13 billion. The above-noted $7 billion reserve balance from 2000-01 was available to cover part of this operating deficit, leaving a 2001-02 year-end deficit of $6 billion. This compares to the positive reserve of $2.6 billion anticipated when the 2001-02 budget was enacted.
• In 2002-03, expenditures would have continued to increase under current law, reaching $86 billion. This would have been nearly $17 billion more than the $69 billion in revenues projected for that year. This, combined with the $6 billion carry-in deficit, would have left the state with a year-end shortfall of $23 billion absent corrective action. Adding to this the $500 million reserve sought by the Governor, resulted in the estimated $23.6 billion shortfall noted previously.
What Caused the Revenue Decline?
As indicated above, the large revenue decline was the main factor behind the budget shortfall. This decline was the largest in any single year since the Great Depression. While the national and state economic downturns beginning in 2001 played a significant role, the main factor behind the revenue plunge was the sharp drop in stock market-related revenues. As shown in Figure 2, we estimate that total personal income tax receipts related to stock options and capital gains fell from $17 billion in 2000-01 to roughly $6 billion in both 2001-02 and 2002-03. Even with an assumed sustained recovery in overall economic activity in 2002, the loss of stock market-related revenues reduced the ongoing amount of annual state revenues by well over $10 billion relative to pre-2001-02 levels.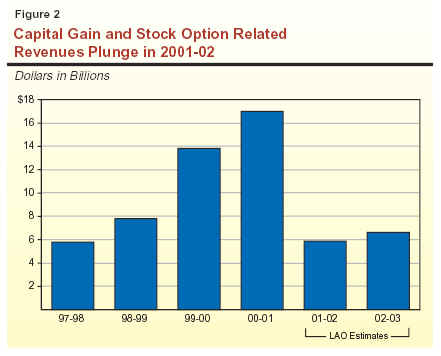 As indicated above, based on the provisions and assumptions incorporated in the 2002-03 budget package, all of the $23.6 billion budget gap would be eliminated by the close of the budget year. Figure 3 shows the various budget-related solutions that were adopted (based on the administration's methodology for categorizing the savings). These include:
Figure 3
Major Actions Taken to Close the Budget Funding Gap

(In Billions)

Estimated Funding Gap

2001‑02

2002‑03

Total

Program cost savings

$1.8a

$5.6

$7.5

Increased borrowing

0.2

5.4

5.6

Inter-fund loans, funding shifts, and transfers

1.4b

3.5

4.8

Revenue increases

—

2.9

2.9

Deferral of certain education disbursements

1.0c

0.7

1.7c

Assumed increased federal funds

0.1

1.0

1.1

Total Actions

$4.6

$19.0

$23.6

a Includes $0.2 billion in 2000‑02 savings

b Includes $0.3 billion in 2000‑01 funding shifts.

c Represents funds deferred in Chapter 101, Statutes of 2002 (AB 3011, Committee on Budget). Does not include $77 million in school performance award payments deferred in the 2002‑03 Budget Act.

Detail may not total due to rounding.
Program Cost Savings ($7.5 Billion). These savings—which account for about one-third of the overall budgetary solutions adopted—primarily involve the deferral or elimination of previously enacted program expansions, and the elimination of workload and cost-of-living adjustments throughout the budget. While all major program areas are affected, the largest dollar savings are in education, health, social services, and state operations. The programmatic details of these savings are discussed in "Chapter 4". The $7.5 billion total also includes $750 million in unallocated reductions to state operations, $285 million in savings from an early retirement program, and $75 million from the elimination of vacant positions.
Increased Borrowing ($5.6 Billion). This includes $4.5 billion from the securitization of future tobacco settlement receipts. This will occur through the sale of revenue bonds whose repayments will be secured by future state receipts of tobacco settlement payments. The other $1.1 billion is related to the State Treasurer's plan to restructure state debt, including the deferral of certain principal payments due in 2002 through mid-2004.
Interfund Loans, Funding Shifts, and Transfers ($4.8 Billion). This category includes $2 billion in loans, of which about $1.2 billion is from transportation-related funds. The balance is from a variety of sources detailed in Chapter 3, including certain resources-related funds.
Revenue Increases ($2.9 Billion). These include a two-year suspension of the net operating loss carry-forward deduction ($1.2 billion), withholding increases on stock options and certain real estate sales ($625 million), a one-year suspension of the teacher tax credit ($170 million), and various tax compliance measures.
Deferral of Certain Education Disbursements ($1.7 Billion). This includes the deferral of $1 billion from June to July of 2002, and another $681 million from late 2002-03 into July 2003. These deferrals are not intended to materially affect the functioning of the programs involved.
Increased Federal Funding Assumptions ($1.1 Billion). This includes $400 million related to increased federal contributions for Medi-Cal funding, $350 million related to security and bioterrorism funding, $91 million for child support system penalty relief, $50 million for undocumented felon reimbursements, and $56 million for various health and social services programs.
One-Time Versus Ongoing Solutions
Although the above actions addressed the budget problem for 2002-03, they did not eliminate the multibillion dollar underlying imbalance that currently exists between General Fund revenues and expenditures. This is because most of the adopted budget solutions are either one-time or limited-term in nature. In fact, some of the actions--such as the special fund loans, borrowing, and net operating loss suspension--will result in additional budgetary obligations in later years. Because of the relatively limited amount of ongoing savings incorporated in the 2002-03 budget package, the state will continue to face large multibillion shortfalls in 2003-04 and beyond, absent corrective actions.
---