LAO Analysis of the 1996-97 Budget Bill
State Administration Overview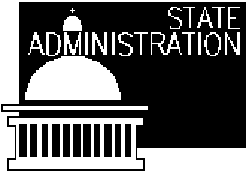 Performance Budgeting Pilot Project Yields Mixed Results. The administration's performance budgeting pilot project has not materially changed the state budget process as it was intended to do. Nevertheless, evidence from the four departments participating in the project shows that it has generally helped them do a better job of managing their programs. The administration needs to identify the lessons learned from the project and advise the Legislature of its future direction. (See page H-11.)
Some Progress in Restructuring State Information Technology, But Much Remains to Be Done. Last year, the Legislature and Governor took a number of steps to reorganize the management of state information technology, including creation of a new Department of Information Technology. Our review found that little progress has been made toward resolving many of the major problems identified in 1994 in three independent reports. We recommend that the Legislature continue to closely monitor state information technology efforts and that it hold the new department accountable to produce the results desired by both the Legislature and the administration. (See page H-22.)
State Opportunities for Better Use of Telecommunications. The Department of General Services has been operating for the past four years without an annual strategic plan for state telecommunications, as required by law. We identify eight areas of telecommunications, such as videoconferencing, that the administra- tion should focus on that can help improve the operations of state government. (See page H-64.)
Revised Development Plan for Capitol Area. The Department of General Services is preparing a revised master plan to guide development of state office and parking space and other land uses in the Capitol Area of Sacramento. We recommend the Legislature first approve any revisions to the Capitol Area Plan prior to funding preparation of an environmental impact report. We also recommend that the Legislature not authorize any new state office projects in downtown Sacramento until the environmental review process is completed. (See page H-76.)
New Veterans' Homes Should Be Put in the Slow Lane. Major delays in completion of a computer information system for the new veterans' home in Barstow--which has been deemed essential for the operation of the home--could cost the state significantly. As a consequence of the difficulties at Barstow, the significantly higher estimated General Fund costs of operating veterans' homes, and the uncertainty regarding future federal funding for elderly medical care and veterans' programs, we recommend that the Legislature place a one-year moratorium on development of additional veterans' homes. (See page H-103.)
Local Agencies Should Fund Local Law Enforcement. The budget proposes to establish an income tax "check-off" allowing taxpayers to designate whether 1 percent of their tax liability should be allocated to local agencies to augment police, sheriff, and prosecution programs. We think local law enforcement is more appropriately financed and controlled at the local level. If the Legislature wishes to provide additional revenues to cities and counties, we recommend that the Legislature partially reverse the property tax shift. (See page H-117 and Part V of the Perspectives and Issues.)
Overview
Funding for state administration is proposed to increase slightly in the budget year, primarily because of increases in Motor Vehicle License Fund apportionments to local governments.
The budget proposes total expenditures for state administration of $6.5 billion in 1996-97, an increase of 2.5 percent above estimated current-year expenditures. Proposed General Fund spending for state administration is $2.9 billion, or 6.4 percent of all General Fund expenditures proposed in the Governor's Budget for 1996-97.
Spending by Major Programs
Figure 1 (see next page) shows state expenditures for nine major state administration programs for 1994-95 through 1996-97.
The largest program in state administration is the shared revenues program, which distributes state-collected revenue (primarily from vehicle license fees and gas taxes) to local government agencies. The $117 million increase in spending primarily reflects an increase in the Motor Vehicle License Fund apportionments to local governments as a result of growth in the fee revenues collected.
The Governor's Budget proposes to subvene $150 million (General Fund) to cities and counties for local law enforcement. Specifically, the state would create a check-off on personal income tax forms allowing taxpayers to decide whether 1 percent of their income tax liability should be distributed to local agencies for law enforcement purposes.
Figure 1
State Administration Budget Summarya
(Dollars in Millions)

 

Actual
1994-95
Estimated 1995-96
Proposed
1996-97
Change From
1995-96

 

 

 

 

 

Amount
Percent

 

 

 

 

 

 

Shared Revenues

 

 

 

 

 

General Fund
$0.1
$0.3
$0.3
--
--
Special funds
3,136.0
3,262.6
3,379.4
$116.8
3.6%
Totals
$3,136.0
$3,262.9
$3,379.7
$116.8
3.6%
Contributions to the STRS

 

 

 

 

 

General Fund
$866.1
$901.3
$926.1
$24.8
2.8%
Transfer to the PERS

 

 

 

 

 

General fund
$441.0
$463.9
$485.0
$21.1
4.5%
Special funds
200.0
210.9
220.5
9.6
4.6
Totals
$641.0
$674.8
$705.5
$30.7
$4.5%
Tax Relief

 

 

 

 

 

General Fund
$475.8
$458.1
$464.7
$6.6
1.4%
Interest on General Fund Loans

 

 

 

 

 

General Fund
$408.5
$295.6
$255.0
-$40.6
-13.7%
Health Benefits for Annuitants

 

 

 

 

 

General Fund
$297.2
$275.9
$278.7
$2.8
1.0%
Franchise Tax Board

 

 

 

 

 

General Fund
$281.1
$320.3
$234.8
$4.5
1.4%
Special funds
6.4
8.5
8.2
-0.3
-3.5
Totals
$287.5
$328.8
$333.0
$4.2
1.3%
Board of Equalization

 

 

 

 

 

General Fund
$160.8
$172.3
$181.6
$9.3
5.4%
Special funds
18.0
22.2
22.5
0.3
1.4
Totals
$178.8
$194.5
$204.1
$9.6
4.9%

 

a Excludes reimbursements, revolving funds, and other nongovernmental cost funds. Details may not add to totals due to rounding.

 
The state provides local property tax relief, both as subventions to local governments and as direct payments to eligible taxpayers, through seven different programs. The two largest are the Homeowners' Property Tax Relief (homeowners' exemption) and the Renters' Tax Relief (renters' credit) programs. The Governor's Budget proposes an expenditure of $393 million on the homeowners' exemption program in 1996-97, which comprises most of the $465 million budgeted for tax relief.
The renters' credit provides a refundable tax credit to Californians who rent their principal place of residence as of March 1 each year. The renters' credit program was suspended for three years, beginning in 1993, as one of many spending reductions enacted to address the state's budgetary problems. The program was reinstated beginning on January 1, 1996. The Governor's Budget, however, proposes eliminating this program effective January 1, 1996. The estimated cost for this program if it were not altered or discontinued in 1996-97 would be approximately $517 million.
Public Employees' Retirement System. The Public Employees' Retirement System (PERS) is the retirement system for most state employees. The budget projects a $485 million General Fund payment for the PERS in 1996-97. The 1996-97 General Fund transfer is based on the 1994-95 state employee payroll, pursuant to Ch 71/93 (SB 240, Committee on Budget and Fiscal Review). Under the provisions of that legislation, General Fund contributions to the PERS are made two fiscal years in arrears. Thus, based on estimated state employee payroll in 1996-97, the General Fund transfer to the PERS in 1998-99 will be about $620 million.
As a result of a lawsuit filed by the PERS, the Superior Court in Sacramento County has ordered the state to immediately pay alldeferred payments and to resume sending state funds to the PERS on a current, rather than deferred, basis. The state has appealed this decision and the budget assumes that the state will prevail on appeal. If the state loses the appeal, the General Fund impact would be about $1.1 billionin 1996-97.
State Teachers' Retirement System.The State Teachers' Retirement System (STRS) is the retirement system for teachers in public K-12 schools and community colleges. The STRS receives contributions from teachers and their employers. These contributions, however, are insufficient to provide for the cost of basic retirement benefits and the protection of retirees' purchasing power. The shortfalls are covered by annual transfers from the General Fund. These transfers are expected to increase by $25 million, from $901 million in the current year to $926 million in the budget year. The increase is due to an expected increase in teacher payrolls, which is the key factor in the statutory funding formulas.
Health and Dental Premiums.The budget also includes $279 million from the General Fund to pay the state share of health and dental insurance premiums for retired state employees and their qualifying beneficiaries. This is $2.8 million more than estimated current-year expenditures, which reflects an increase in the number of retirees.
Employee Compensation
The collective bargaining memoranda of understanding (MOU) that govern pay, benefits, and other working conditions for rank-and-file employees expired June 30, 1995. The MOU negotiations have been completed for only one of 21 bargaining units. Chapter 768, Statutes of 1995 (SB 544, Dills), ratified the MOU for highway patrol officers. The legislation included $16.1 million from special funds for compensation increases in 1995-96 for the highway patrol officers. The budget request for the California Highway Patrol includes $30 million for the 1996-97 cost of the MOU. The budget does not propose funds for new compensation increases for the other 21 bargaining units at this time.
We discuss employee compensation issues in further detail in the Crosscutting Issues section of this chapter.
Major Budget Changes
Figure 2 portrays the changes in four major categories of expenditure (shared revenues, retirement benefits, tax relief, and local government financing) which reflect some of the increase in state administration spending in 1996-97. Also shown are selected changes in each of these categories.
Retirement-related expenditures account for a significant part of state spending for the budget year. In 1996-97, state expenditures for various costs associated with public employee retirement (excluding University of California costs and nongovernmental cost funds) will total approximately $2.5 billion, including nearly $2 billion from the General Fund. As summarized in Figure 3 (see page 10), the General Fund provides for employer contributions and/or various other payments to four
Figure 2
State Administration
Proposed Major Changes for 1996-97
All State Funds

 

Shared Revenues
Requested:
$3.4 billion

 

 

 

 

 

Increase:
$116.8 million
(+3.6%)

 

 

$101.3 million due to increased vehicle license fee revenues

 

 

 

 

 

Retirement Benefits
Requested:
$2.4 billion

 

 

 

 

 

Increase:
$71 million
(+3%)

 

 

$30.7 million for transfers to the Public Employees' Retirement Fund

 

 

 

 

 

 

$24.8 million for transfers to the State Teachers' Retirement Fund

 

 

 

 

 

 

$12 million for Social Security/Medicare taxes

 

 

 

 

 

 

$2.8 million for health and dental premiums for retirees

 

 

 

 

 

Tax Relief
Requested:
$464.7 million

 

 

 

 

 

Increase:
$6.6 million
(+1.4%)

 

 

$517 million reduction from the current law requirements due to proposed elimination of renters' credit (total spending on tax relief would otherwise have been higher by this amount in 1996-97)

 

 

 

 

 

Local Government
Financing
Requested:
$159.9 million

 

 

 

 

 

Increase:
$137.7 million
(+621%)

 

 

$150 million for new income tax check-off to provide funds for local public safety

 

 

 

 
public employee retirement systems: the PERS, the STRS, the Judges' Retirement System, and the Legislators' Retirement System. In addition, the state (1) makes Social Security and Medicare contributions for most state employees and (2) contributes to the payment of premiums for health and dental benefit plans for retired state employees.
Figure 3

 

General Fund Costs for
Retirement Programsa
1996-97
(In Millions)

 

 

 

Program
1996-97
Public Employees' Retirement
$485
State Teachers' Retirement
926
Judges' Retirement
57
Legislators' Retirement
1
Social Security and Medicare
283
Health and Dental Benefits for Annuitants
279
Total
$2,031

 

a Includes transfers to retirement trust funds for employer contributions, state mandates, retired judges' benefit payments, and other purposes. Does not include PERS and STRS administrative expenditures from trust funds. Excludes costs for University of California employees.

 
---
Return to LAO Budget Analysis Table of Contents

Return to LAO Home Page