Legislative Analyst's Office, March 18, 1996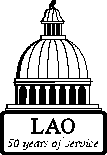 Background Information on
AFDC, SSI/SSP, and Medi-Cal Programs
And Proposition 99, Part II
---
Child Support Enforcement
Program is administered primarily by the county district attorney and funded by the counties (34 percent) and the federal government (66 percent)

As a result of the counties' enforcement efforts, increased support payments to AFDC families reduce the grant expenditures. 1995-96 "off-set" to the General Fund from collections is estimated to be over $170 million.

Counties receive incentive payments from the state and federal government designed to encourage them to maximize collections.
---
GAIN Overview
Mandatory Participants

All AFDC recipients unless exempt.
Major exempt categories:

Parent with child under age 3.
Incapacitated parent or ill family member.
Employed 30 or more hours per week.

Services

Job search.
Basic education.
Job training.
Community work experience.
Child care.

Participation 1994-95

An average of 79,158 participants receive GAIN Services.
This represents about 21 percent of mandatory participants.
Program changes could result in higher participation rates in 1995-96 and 1996-97.

Federal Law Establishes Target Groups

Parent under age 24 and has not completed high school or has little or no work experience.
Families who have received aid for three years.
Families in which youngest child is within two years of being ineligible for assistance because of age.

Funding

Federal funding is capped at $180 million.
1995-96 state funds: $83 million General Fund, $20 million Employment Training Fund.
---
GAIN Program Shows Positive Effects
GAIN Three-Year Impact
AFDC-FG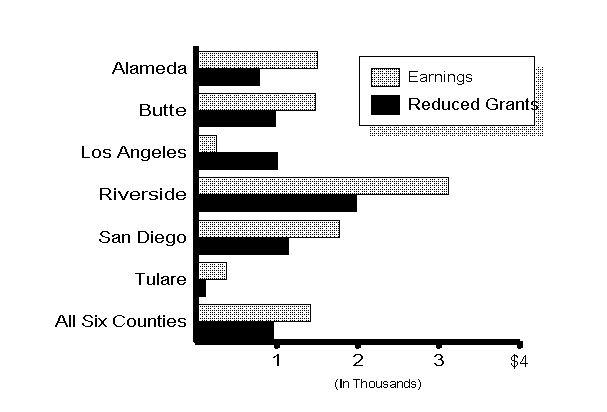 ---
GAIN Program Shows Positive Effects
GAIN Three-Year Impact
AFDC-U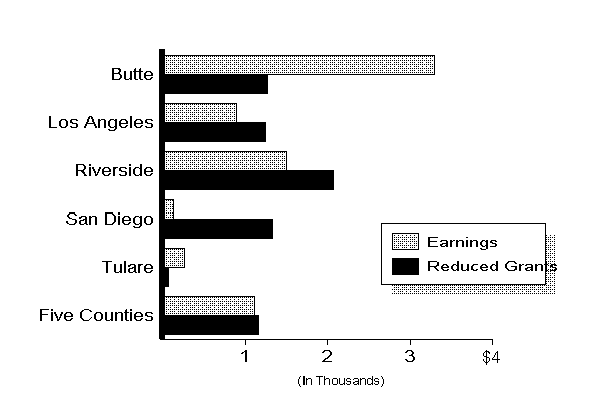 ---
GAIN Program Can Be Cost Effective
Cost-Effectiveness: Return to Government
Per Dollar Invested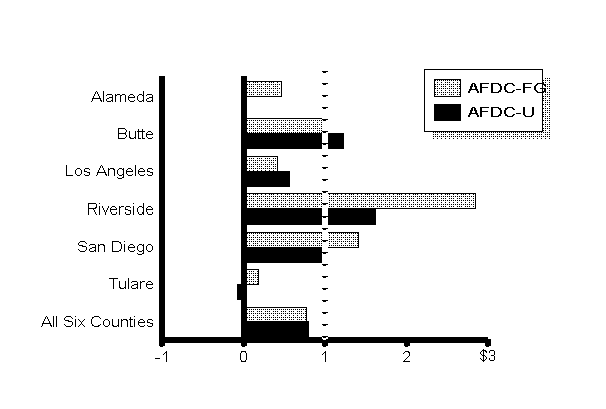 ---
SSI/SSP Overview
Eligibility

Financially needy aged, blind, or disabled individuals adn couples.

Services

Cash grants
Grant varies with eligibility category
1994-95 grant for aged and disabled individuals (largest category): $614 per month

Caseload in February 1996

330,648 aged
21,842 blind
675,295 disabled

Federal law places eligibility and maintenance of effort constraints on the program

General Fund cost: $1.9 billion for benefits, $60 million for administrative fee paid to federal government

Serves as a "pass through" of approximately $3.5 billion in federal funds for benefits and administration
---
Disabled Receipients Represent Largest and Fastest
Growing Segment of SSI/SSP Caseload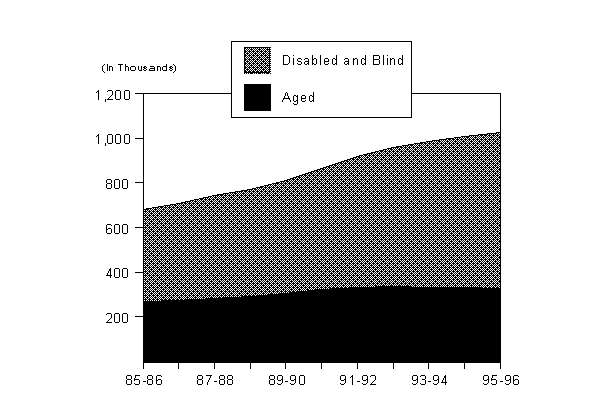 ---
California's SSI/SSP Grants Highest Among the Ten Largest States
November 1995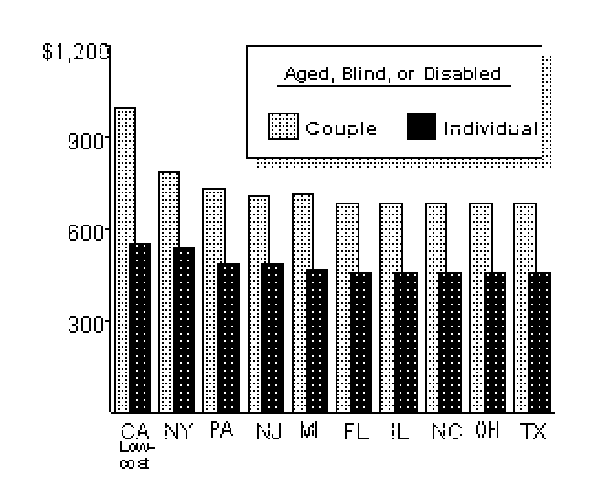 ---
SSI/SSP Grants for Individuals Compared to Poverty Level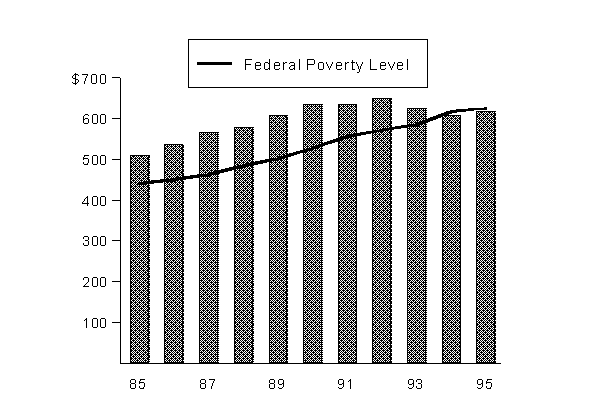 ---
SSI/SSP Grants for Couples Compared to Poverty Level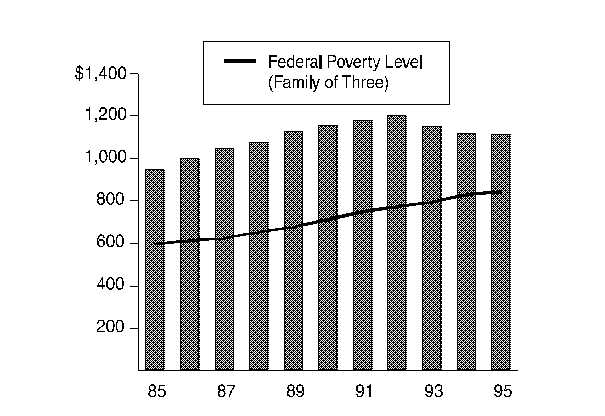 ---