Legislative Analyst's Office, March 18, 1996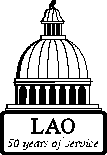 Background Information on
AFDC, SSI/SSP, and Medi-Cal Programs
And Proposition 99, Part III
---
Medi-Cal Program
About one in six Californians, or 5.4 million persons, will be eligible for Medi-Cal in 1995-96.

Federal Law places many constraints on the Medi-Cal Program.

Cost: $6 billion from the General Fund.

Serves as a "pass through" for about $1 billion in federal funds.

Expenditures increased rapidly in recent years -- though this trend is slowing.

Growth was due to the economy and medical care inflation. Demographics also have a significant effect.

Caseload growth began to slow down in 1994-95.

Despite rapid expenditure increases, cost per person are very low and have increased at a rate slightly below than of the national average.

Medi-Cal is a vital revenue source for counties and other "safety net" providers.
---
Who Is Eligible for Medi-Cal?
(Dollar in Millions)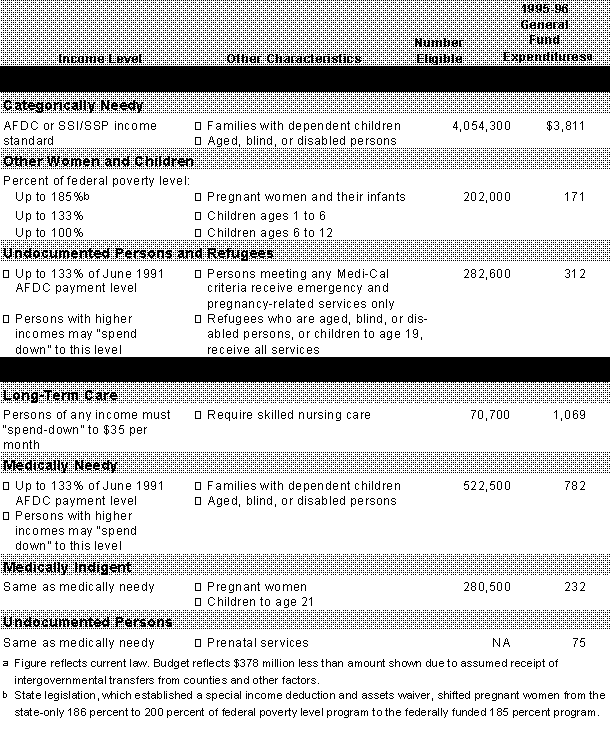 ---
Medi-Cal Caseloads Leveling Off
Average Annual Caseload (In Thousands)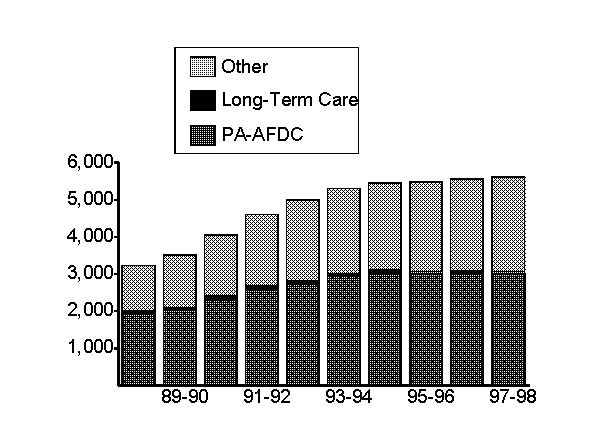 Medi-Cal caseloads grew rapidly in the early 1990s but the growth rate began to slow down in 1994-95.
The most significant factor is the flattening of caseloads in the Public Assistance -- AFDC component.
We project that these cases will decline slightly in 1995-96 and continue at about the same level in the following two years.
---
Dollars in Millions

Total
Expenditures
Hospital inpatient
$5,459
Long-term care
2,251
Managed Care
1,436
Presecription drugs
1,102
Physician services
992
Dental
565
Hospital outpatient
450
Other medical services
661
---
A Majority of Medi-Cal Spending Is for the Elderaly and Disabled
Medi-Cal Spending and Caseload
1995-96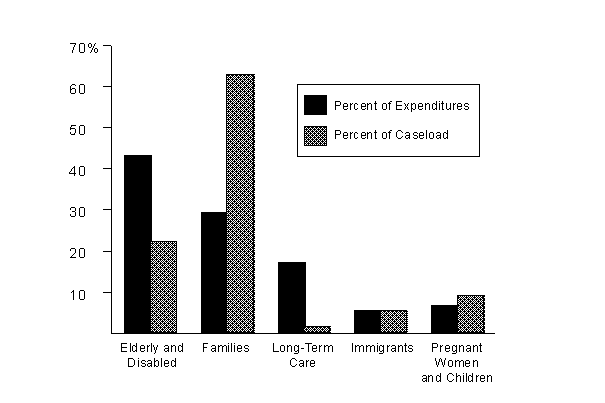 ---
California Is Below Average in Per-Recipient Medicaid Costs
Medicaid Annual Cost Per User 1993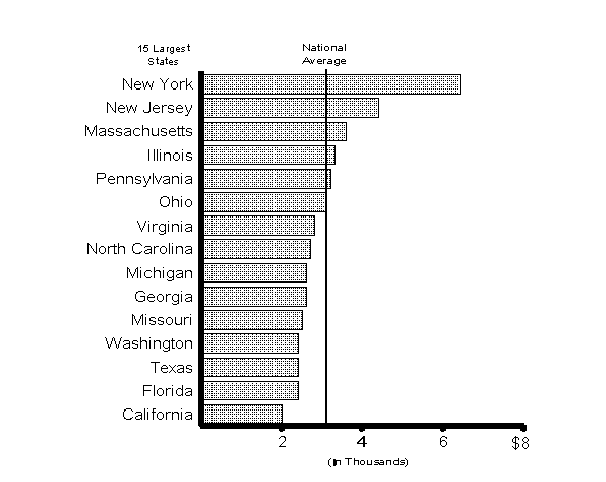 In contrast to the high proportion of state residents served by Medi-Cal relative to other states, the per-person cost of California's program is lowest among the 15 major states -- and about $1,000 per person below the U.S. Average.
California's relatively low per-person cost is due to a number of factors, including the high proportion of Medi-Cal recipients who are in families absent or unemployed parents and successful cost containment strategies that have kept California reimbursement rates for hospitals and nursing homes significantly below the rates such facilities are paid in other states.
---
Proposition 99 -- Basic Provisions
Approved by voters in November 1988.

Established 25 cent surtax per package of cigarettes and an equivalent amount on all other tobacco products sold in California.

Established Cigarette and Tobacco Products Surtax fund (C&T Fund) and allocated revenues to six accounts within this fund.

Provides funding for health services, health education, and other programs, including resources and research programs.

Sprcifies that funds cannot supplant but must supplement existing levels of service.

Proposition does not appropriate surtax revenues.

Appropriation of revenues prior budget year:

Revenues for health education and health services programs have been appropriated in special legislation since 1989-90 -- Ch 1331/89 (AB 75, Isenberg) followed by Ch 278/91 (AB 99, Isenberg) and Ch 195/94 (AB 816, Isenberg).
Provides a mechanism for adjusting appropriations if revenues exceed or fall below specified appropriation amounts with exception of "protected" programs.
Revenues for research adn resource programs have been appropriated in the annual Budget Act.
Appropriation authority sunsets June 30, 1996. Governor has proposed reauthorization.
---
Proposition 99 Account Allocations
1996-97
(In Millions)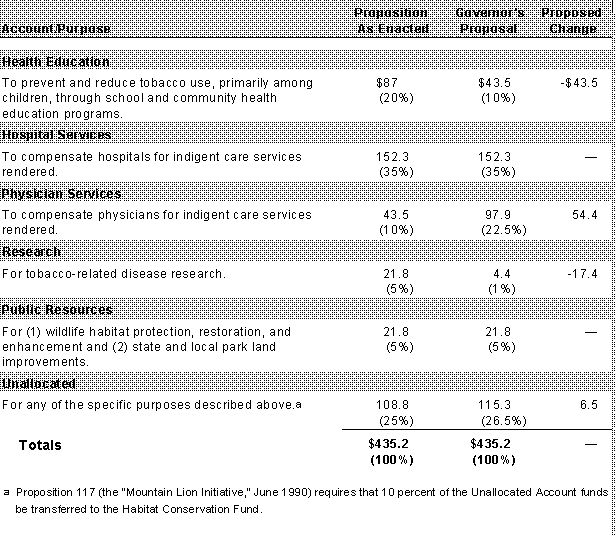 ---
Proposition 99 Funding for Department of Health Services Programs
1996-97 Governor's Budget
(In Millions)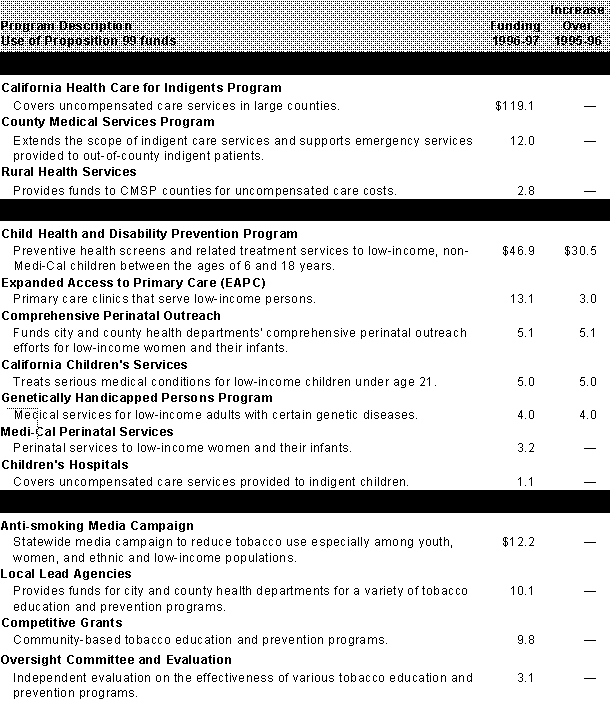 ---