This week, the Federal Reserve released new data on total debt of California households in the second quarter of 2020. This new data suggests, somewhat surprisingly, that household balance sheets remained relatively healthy during a period of record-high job losses. While this data cannot confirm it, the apparent stability of household finances likely was driven, at least in part, by a variety of federal government actions aimed at assisting households and business owners—such as enhanced unemployment benefits, stimulus checks, and loans to business owners. Much of this assistance was temporary and now has expired.
As shown in the figure below, California households had about $73,000 of debt per person in the second quarter of 2020. This is a slight decline from the amount of household debt in the first quarter of 2020. Mortgage debt is by far the largest category of debt, with other major categories being auto loans, student loans, and credit cards. National data suggests that the decline in debt in the second quarter was primarily driven by reductions in credit card balances.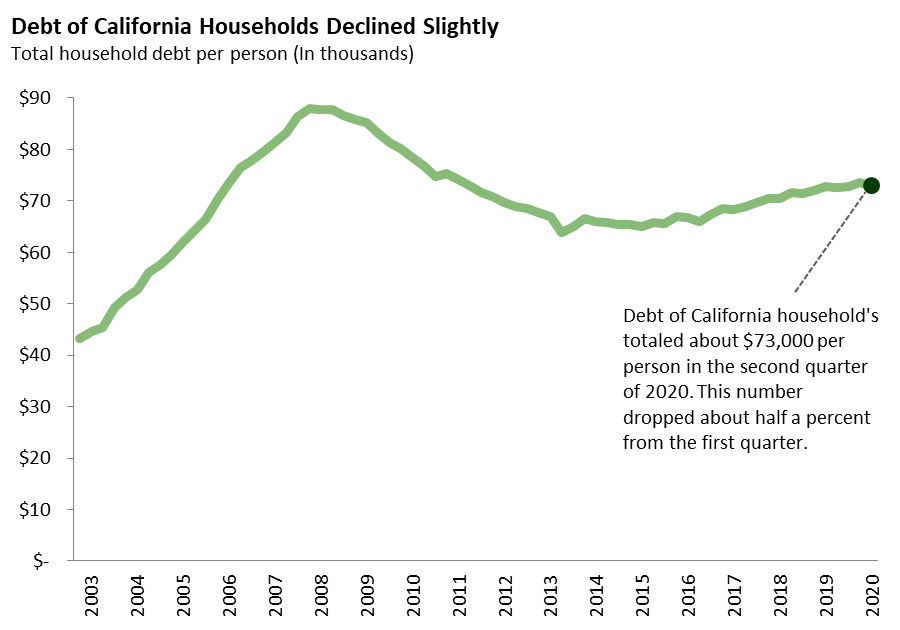 The next chart shows that new bankruptcies among California consumers were at a record low in the second quarter of 2020. This matched the pattern at the national level. An important caveat for this second quarter bankruptcy data is that the capacity of courts to process bankruptcy filings may have been diminished during this period due to public health measures.