---
Human Services
---
CalWORKs
The California Work Opportunity and Responsibility to Kids (CalWORKs) program provides cash assistance, child care, and employment services to low-income families with children. As shown in Figures 1 and 2, the spending plan provides a total of $7.2 billion (all funds) to support the CalWORKs program in 2022-23, an increase of about $1 billion (16 percent) relative to estimated spending in 2021-22. The year-over-year increase reflects a projected increase in CalWORKs caseload and various programmatic augmentations, as described below. Within the total funding amount, the spending plan provides $857 million General Fund for CalWORKs in 2022-23, an increase of about $65 million (8 percent) relative to 2021-22. Major changes in CalWORKs funding and policy included in the 2022-23 spending package are described below.
Figure 1
CalWORKs Funding Sources
(Dollars in Millions)
2021‑22

2022‑23

Change From 2021‑22 to 2022‑23

Amount

Percent

Federal TANF block grant funds

$2,737

$3,229

$492

18%

General Fund

792

857

65

8

Realignment funds from local indigent health savings

844

549

‑295

‑35

Realignment funds dedicated to grant increases

582

1,009

427

73

Other county/realignment funds

1,200

1,519

320

27

 Totals

$6,155

$7,163

$1,008

16%
Figure 2
CalWORKs Budget Summary
All Funds (Dollars in Millions)
2021‑22

2022‑23

Change From 2021‑22 to 2022‑23

Amount

Percent

Number of CalWORKs Cases

305,304

368,633

63,329

21%

Cash Grants

$3,056

$4,220

$1,164

38%

Single Allocation

Employment services

$1,138

$1,080

‑$58

‑5%

Cal‑Learn case management

13

16

3

25

Eligibility determination and administration

676

678

2

—

Subtotals

($1,827)

($1,774)

(‑$155)

(‑8%)

Stage 1 Child Carea

$381

$450

$69

18%

Other Allocations

COVID‑19 relief payments

$203

—

‑$203

‑100%

Home Visiting Program

91

$103

13

14

Housing Support Program

277

285

8

3

Other

313

314

1

—

Subtotals

($883)

($702)

(‑$182)

(‑21%)

Otherb

$7

$18

$10

141%

 Totals

$6,155

$7,163

$1,008

16%
Projects Caseload to Grow Following Historic Decline. Generally speaking, CalWORKs caseload and costs increase during and following economic recessions, and decrease during economic expansions. The public health emergency and subsequent recession caused by COVID-19 represented a significant deviation from this historic norm, with caseload decreasing from about 360,000 in March 2020 to about 285,000 in September 2021. However, recent data suggest caseload has increased since fall 2021, and the 2022-23 budget anticipates this trend to continue, with caseload forecast to average about 370,000 a month in 2022-23.
Increases Grants by 21 Percent Beginning October 2022. This increase is the cumulative effect of two separate increases, each with different fund sources and lasting for different durations. The first is an 11 percent increase funded and triggered by growth in certain realignment revenues, and will be a permanent increase to grant amounts. The second is an additional 10 percentage point increase funded by a discretionary augmentation in General Fund spending, and is scheduled to expire in October 2024 absent future legislative action. (Budget-related legislation includes CalWORKs grant increases as a legislative priority in 2024-25 subject to a potential "trigger" if certain revenue conditions are met.) Figure 3 shows how the grant levels included in the spending plan compare to the Legislature's intended target for these grants (50 percent of the federal poverty level for a family one person larger than the CalWORKs assistance unit size).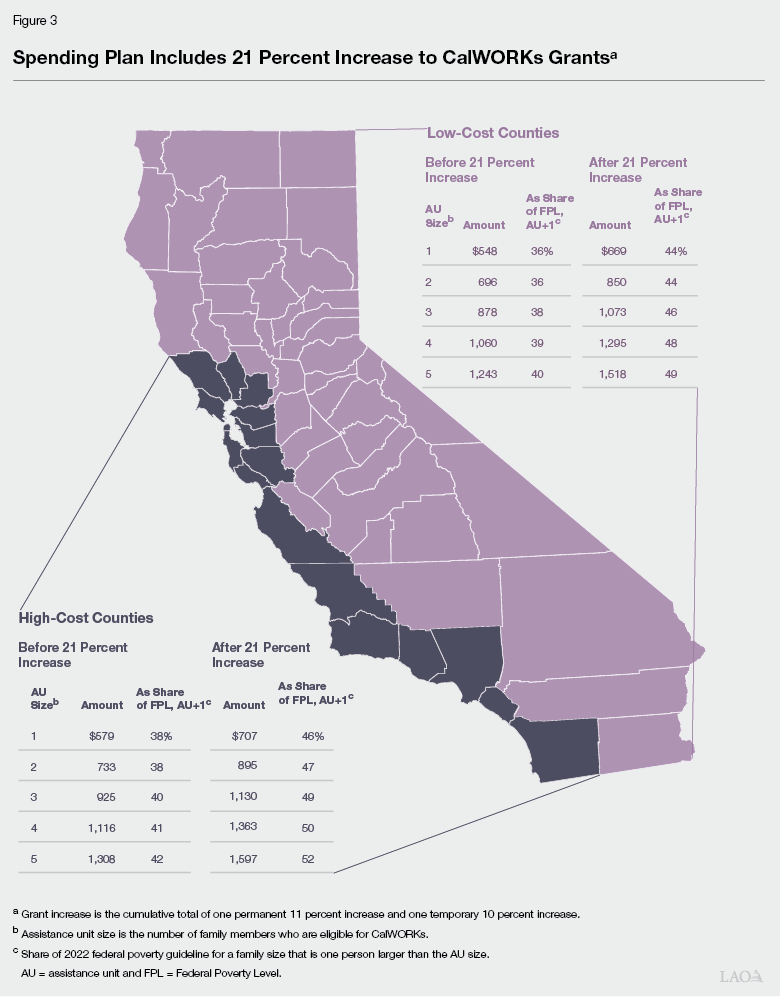 Requires Administration to Regularly Revise CalWORKs Administrative Funding Formula. Beginning in 2018-19, the state began using a revised funding formula for supporting county administrative activities in the CalWORKs program. Generally speaking, this formula increased or decreased funding gradually as caseload increased or decreased, but did not separately adjust for increases in the cost of doing business. The 2022-23 spending plan includes budget-related legislation requiring the administration to revise this formula once every three years to account for changing costs. It also provides a temporary augmentation of $55 million in 2022-23 in anticipation of these future revisions.
Requires Administration to Consult Workgroup on Federal Penalty Passthrough. Federal law requires states to meet specific work participation rate benchmarks for adults benefiting from Temporary Assistance for Needy Families (TANF) funding (the federal fund source which partially supports CalWORKs). If states fail to meet these benchmarks, their TANF grants could be reduced. Existing state law requires any reduction in TANF funding due to such penalties to be shared between the state and individual counties who did not meet the work participation benchmarks. New trailer bill language requires the administration to review this policy alongside an existing CalWORKs workgroup effort and report back to the Legislature on options to amend it.
---
---