Environment and Natural Resources
Climate Change and Energy
The Global Warming Solutions Act of 2006 (Chapter 488 [AB 32, Núñez/Pavley]), commonly referred to as AB 32, established the goal of reducing greenhouse gas (GHG) emissions statewide to 1990 levels by 2020. Subsequently, SB 32 (Chapter 249, Statutes of 2016 [Pavley]) reduced the GHG emission target by an additional 40 percent by 2030. The state has developed a wide variety of regulations and programs intended to reduce GHG emissions, including a cap-and-trade program.
The cap-and-trade program places a "cap" on aggregate GHG emissions from large GHG emitters. The cap declines over time, ultimately arriving at the target emission level in 2030. To implement the cap-and-trade program, ARB allocates a number of carbon allowances equal to the cap, and each allowance is essentially a permit to emit one ton of carbon dioxide (or the equivalent amount for other GHGs). The ARB provides some allowances for free, making others available for purchase at quarterly auctions. Entities can also "trade" (buy and sell on the open market) the allowances in order to obtain enough to cover their total emissions for a given period of time.
On this page:
---
---
Greenhouse Gas Emissions Come From a Wide Variety of Sources
(Click on the image to enlarge)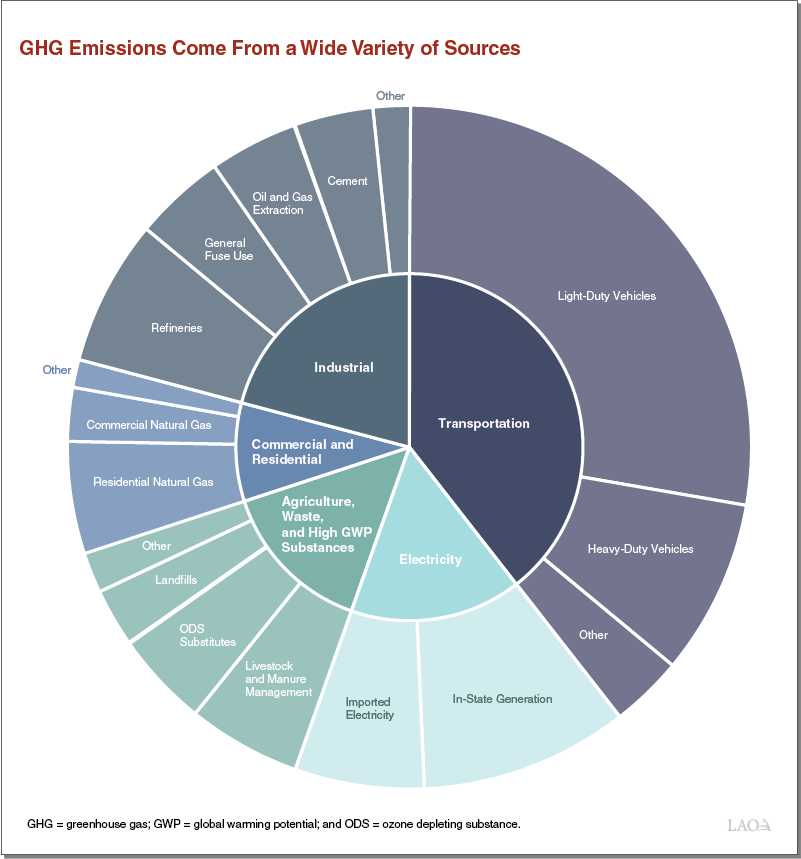 For more information, please see Air Resources Board Emissions Inventory
State Met 2020 GHG Goal Early, but 2030 Goal More Ambitious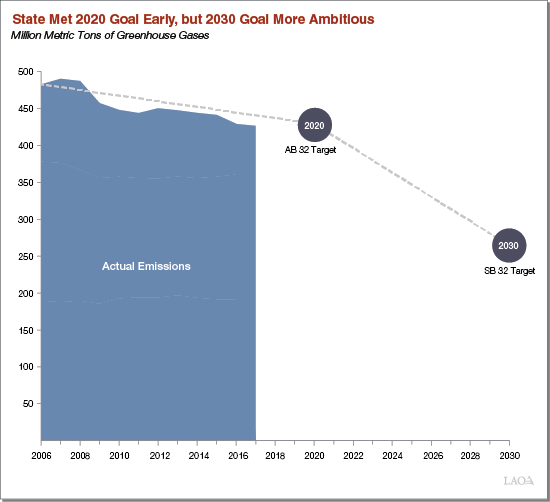 Electricity Is Biggest Driver of Emission Reductions So Far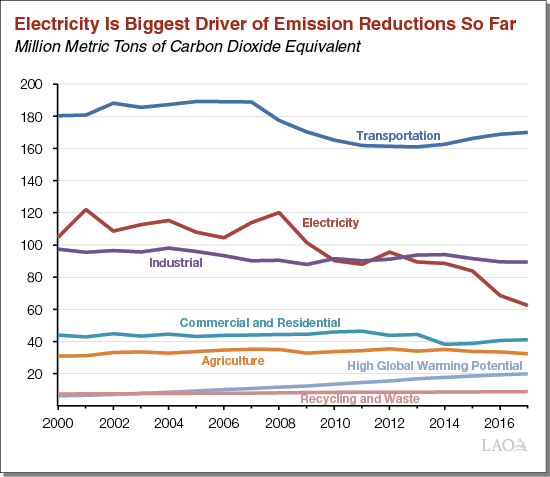 For more information, please see Assessing California's Climate Policies—An Overview
Major Policies to Meet Statewide Greenhouse Gas Limits
| | |
| --- | --- |
| | Cap‑and‑Trade. Regulation that establishes a "cap" on overall emissions from large emitters by issuing a limited number of permits (also known as allowances). Allowances can be bought and sold (traded), which creates a market price for allowances and an incentive for lowest cost reductions. |
| | Short‑Lived Climate Pollutants. Regulations and incentives intended to reduce certain types of emissions from dairies, landfills, and refrigeration equipment. |
| | Renewable Portfolio Standard. Regulations that require utilities to provide a certain percentage of electricity from qualifying renewable sources, such as wind and solar. |
| | Energy Efficiency. Regulations and financial incentives to encourage more efficient energy use in commercial buildings, homes, and manufacturing facilities. |
| | Low Carbon Fuel Standard. Regulation that requires transportation fuel suppliers to reduce the amount of greenhouse gases per unit of fuel used in California—also known as carbon intensity of fuels. |
| | Vehicle‑Related Programs. Regulations and incentives to encourage more efficient light‑ and heavy‑duty vehicles, as well as promote certain types of technologies such as electric vehicles. |
| | Vehicle Miles Traveled. Planning strategies and financial incentives intended to reduce the amount of light‑duty vehicle use through such things as increased transit and changes to land use. |

---
---
Cap-and-Trade Regulation Ensures Emissions Do Not Exceed Limit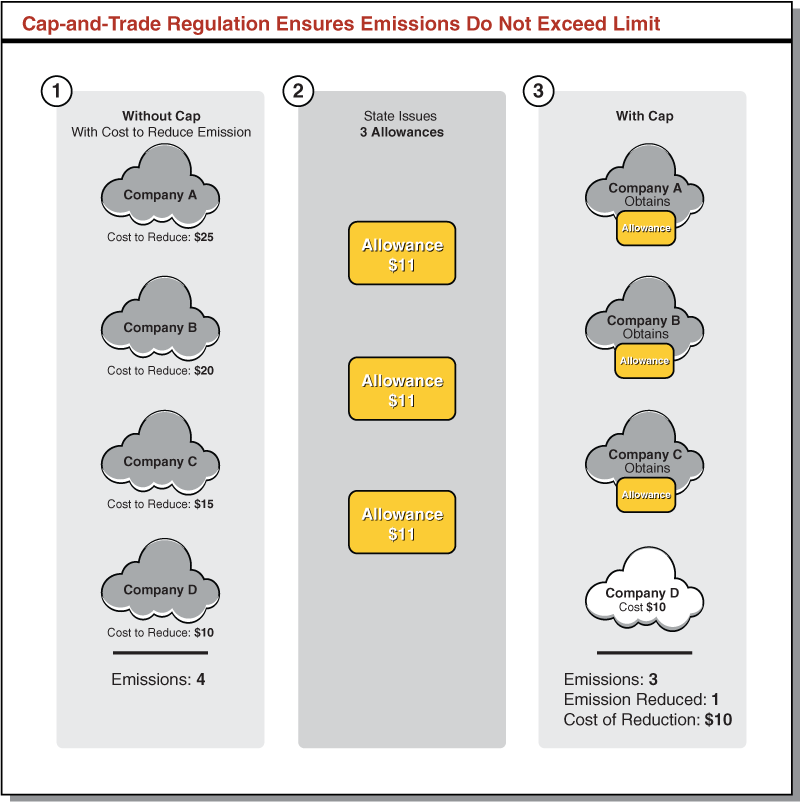 For more information, please see The 2017-18 Budget: Cap-and-Trade
State Revenue From Cap-and-Trade Auctions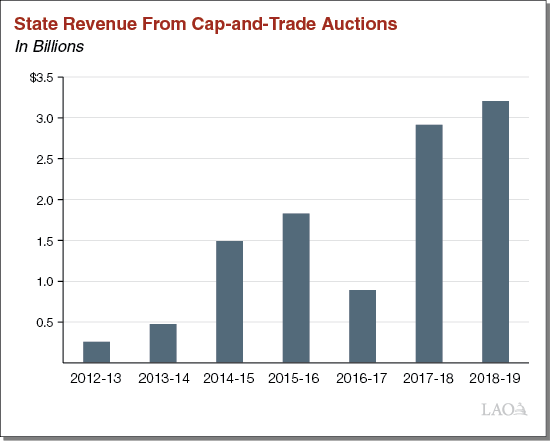 For more information, please see California Air Resources Board Public Auction Proceeds Report.
2018‑19 Cap‑and‑Trade Expenditure Plan
(In Millions)
Program

Department

Amount

Continuous Appropriationsa

$1,490

High‑speed rail

High‑Speed Rail Authority

$621

Affordable housing and sustainable communities

Strategic Growth Council

497

Transit and intercity rail capital

Transportation Agency

248

Transit operations

Caltrans

124

Other Existing Spending Commitments

$166

Manufacturing sales tax exemption backfill

N/A

$89

State administrative costs

Various

49

SRA fee backfill

CalFire/Conservation Corps

28

Discretionary Spending

$1,401

Mobile Source Emissions

Heavy duty vehicle and off‑road equipment programs

Air Resources Board

$180

Clean Vehicle Rebate Project

Air Resources Board

175

Low‑income light duty vehicles and school buses

Air Resources Board

100

Low‑carbon fuel production

Energy Commission

13

Local Air Pollution Reduction

Local air district programs to reduce air pollution

Air Resources Board

245

Local air district administrative costs

Air Resources Board

20

Technical assistance to community groups

Air Resources Board

10

Agriculture

Agricultural diesel engine replacements

Air Resources Board

112

Methane reductions from dairies

Food and Agriculture

99

Incentives for food processors

Energy Commission

64

Healthy Soils

Food and Agriculture

5

Agricultural renewable energy

Energy Commission

4

Forestry

Forest health and fire prevention

CalFire

160

Prescribed fire and fuel reduction

CalFire

30

Local fire response

Office of Emergency Services

25

Regional forest restoration projects

Natural Resources Agency

20

Urban forestry

CalFire

5

Other programs

Transformative Climate Communities

Strategic Growth Council

40

Waste diversion

CalRecycle

25

Urban greening

Natural Resources Agency

20

Climate and energy research

Strategic Growth Council

18

Low‑income weatherization

Community Services and Development

10

Energy Corps

Conservation Corps

6

Wetland restoration

Fish and Wildlife

5

Coastal adaptation

Various

5

Woodstove replacements

Air Resources Board

3

Technical assistance for disadvantaged communities

Strategic Growth Council

2

Total

$3,056

For more information, please see Greenhouse Gas Reduction Fund Appropriations by Fiscal Year and LAO 2018-19 Spending Plan.
---
---
Transportation Emissions Had Declined, But Increased in Recent Years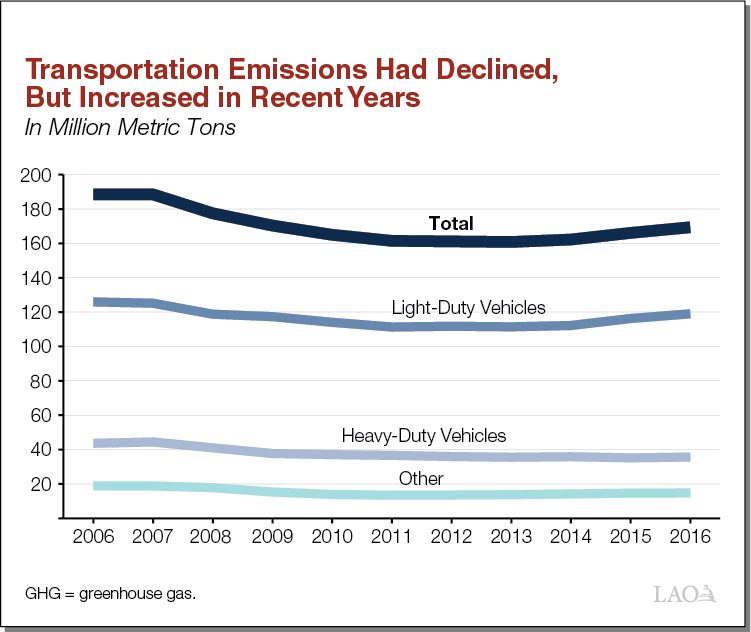 For more information, please see Assessing California's Climate Policies—Transportation
State Oversees Various Programs Designed to Reduce Greenhouse Gas (GHG) Emissions in Transportation Sector
Light‑Duty Vehicle Programs
Clean Vehicle Rebate Project. Rebate for purchase or lease of a new zero‑emission vehicle (ZEV).
Clean Cars 4 All. Rebate to retire an older, high emission vehicle and replace it with a newer zero or lower‑emission vehicle.
Single‑Occupant Vehicle Decals. Program that allows ZEV drivers to use the high‑occupancy lane even when containing only a single individual.
Clean Car Standards. Joint state and federal regulation requiring auto manufacturers to incrementally improve fuel efficiency and reduce GHG emissions from their vehicle fleets over time.
ZEV Mandate. State regulation requiring auto manufacturers to increase the number of ZEVs sold in the state.
Public ZEV Infrastructure Funding. Funding to support the installation of public electric vehicle recharging and hydrogen refueling stations.
Heavy‑Duty Vehicle Incentives
Demonstrations and Pilots. Grants for technologies and equipment that are not yet commercially available.
Programs for Early Commercial Deployment. Incentives for technologies that have passed the pilot stage and commercial models are starting to become available.
Programs Focused on Local Pollution Reductions. Programs primarily focused on reducing near‑term reductions in local emissions, such as incentives for vehicle replacements.
ZEV Fueling Infrastructure. Programs that fund infrastructure for heavy‑duty vehicle charging and refueling stations.
Low Carbon Fuels
Low Carbon Fuel Standard. Regulation requiring reductions in the carbon intensity of transportation fuels.
Vehicle Miles Traveled
SB 375. 2008 legislation requiring regional transportation planning agencies to create plans to reducing light‑duty vehicle miles traveled.

Major State Zero‑Emission Vehicle (ZEV) Infrastructure Programs
Program

Agency

Funding

Description

Amount

Source

Volkswagen (VW) settlement

California Air Resources Board

$800 million over ten years

Volkswagen

A 2016 settlement requires VW to invest $800 million in ZEV projects—mostly for ZEV fueling infrastructure—in California over ten years. The first two rounds of spending will invest about $270 million to construct over 3,000 charging stations.

Alternative and Renewable Fuel and Vehicle Technology Program

California Energy Commission

$275 million through 2018‑19

Vehicle fees

Spent about $40 million annually for public ZEV infrastructure in past years. Recent budget actions increased that amount to $114 million in 2018‑19. Has funded about 7,000 electric charging and hydrogen refueling stations funded to date, and increased spending could result in more than an additional 10,000.

Investor‑owned utilities plans

California Public Utilities Commission (CPUC)

$230 million since 2016

Ratepayers

Since 2016, CPUC has approved about $230 million for ZEV infrastructure pilot projects, primarily at multifamily residential, workplace, and other public locations. Estimated to result in over 12,000 charging stations.

NRG settlement

CPUC

$100 million (one time)

NRG Energy

A 2012 settlement requires the energy company NRG to install at least 200 public fast‑charging stations and infrastructure for up to 10,000 privately owned charging stations at residences and workplaces.

Vehicle charging at state buildings

Department of General Services

$90 million over four years

State General Fund and special funds

The department has a plan to install 6,200 charging stations at state buildings for employees and the state fleet.

Vehicle charging on state highways

Department of Transportation

$20 million (one time)

Fuel taxes

The 2017‑18 budget included $20 million to install over 30 electric vehicle fast chargers along highway corridors.

---
---
Electricity Comes from Various Sources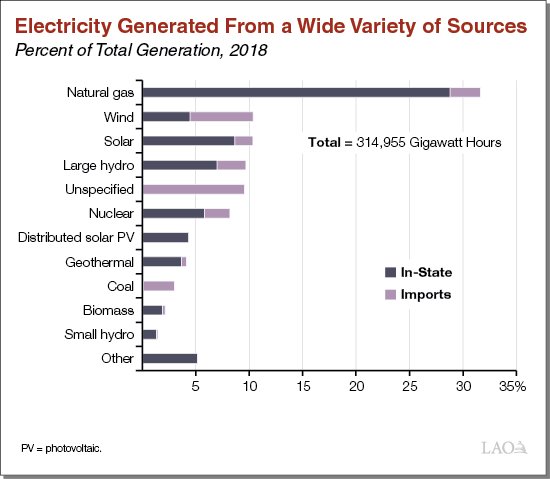 Major State Spending on Energy Efficiency, Alternative Energy, and Mobile Source Emissions Reductionsa
(In Millions)
Category/Program

Description

Agency

Estimated 2017-18 Spending

Energy Efficiency

IOU Energy Efficiency Programs

Programs to increase energy efficiency and transform technology markets within California using ratepayer funds.

CPUC

$1,000

Clean Energy Jobs Act—Proposition 39

Grants for schools and community colleges for energy efficiency and clean energy projects.

CDE/CCC

423

Energy Savings Assistance Program

Energy efficiency program for low-income IOU customers, including weatherization, minor home repairs, and energy education.

CPUC

373

Alternative Energy

IOU Self Generation Incentive Program

Rebates for qualifying distributed energy systems installed on the customers' side of the utility meter, including fuel cells and energy storage systems.

CPUC

$189

Electric Program Investment Chargeb

Funding for applied research and development, technology demonstration and deployment, and market facilitation for clean energy technologies.

CEC

125

Dairy Digester Research and Development

Grants to implement dairy digesters that reduce methane emissions from dairy manure in California.

CDFA

99

New Solar Homes Partnership

Incentives for installation of eligible solar energy systems on new residential construction.

CEC

96

Incentives for food processors

Incentives for emission reductions from food processing facilities.

CEC

60

Public Interest Natural Gas Research, Development and Demonstration Program

Research, development and demonstration program to advance science or technology for clean energy innovations related to natural gas use.

CEC

28

Mobile Source Emission Reductions

Heavy Duty Vehicles and Off-Road Equipment

Programs that promote low-emission heavy-duty vehicles and equipment, including freight demonstration projects, vouchers for trucks and buses, and truck and bus pilots.

ARB

$398

Carl Moyer Program and other local air district programs

Grants administered by local air districts for cleaner-than-required engines, equipment, and other sources of air pollution.

ARB

319

Light-duty vehicles

Includes rebates for zero-emission vehicles, additional incentives for certain low- and moderate-income households purchasing cleaner vehicles, and other programs to reduce transportation emissions in disadvantaged communities.

ARB

265

Agricultural equipment

Incentives to promote low-emission agricultural equipment

ARB

135

Alternative and Renewable Fuel and Vehicle Technology Program

Incentives to develop and deploy alternative vehicle technologies and renewable fuels.

CEC

97

IOU electric vehicle infrastructure pilots

Pilot programs to support electric vehicle charging in various locations, such as apartment buildings and workplaces.

CPUC

86