Skip to main content

All Articles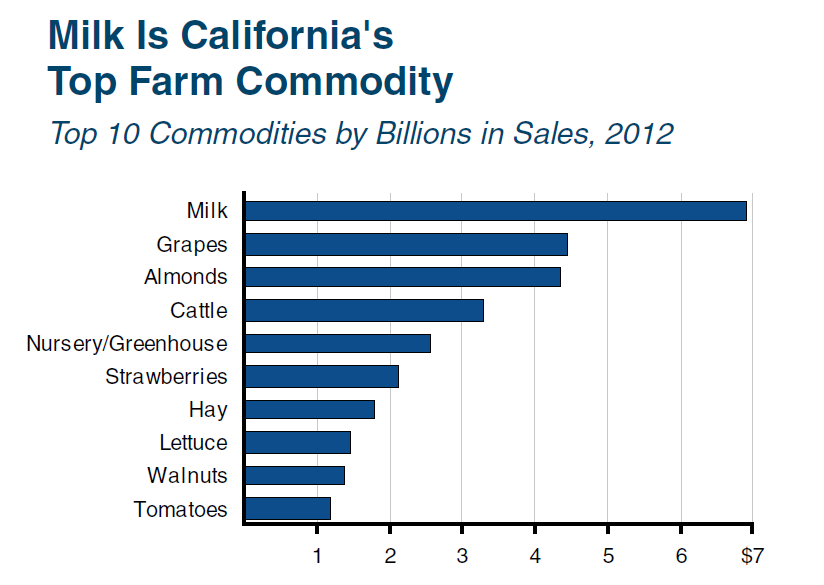 California Is the Leading Farm State. In 2012, California's 80,500 farms produced commodities that generated $45 billion of receipts—11 percent of the U.S. total—according to federal data. This ranked California first among the states, far surpassing second-ranked Iowa, whose farms generated $32 billion of receipts. California farms employ about 400,000 in the average month (2.6 percent of all California jobs). In addition, food manufacturers—such as bakeries, fruit and vegetable processing, dairy product manufacturing, and animal slaughtering and processing—employ about 150,000, and agriculture results in other jobs too.
Leading Dairy-Producing State. Milk is California's top farm commodity. Located at over 1,500 dairy farms, California's 1.8 million milk cows generated $6.9 billion worth of milk and cream in 2012. Over 80 percent of California's milk cows are in the Central Valley, with 450,000 in Tulare County (the nation's largest dairy-producing county). California has been the nation's leading dairy state since 1993, when it surpassed Wisconsin in milk production. Over 40 percent of the state's milk supply goes to cheese production. California makes over 20 percent of the country's cheese and ranks number two among the states—behind Wisconsin—in cheese production.
Leader in Many Other Agricultural Commodities. California accounts for over 99 percent of nationwide production of almonds and walnuts, as well as over 99 percent of national production of artichokes, dates, figs, raisin grapes, kiwifruit, olives, pistachios, dried plums, pomegranates, and sweet rice. The state produces over 90 percent of the U.S.'s grapes and strawberries, and over 70 percent of the country's lettuce and tomatoes. By dollar value of sales, the state produced 50 percent of the U.S.'s total value for vegetables and melons in 2012.
Large Land Presence. Farms and ranches occupy 25 million acres in California—about one-quarter of the state's land area.
Central Valley is California's Agricultural Leader. In 2012, the top five counties by sales volume of farm commodities were Fresno, Kern, Tulare, Monterey, and Merced.
Almonds Are Top California Farm Export. California exported $18 billion of agricultural products internationally in 2012—nearly triple the value of such exports just ten years before. While dairy is the leading California farm product overall, almonds are the state's leading agricultural export, with a value of $3.4 billion in foreign sales in 2012. Dairy products were the second-ranked California agricultural export, at $1.3 billion. California wine ranked third. (The vast majority of California wine sold—by retail value—retails in California or elsewhere in the U.S.)
Drought Affects Agriculture. The current, severe drought has been affecting California agriculture and farm communities. A 2014 study by UC Davis researchers estimated that the drought would result in $1.5 billion in direct losses to California agriculture in 2014, with 70 percent of statewide crop revenue losses and most of the dairy losses expected to occur in the San Joaquin Valley.
---
---
Article Tags