California recorded 9,197 housing permits in January, the second highest January total since 2007, although down 9 percent from January 2019 which was an unusually strong month.
The multifamily housing permit total of 4,259 was right in line with the January average over the past five years, although nearly a third lower than the 6,356 units the state recorded last January.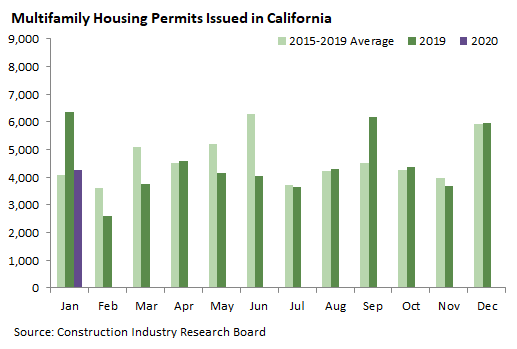 The single family housing permit total of 4,938 was in the middle of the narrow range of monthly totals we have observed since March 2019. It was well above the average for January, which tends to be one of the slowest months for single family permits, and nearly a third above the 3,752 permits recorded in January 2019.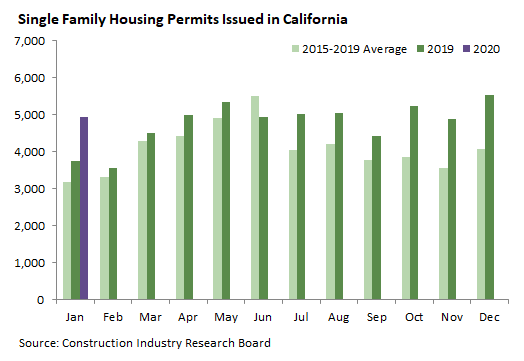 Housing permit activity in the San Francisco Bay Area has slowed since the beginning of 2019, as the graph below shows for the area's five largest counties. This slowdown has been especially apparent in Santa Clara county, although Alameda and San Francisco counties have also seen significant drops. In each of these counties, the decline was entirely due to fewer multifamily permits. Contra Costa and San Mateo counties have not seen similar declines, although they still lag far behind the other counties in overall permit activity.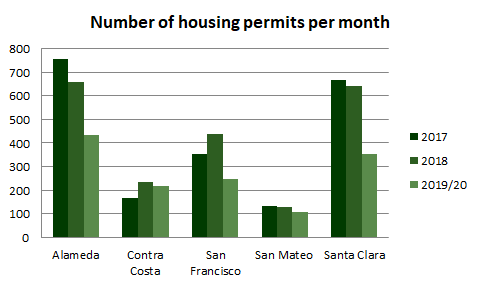 Data source: CIRB (Construction Industry Research Board), a service provided by the California Homebuilding Foundation http://www.mychf.org/cirb.html.