California recorded 7,909 housing permits in June, down 12 percent from June 2019. While this was the most permits the state has recorded since March, it was the lowest June total since 2014, showing the continued impact of the COVID-19 pandemic.
The multifamily housing permit total of 2,745 was the lowest figure yet in 2020 and less than half the June average over the previous five years. June is typically the biggest month of the year for multifamily permits.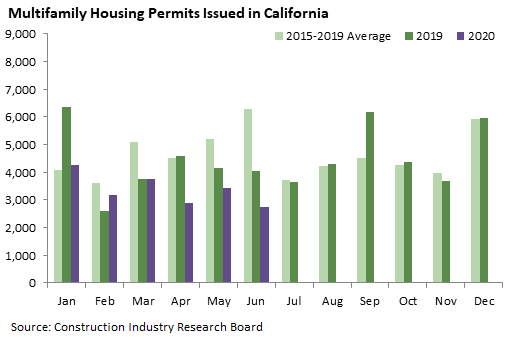 In contrast, the single family permit total of 5,164 was nearly as big as April and May combined, and very close to the 2015-2019 average for June. The "Inland Empire" of Riverside and San Bernardino counties recorded 1,240 units, nearly a quarter of the state total.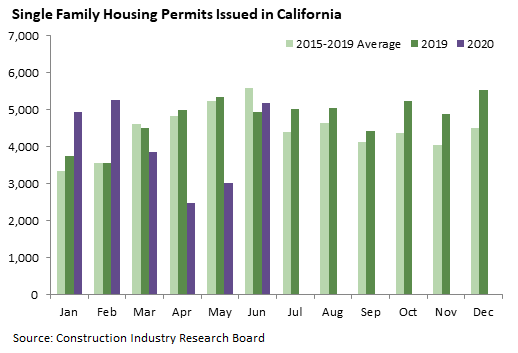 Nonresidential construction permits had a surprising surge in June, driven by large retail projects in San Francisco, Los Angeles, and the unincorporated area of Kern County and large office projects in San Francisco and Irwindale. The aggregate permit value of $2.355 billion was easily the highest monthly figure in 2020 to date, and very close to the 2015-2019 average for June.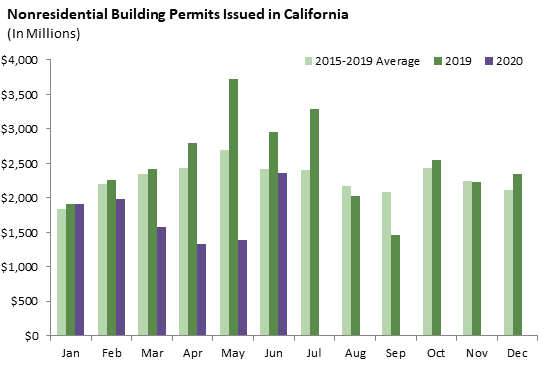 Data source: CIRB (Construction Industry Research Board), a service provided by the California Homebuilding Foundation http://www.mychf.org/cirb.html.