California recorded 8,057 housing permits in August, down 14 percent from August 2019. This was well below the July total, but slightly above June.
The state recorded 5,210 single family permits in July. For the third straight month, the total was just above 5,000 and just above the same month in 2019. It is evident that activity has returned to normal after the pandemic-driven spring slump.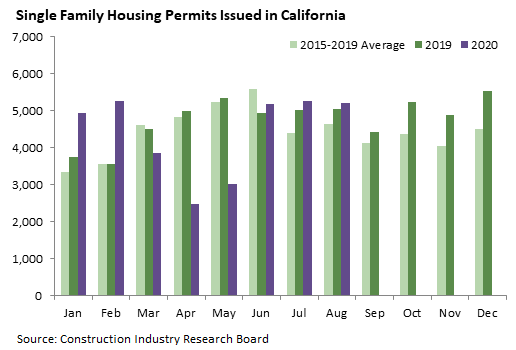 The multifamily housing permit total of 2,847 was very low by historical standards. Most of the dropoff from July is due to Los Angeles County, which recorded 1,733 permits in July but just 624 in August. This is not an unusual level of month to month fluctuation: multifamily permit activity is dominated by large projects, and totals are volatile especially at the county level.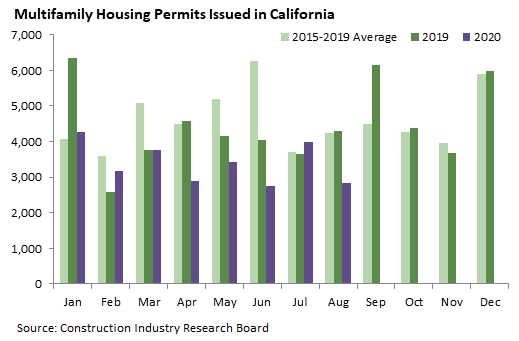 Nonresidential construction permit activity remains weak, although the August aggregate permit value of $1.736 billion represented the smallest dropoff from 2019 of any month since February. The commercial category (office, retail, hotels) was slow in August, although the 'other nonresidential' category was boosted by large projects in Los Angeles and Hayward.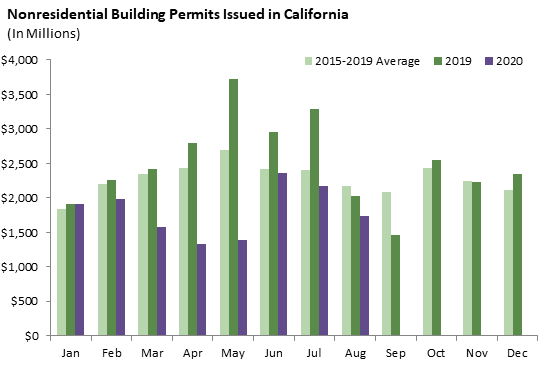 Data source: CIRB (Construction Industry Research Board), a service provided by the California Homebuilding Foundation http://www.mychf.org/cirb.html.