California recorded 8,368 housing permits in November, down 2 percent from November 2019 and in line with the 2020 average of about 8,000 units per month.
The November total of 5,049 single family permits was the lowest monthly total since April, but still above the recent average for November which is typically a fairly slow month. Single family activity has rebounded strongly since the pandemic-driven spring slump, as prices have been rising in most of the state's metropolitan areas.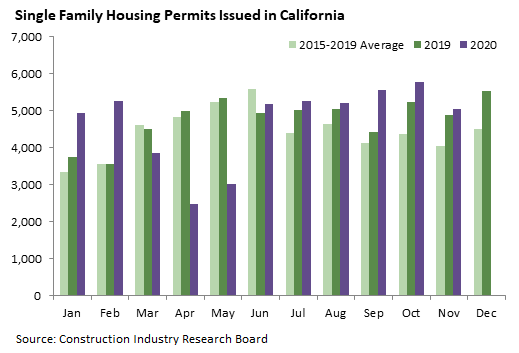 Multifamily permit activity remained sluggish in November, although the total of 3,319 was only modestly below both the 2019 figure and the recent November average in contrast to the previous three months.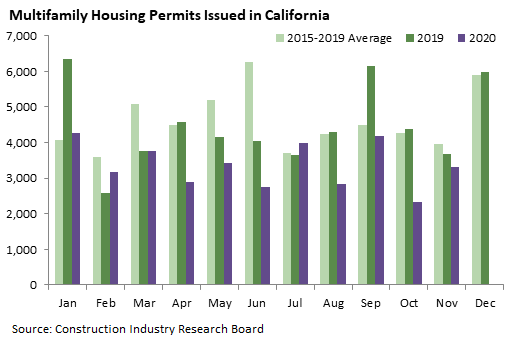 Nonresidential construction permit activity remains very weak. The November total of $1.596 billion was well below both the 2019 figure and the recent average for November. The bright spot in November was the industrial category, which posted a record high (not adjusted for inflation) of $398 million led by large projects in Oxnard, Visalia, and Chino.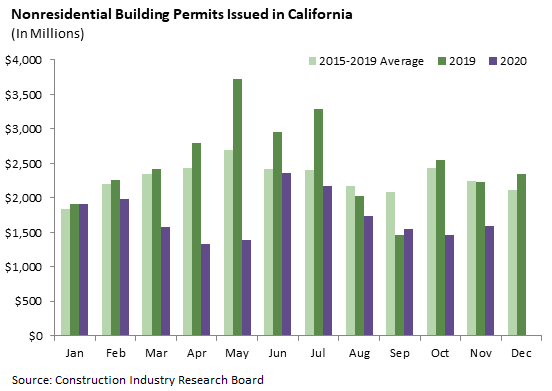 The pattern of high single family activity, low multifamily activity, and very weak commercial construction has been consistent since the resumption of somewhat normal construction activity in June. All these developments suggest that people expect remote work to be a viable long-term prospect for a big share of the workforce.
Data source: CIRB (Construction Industry Research Board), a service provided by the California Homebuilding Foundation http://www.mychf.org/cirb.html.