California recorded 11,611 housing permits in December, up 1 percent from November 2019 and by far the biggest monthly total of 2020. December was the first month since July to exceed the same month in 2019, although November fell just short.
The December total of 5,217 single family permits was in line with the previous six months and well above the recent December average, although it was the first month since May to fall short of the same month in 2019. Single family activity has rebounded strongly since the pandemic-driven spring slump, as prices have been rising in most of the state's metropolitan areas.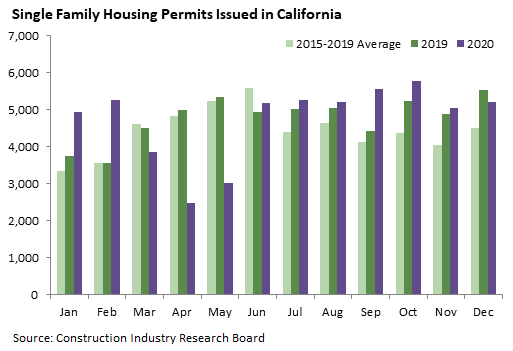 Multifamily permit activity broke out in December, as total of 6,394 was more than half again as large as the next biggest month in 2020. December is frequently a big month for multifamily permits. Still, activity in November and December combined was very close to the 2015-19 average after being well below it for most of the rest of the year. More than half the units permitted in December came from Los Angeles and San Diego counties.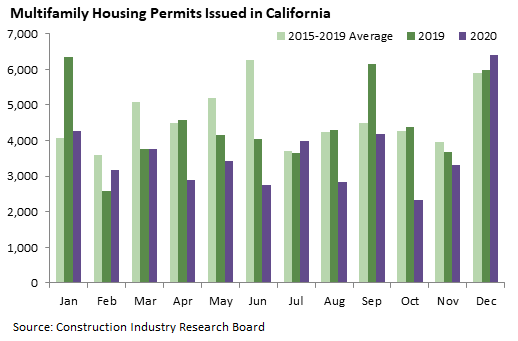 Nonresidential construction permit activity remains weak. The December total of $1.728 billion was nearly 20 percent below the recent average for December, the fifth straight month this pattern has held. The bright spot in December was once again the industrial category, which for the second straight month posted a record high, not adjusted for inflation. The total of $496 million was driven almost entirely by a single huge project in Tracy.