California recorded 9,288 housing permits in January, up 1 percent from January 2020. Activity has recovered somewhat lately, as aggregate single and multifamily housing permits over the past three months have been equal to the same three months in 2019-20.
January is typically the slowest month of the year for single family permits, and the total of 4,609 was well above the 2016-2020 January average. Single family activity has rebounded strongly since the pandemic-driven spring slump, as prices have been rising in most of the state's metropolitan areas. This was the seventh straight month in which the total exceeded the recent average for the month.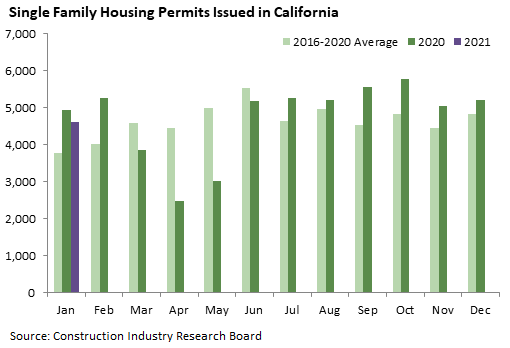 Multifamily permit activity followed up a strong December with another strong showing in January, as the total of 4,679 exceeded both the recent average for January and any of the first 11 months of 2020. More than 80 percent of the units permitted in January came from Los Angeles, Orange, San Diego, and San Francisco counties. Despite its recent sharp drop in rents, San Francisco recorded its biggest month in two years with 525 permits.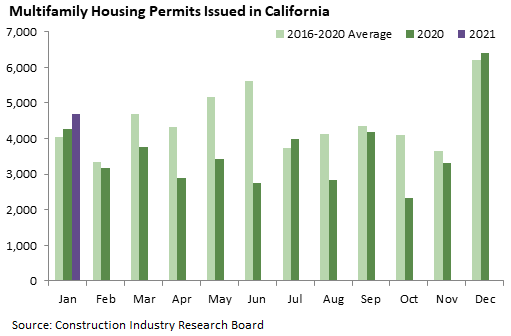 Nonresidential construction permit activity remains very weak, and the January total of $1.048 billion was the lowest of any month since at least 2012. The two largest categories, commercial and alterations, recorded or approached their lowest monthly totals over that period.