California recorded 7,827 housing permits in February, down 7 percent from February 2020. Total permits in 2021 year to date are about 3 percent behind the same months in 2020, before the pandemic hit.
February's total of 5,100 single family permits was slightly below February 2020 but well above the 2016-2020 February average. The same pattern held in January. Single family activity has rebounded strongly since last spring's pandemic-driven slump, as prices have risen sharply in most of the state's metropolitan areas. This was the eighth straight month in which the total exceeded the recent average for the month.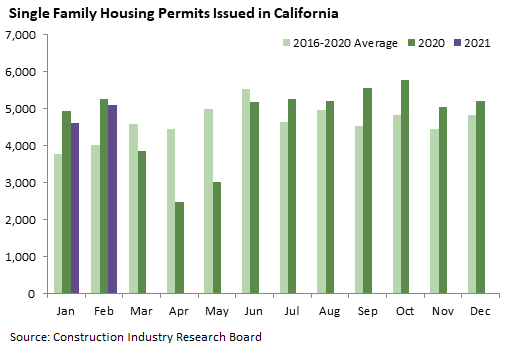 February is typically the slowest month of the year for multifamily permits, but this year's total of 2,726 was weaker than usual. Only 750 units were permitted outside of Los Angeles, Orange, and San Diego counties. This weak showing came on the heels of three strong months, and one month of data is not sufficient to conclude that the market is slowing.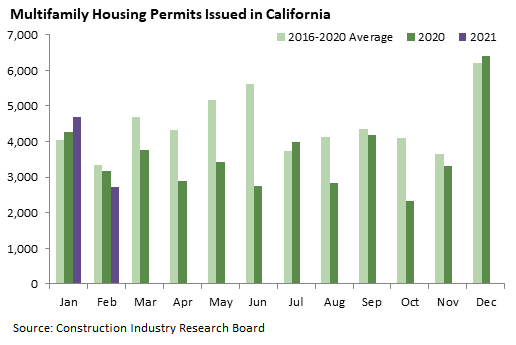 Nonresidential construction permit activity remains very weak, and the February total of $1.331 billion was more than 40 percent below the recent average for February. The commercial category recorded just $231 million of permits, the lowest figure since January 2013.