California recorded 11,824 housing permits in March, up 55 percent from March 2020, the first month of the pandemic. Total permits in 2021 year to date are 15 percent above the same months in 2020.
February's total of 6,440 single family permits was the biggest monthly total since June 2017 and the biggest March total since 2007. Single family activity has rebounded strongly since last spring's pandemic-driven slump, as prices have risen sharply in most of the state's metropolitan areas. This was the ninth straight month in which the total exceeded the recent average for the month. The Inland Empire, Sacramento, and Los Angeles areas had the most permits as usual, but the Oakland area and Orange County also posted high totals.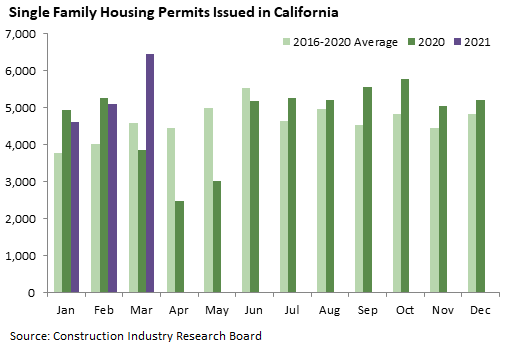 California builders recorded 5,384 multifamily permits in March. This figure is somewhat above the recent average for the month, as December and January also were. Los Angeles, Orange, San Diego, and Alameda counties posted the biggest numbers, as is often the case.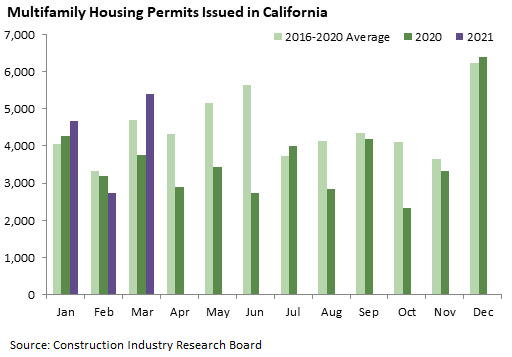 Nonresidential construction permit activity has been very weak since the pandemic started, but showed surprising life in March as total of $2.322 billion was right on the recent average for March. Nonresidential alterations surged to $1.294 billion, the biggest figure since May 2019, driven by $432 million in unincorporated San Diego County, $106 million in South San Francisco, $102 million in San Francisco, and $89 million in Ontario. The struggling commercial and 'other nonresidential' categories both posted their biggest months since August.