Near Record Low State Unemployment Rate. California's April 2017 state jobs report was released by the state Employment Development Department (EDD) on May 19. The EDD report indicated the official jobless rate in the state had dropped to 4.8% -- a near record low for California in the modern unemployment rate data series, which began in 1976.
Job Growth Slower Than U.S. Over Past 12 Months. The table below summarizes the employer survey data from the April jobs report by showing California's major employment sectors. Sectors are colored:
Green (faster job growth rate in California over the past year compared to that sector for the nation as a whole),
Black (a positive job growth rate in California over the past year, but slower than in the nation as a whole), or
Red (a decline in California over the past year).
Currently, four sectors are colored red, six are colored black (including the state's key professional and technical services sector, which contains major elements of the technology industry), and eight are colored green. As of the April jobs report, California's job growth rate over the past year lags that of the nation by two-tenths of a percentage point.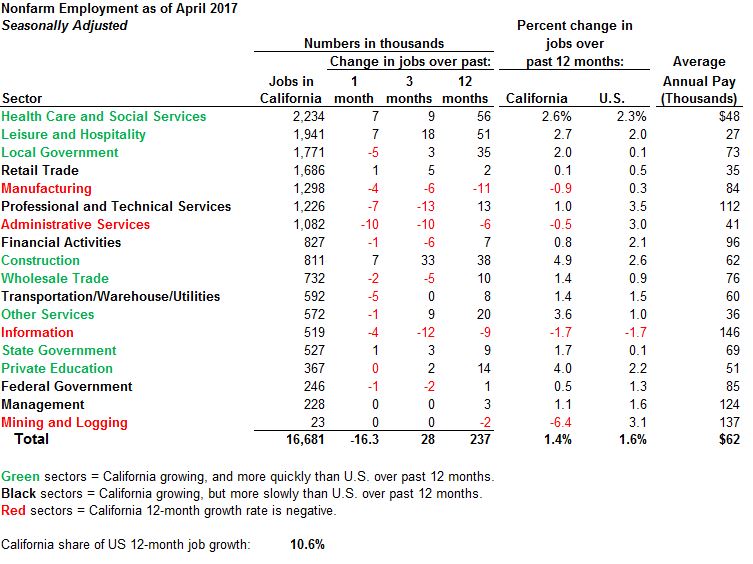 Metropolitan Job Growth. As of April, among large metropolitan areas, the Inland Empire (Riverside and San Bernardino Counties) continues to rank the highest in year-over-year job growth among California's metro areas. Over the past year, the number of jobs there has grown by 3.1%, the sixth-highest growth rate of 51 large metropolitan areas across the United States. The San Francisco-Oakland metro area ranks 21st with 2.0% job growth, San Jose 31st with 1.4% growth, San Diego 32nd with 1.3%, Sacramento 34th with 1.1%, and Los Angeles-Long Beach-Anaheim 38th with 0.9% growth. Job growth in the Bay Area, in particular, has been slowing in some recent months' data, as compared to a year ago. This is consistent with a slowing of growth in the state's important technology sector. Jobless rates in California continue, on a non-seasonally-adjusted basis, to be very low in the Bay Area (2.5% in San Mateo County, for example) and some other coastal areas (3.3% in Orange County), but elevated in many inland areas (including Imperial County at 19.2%).
Follow @LAOEconTax on Twitter for regular California economy and tax updates.