Unemployment claims are a useful indicator of the health of the state's economy. Today the U.S. Department of Labor released data on the number of unemployment claims processed by state labor departments during the week of April 19 to April 25. Below we offer some observations on these weekly claims data.
Weekly Claims Slowing Down But Remain Very High. California had 328,042 initial claims during this period. Claims have trended down consistently over the last month in after peaking at about 1 million during the week of March 22 to March 28. Nonetheless, the claims total for last week still is well above the record high prior to the COVID-19 outbreak of 115,462 in January 2010.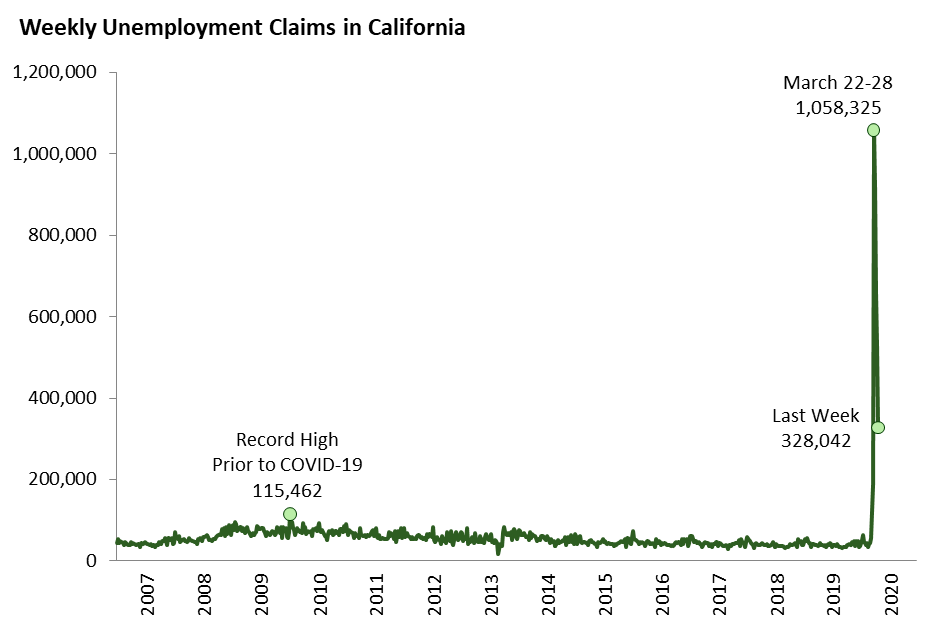 Number of Workers Receiving Benefits Actually Declined. Although initial unemployment claims remain very high, this week's report showed a decline in the total number of workers who have been granted and are receiving benefits. About 1.9 million workers currently are receiving benefits, a decline of 527,441 from the 2.4 million workers shown in last week's report. The reason for this drop is unclear. The drop stands in contrast to the pattern seen in the rest of the country, where the total number of workers receiving benefits grew by more than 10 percent.
Despite Drop, Caseload Remains Well Above Great Recession Levels. Even with the drop in active cases, the number of workers receiving benefits right now remains more than double the highest levels seen during the Great Recession. That being said, a major factor that contributed to the severity of the Great Recession is that so many people were unemployed for such a long period of time. While the current number of unemployed workers exceeds the Great Recession, it remains to be seen how long these workers will remain without work.