California recorded 9,252 housing permits in July, up 7 percent from July 2019. This was the largest monthly total this year, although it was only a hair above January which is typically a very weak month whereas July is typically strong.
The single family permit total of 5,266 was slightly above the July 2019 and June 2020 figures, and well above the 2015-2019 average for July. It appears that activity has returned to normal after the pandemic-driven spring slump.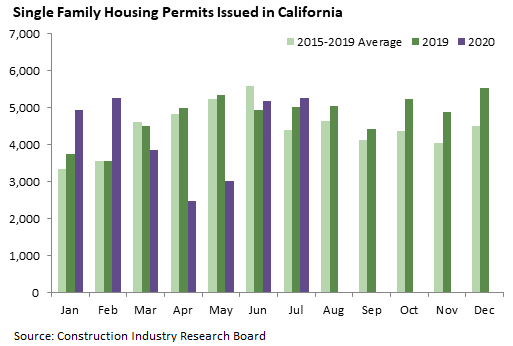 The multifamily housing permit total of 3,986 is a normal figure for July. Nearly 60 percent of the state total came from just two counties: Los Angeles, which recorded its biggest monthly total since January, and Santa Clara, which had its biggest month since 2018.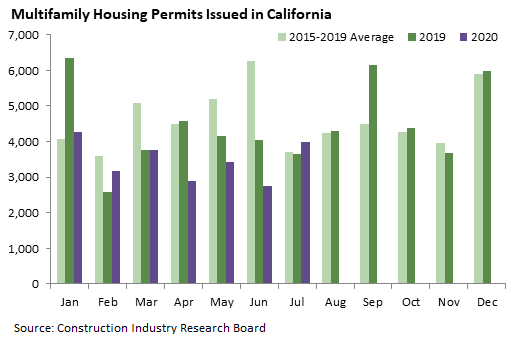 Nonresidential construction permits were slightly lower in July than in June. The aggregate permit value of $2.168 billion was well below the July 2019 figure and somewhat below the 2015-2019 average for July, although it exceeded every month in 2020 prior to June. The commercial and industrial categories were strong in July, but nonresidential alterations remain severely depressed relative to pre-pandemic levels.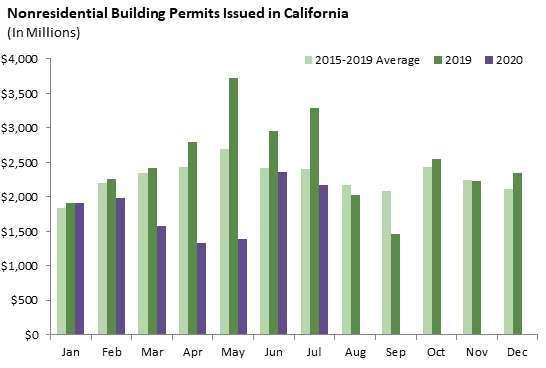 Data source: CIRB (Construction Industry Research Board), a service provided by the California Homebuilding Foundation http://www.mychf.org/cirb.html.