Today the U.S. Census Bureau released preliminary estimates of nationwide retail sales in August 2020 and revised estimates for July 2020. (The data include both brick-and-mortar and Internet sales.)
Sales Remained Higher Than Last Year. August was the fourth straight month of growth in U.S. retail sales and the third straight month in which sales were higher than last year. In particular, seasonally adjusted sales rose by 0.6 percent from July to August, making sales in August 2020 2.6 percent higher than sales in August 2019.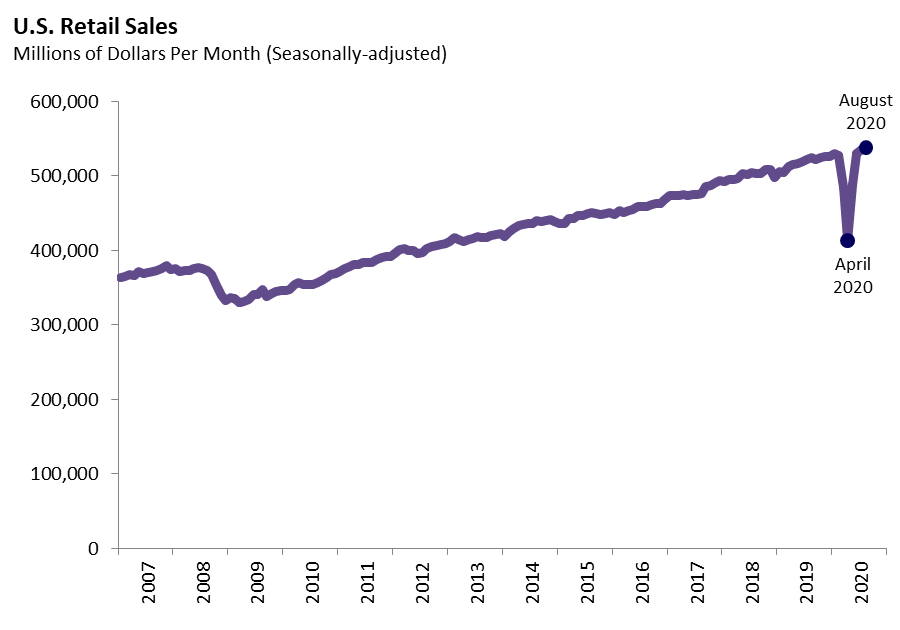 Trends by Retailer Type Continued. August 2020 sales by some types of retailers substantially exceeded last year's sales, while sales by other types of retailers fell far short of last year's sales. Many of these differences were similar to the ones we noted in June and July. For example, sales by vehicle dealers were 4 percent higher in August 2020 than in August 2019, while sales by bars and restaurants were 15 percent lower.