Our office started reporting on new business creation in California last year, as it can be a useful gauge of the health of the state's economy. Past research suggests that new businesses account for a sizable share of job creation and also are more sensitive to swings in economic conditions than older businesses. Our own analysis of business formation data in California suggests that it typically has been a leading indicator of changes in unemployment.
We have noted that Californians have been founding new businesses at an unusually rapid pace since July 2020, after most of the initial pandemic restrictions were largely lifted. This post examines new business creation by sectors of the economy. It uses national data, since sector data are unavailable at the state level.
The figure below shows U.S. Census data for the three-month average of nationwide new business creation since 2019, considering only those businesses that report having planned wages as opposed to shell corporations or holding companies. It shows that business creation dropped in the early stage of the pandemic, then surged over the summer, then dropped in the fall as the pandemic worsened. It began to pick up again at the start of 2021. While the pandemic peaked in the U.S. in January, it may be the case that the second federal stimulus passed in December encouraged a new wave of business formations.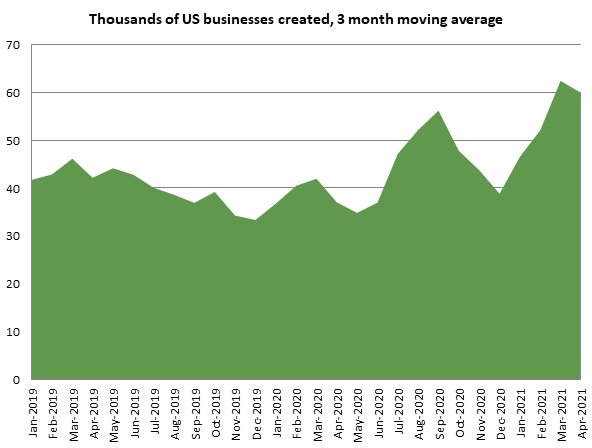 The next figure shows the same data for the five broad sectors that have created the most new businesses since the start of 2019. "Business services" contains the professional/technical and administrative sectors, both of which show roughly the same monthly pattern over this period. The retail and transport sectors show much more business creation since the pandemic started than in the period leading up to it. This may be driven in part by increased remote shopping. In contrast, the leisure/hospitality (which includes restaurants and hotels), business services, and construction sectors show more modest increases relative to 2019, and leisure/hospitality shows a big drop in the early stage of the pandemic reflecting the public health orders and associated restrictions. Despite these differences, all five sectors have followed the same broad monthly pattern over the past year, with big increases in the summer of 2020 and the beginning of 2021.