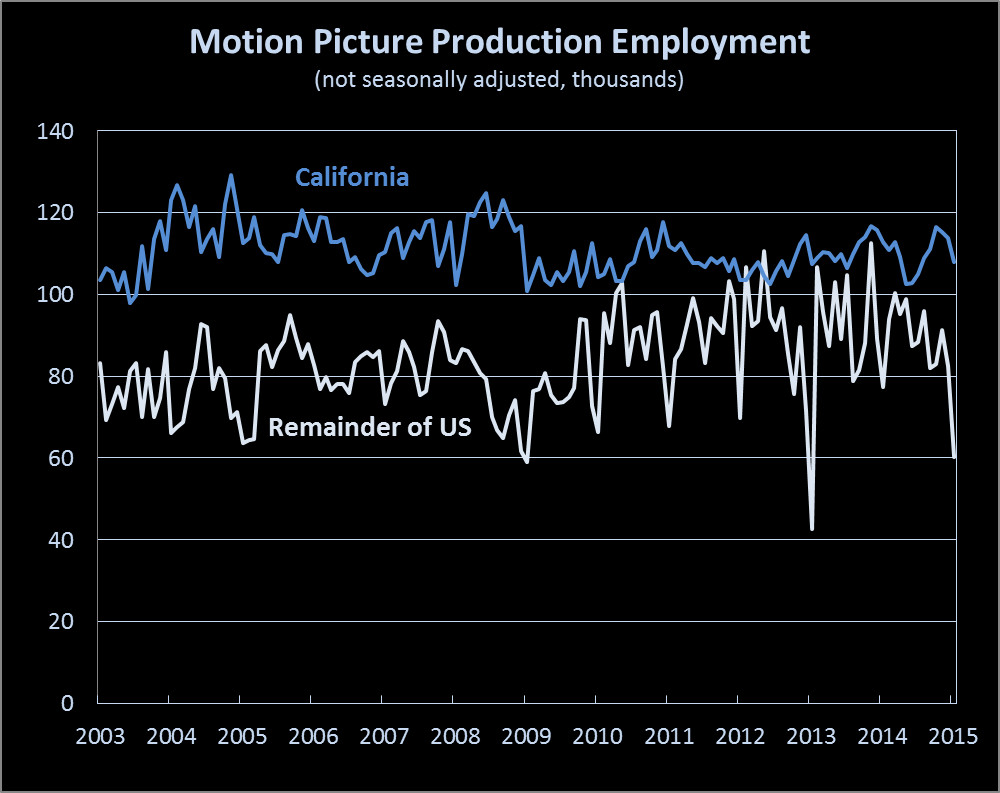 California Film and TV Production Jobs Declined in January. According to not seasonally adjusted employment data released last week by the California Employment Development Department (EDD), motion picture production employment declined by 5,800 jobs, or 5 percent, in January 2015. A December to January decline in motion picture production employment is typical; the average (for the period 2004-2014) seasonal decline from December to January is about 5 percent.
Motion Picture Jobs Also Declined Nationally. More than half of all motion picture production jobs are in California. The Bureau of Labor Statistics (BLS) also released employment data last week and not seasonally adjusted employment in this industry outside of California declined by 22,300 jobs, or 27 percent, from December to January. Motion picture production employment outside of California is far more volatile and, like California, typically experiences a monthly decline in January. The average (for the period 2004-2014) seasonal decline from December to January is about 15 percent. So in January 2015, film and television production employment declined by an average amount in California and by a greater than average amount in the rest of the country.
Film Production Job Gain Likely in February. February employment data for California will not be available until March 20, but preliminary BLS employment data for the nation suggests that the January decline will be reversed in the February data. The preliminary BLS February 2015 employment estimate for the larger motion picture and sound recording industries category shows a gain of 35,200, or 10 percent, nationally. Roughly half of these jobs are motion picture production jobs.
Monthly Jobs Data Fluctuate A Lot. We caution against drawing strong conclusions regarding long-run employment trends from month-to-month fluctuations in state and federal employment statistics. This is especially the case for employment data, such as that presented here, that has not been seasonally adjusted. Seasonal adjustment is a process whereby normal seasonal changes are removed or discounted from monthly data. Unfortunately, seasonally adjusted motion picture production employment data is unavailable for California.