The U.S. Bureau of Labor Statistics (BLS) released data on states' March 2015 job reports. (California's job report was released last week, as we discussed here on the blog.)
California Now Tied for Sixth-Highest State Unemployment Rate. Each month, BLS ranks states according to their official seasonally-adjusted unemployment rates. In January preliminary data, for example, BLS reported California had the fourth-highest state unemployment rate behind Nevada, Mississippi, and Louisiana. February BLS preliminary data showed California tied with Louisiana for the third-highest state unemployment rate behind Nevada and Mississippi. In March, California's unemployment rate fell to 6.5%. According to BLS, this means California is now tied with Alaska and New Jersey for the sixth-highest state unemployment rate, trailing Nevada (7.1%), Mississippi (6.8%), South Carolina (6.7%), West Virginia (6.6%), and Louisiana (6.6%). (The District of Columbia has a higher unemployment rate than any state.) Nebraska now has the lowest state jobless rate at 2.6%. 23 states, including California, had unemployment rate decreases from February to March, while 12 states had increases. The national unemployment rate was reported to be 5.5% in March.

Jobless Rate Down Almost Half From 2010 Peak. California's unemployment rate now has been reduced by almost half from its peak of 12.2% in October 2010, BLS reported (as shown in the BLS figure below). California's "historical low" unemployment rate (tracked by BLS in a series beginning in January 1976) was 4.7% during the late dot-com boom in December 2000. Most states' historical low unemployment rates are lower.

Sixth-Highest Annual Job Growth Rate Among States, As of March. As shown below in a BLS table, California's job growth rate over the 12-month period ending in March was 3.1% and tied with Georgia for sixth-highest among the states, trailing Utah (3.9%), Florida (3.7%), Washington State (3.4%), Oregon (3.3%), and Idaho (3.2%). As we discussed last week, California's 3.1% job growth over the past 12 months has outpaced the nation's 2.3% job growth rate.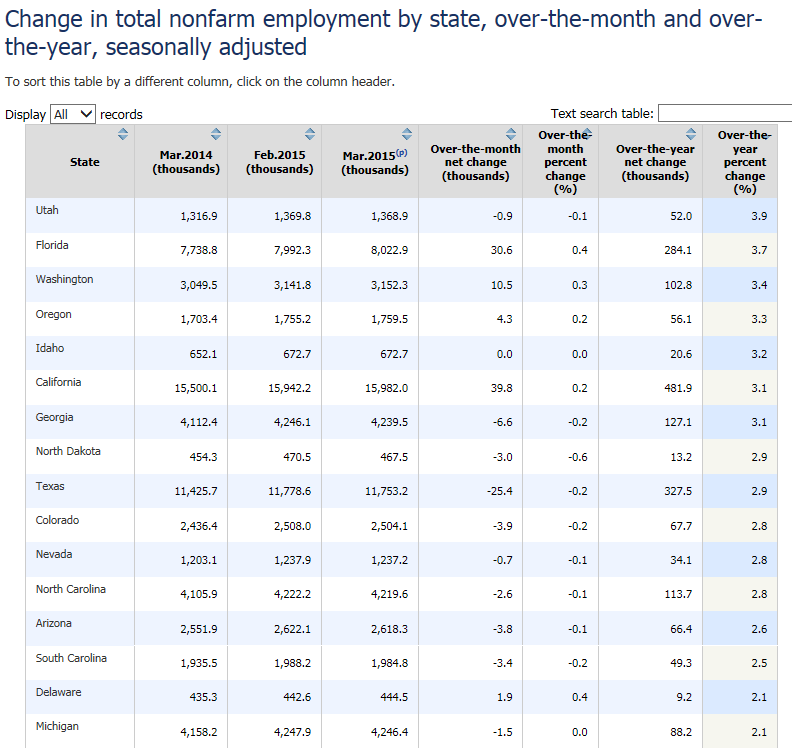 Reflecting in part its large population, California's raw amount of job growth surpassed all other states during the past year at 481,900. Texas ranked second by this count at 327,500.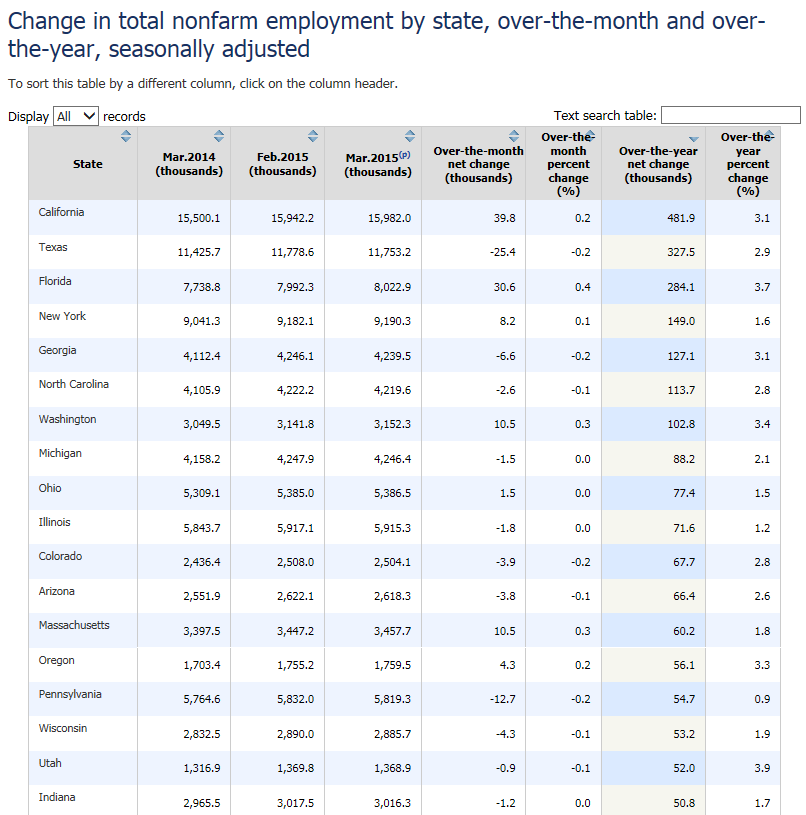 In March, according to the BLS preliminary data, nonfarm payroll employment decreased in 31 states, compared to February, and increased in 18 states, including California, which had the largest increase in raw terms at 39,800 jobs. Statistically significant nonfarm payroll declines occurred in several other oil-producing states, including Texas (down 25,400 jobs from February), Oklahoma (down 12,900), and North Dakota (down 3,000).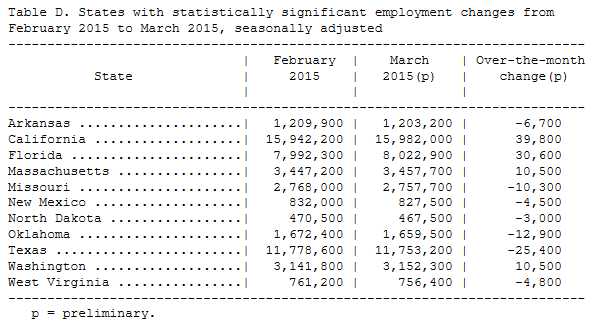 Private Nonfarm Weekly Earnings Up 2.3% in Past Year. According to non-seasonally-adjusted business survey data from BLS, Californians' average weekly hours grew slightly from 34.8 hours in March 2014 to 34.9 hours in March 2015 (for workers on private nonfarm payrolls). From that same survey data, average weekly earnings in the state grew from $957.70 in March 2014 to $979.64 in March 2015, up 2.3% over the past year. For the nation as a whole, average weekly earnings for private nonfarm payroll workers grew from $839.73 in March 2014 to $857.67 in March 2015, up 2.1%, based on seasonally-adjusted data.