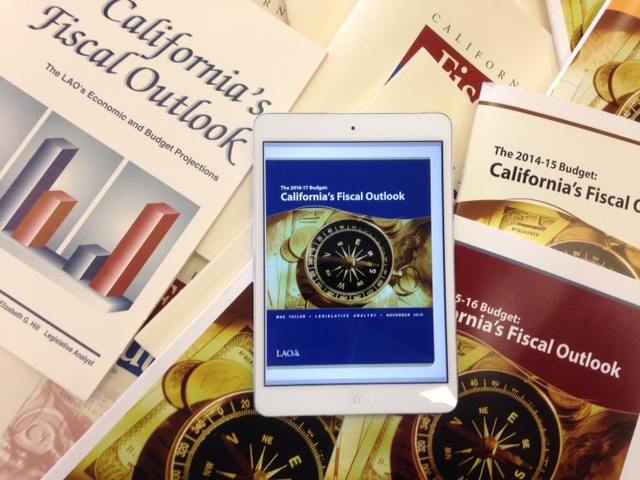 Our office's annual Fiscal Outlook publication is a major effort with contributions from all of our staff.
Fiscal projections have become a prominent part of the LAO's workload during the last 21 years since we began publishing the Fiscal Outlook. Yet, as we frequently point out to legislators, forecasting California's tax revenues and economic growth is, to some extent, an exercise in humility. Our estimates will be wrong concerning state budget revenues: the only questions are "how much" and "in which direction."
The LAO has long provided legislators with alternative revenue and economic assumptions (as shown in this excerpt from our 1955 budget analysis). In last year's November Fiscal Outlook, we considered not only a "main scenario" in which economic growth is assumed to continue through 2020, but also a "slowdown scenario" in which economic growth slows before then. In today's new Fiscal Outlook, we again display a "main scenario" and "slowdown scenario," as well as a hypothetical "recession scenario" that shows what could happen to the budget if a mild recession occurs beginning in 2017. We do not expect a recession to occur in 2017, but as we discuss in today's report, recessions cannot be predicted with precision far in advance, so it is important to consider the possibility of future downturns in budgetary planning.
Our main scenario, like most conventional economic projections, assumes continuing economic growth. Our ability to "predict" the state's economic growth declines with each subsequent year in our outlook period through 2019-20. As such, while there is a very good chance the economy will perform something like we assume in the main scenario through 2016-17, it becomes more difficult to predict the economic future with each year thereafter. That economic uncertainty explains why we display various scenarios in this year's Fiscal Outlook.
Thanks to all LAO staff who contribute to the Fiscal Outlook, especially its coordinators, Ryan Miller and Ann Hollingshead.