We have received preliminary information from state tax agencies concerning February 2016 collections of California's three largest General Fund taxes (the "Big Three" taxes). As usual, this preliminary information is subject to normal revisions and reconciliations over the next few weeks.
February Net Collections Far Above Projections Due to Light Refund Activity. As shown below, February 2016 net collections of the "Big Three" taxes were far above the administration's projections. Virtually all of the stronger-than-projected income tax results in February stemmed from lower-than-projected refunds. (The lower the level of refunds, the higher the net collections of these taxes.) Personal income tax (PIT) refunds appear to have been disbursed somewhat more slowly this year than last year, as of the end of February. As a result, it is quite possible that much of the year-to-date PIT gain will be reversed in the coming weeks if and when PIT refund activity picks up.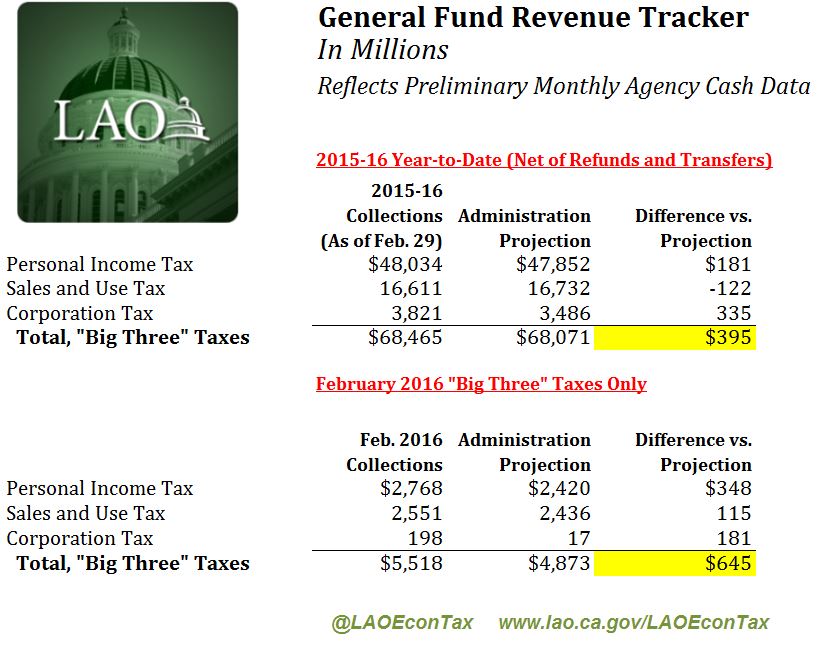 Future Uncertainties Noted. As we noted last month, recent tumult in the stock market may limit revenue collections in April and June. Moreover, as we said in January, it is uncertain when or if the high level of corporation tax refunds projected by the administration in 2015-16 will materialize. Both the administration and our office expect to release updated revenue projections in May.
To receive email notices concerning monthly revenue collections, email the LAO's Jason Sisney.
Alternatively, you can follow @LAOEconTax on Twitter for regular California economy and tax updates.