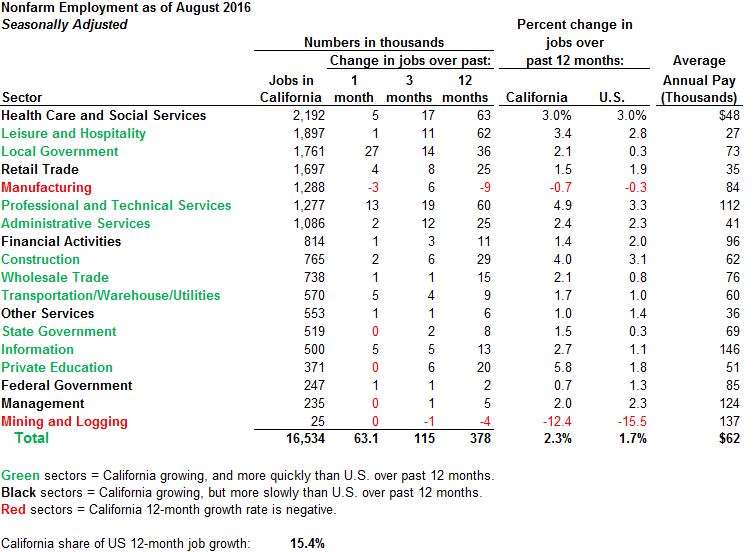 The figure above summarizes California's August 2016 statewide jobs report, which was released by the state Employment Development Department on September 16, 2016. The U.S. Bureau of Labor Statistics released additional information about state and metropolitan area employment in August thereafter.
As shown above, according to a survey of employers, California's economy expanded by a net 63,100 jobs in August, as measured on a seasonally-adjusted basis. Over the past year, jobs in the state are up 2.3%--faster than the nationwide job growth of 1.7%--which now ranks California 12th among the 50 states by this measure. The official unemployment rate for California held steady in August at 5.5%. California currently is tied for 37th among the 50 states by that measure.
As summarized in the table above, for the 18 major job sectors we track, 10 sectors (displayed in green) have grown more quickly than the U.S. as a whole over the past year, 6 sectors (black) have grown, but more slowly than the U.S., over the past year, and 2 sectors (red) saw their number of jobs decline in California over the past year. (This breakdown of green, black, and red sectors is the same as it was last month.) For the month of August itself, the most notable seasonally-adjusted job gains were seen in the local government sector (apparently school district jobs) and professional and technical services (including consulting, computer system design, architecture, and research and development). The August jobs data revised July jobs gains down from 36,400 to 18,500, including a significant downward adjustment in the July jobs data for local government.
Additional tidbits about the jobs report were posted on our @LAOEconTax Twitter feed:
Most California metro areas have higher job growth rates than the U.S. over the past year.
Of the 48 U.S. metros with the highest August unemployment rates, 12 are in California.
According to economist Jed Kolko, "the fastest job growth is in the South and West," but not California or Texas, based on his examination of data from metropolitan areas with populations of 500,000 or greater. Kolko also discussed how job growth is slowing in Northern California.
Follow @LAOEconTax on Twitter for regular California economy and tax updates.