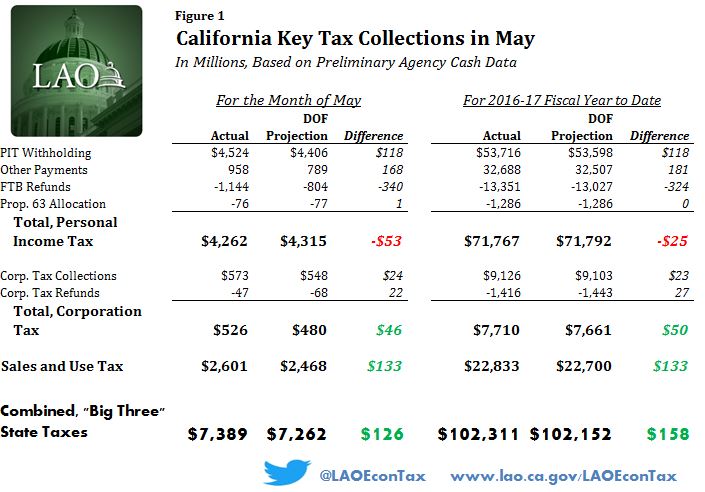 As part of the May Revision, the administration updates its revenue projections, including updates that reflect prior months' results. As shown in Figure 1 above, preliminary data show that May 2017 collections from the state's "Big Three" taxes (the personal income tax, the sales tax, and the corporation tax) came in just ahead of the administration's new projections. Through 11 months of the 2016-17 state fiscal year, the Big Three taxes are $158 million ahead of the administration's new projections, according to the preliminary data.
June is a major tax collection month for the state, including the second quarterly "estimated payments" for 2017 by high-income taxpayers and business owners (due on June 15, the same day as the state's constitutional budget deadline, with results known a few days later). Because of the volatility of estimated payments, it is always difficult to project June tax collections. As shown in Figure 2 below, variances of several hundred million dollars from the administration's June revenue projections have been common in recent years. Moreover, there may be additional uncertainties—above and beyond those of some recent years—now. On the one hand, stock prices remain high, but on the other hand, there are indications that some high-income taxpayers are delaying receipt of investment and other income to later this year or even 2018 in anticipation of a federal tax cut. It is, therefore, easy to imagine June state tax collections being hundreds of millions above or below the administration's projections.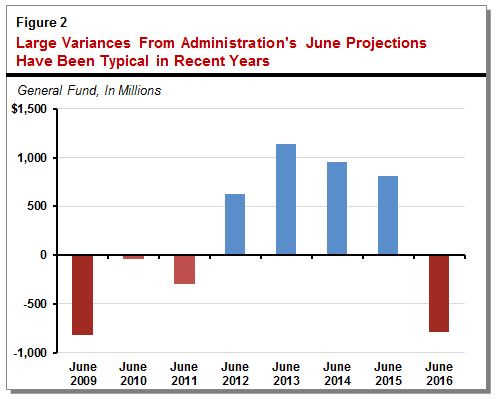 Originally posted on June 5, 2017. Revised on June 9 to include updated personal income and corporation tax data, as well as new sales tax data.
Follow @LAOEconTax on Twitter for regular California economy and tax updates.