For other reports and posts related to our November 2018 Fiscal Outlook, see here.
Home prices have a significant effect on state and local budgets. Home price growth is an important driver of growth in local property tax collections. Prices also can affect revenues from major state taxes, particularly the personal income tax and sales tax. In general, higher home prices mean more tax revenues for state and local governments.
Home Price Growth Estimates. Home prices grew at an 8 percent annual rate (current month compared to the same month a year prior) throughout 2017 and the first few months of 2018. Beginning in the spring of 2018, however, there has been less rapid growth in prices. As of September, growth had dropped to 6.5 percent. Our November 2018 Fiscal Outlook predicts that this trend of slowing will continue.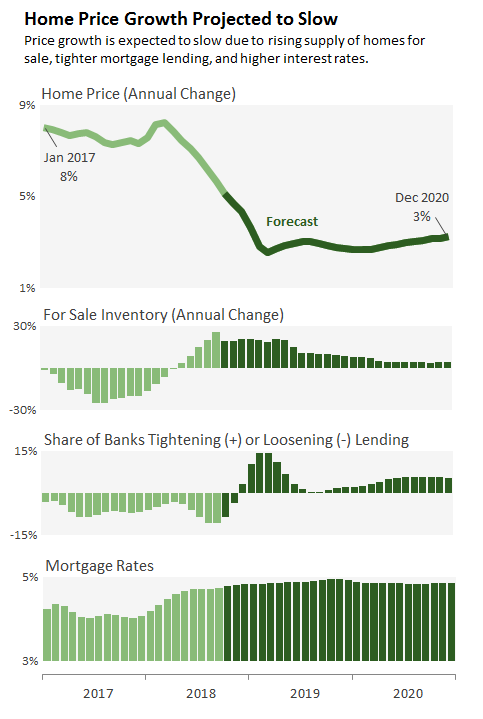 While we generally expect slowing, the trajectory of home prices during the next couple years likely will vary across parts of the state. As shown in the figure below, in some parts of the state (such as the Bay Area) home price growth in 2019 and 2020 could continue to be well above the statewide average. On the flipside, inland areas like Fresno, Kern, and San Bernardino are showing signs that their home price growth could be weaker than the rest of the state.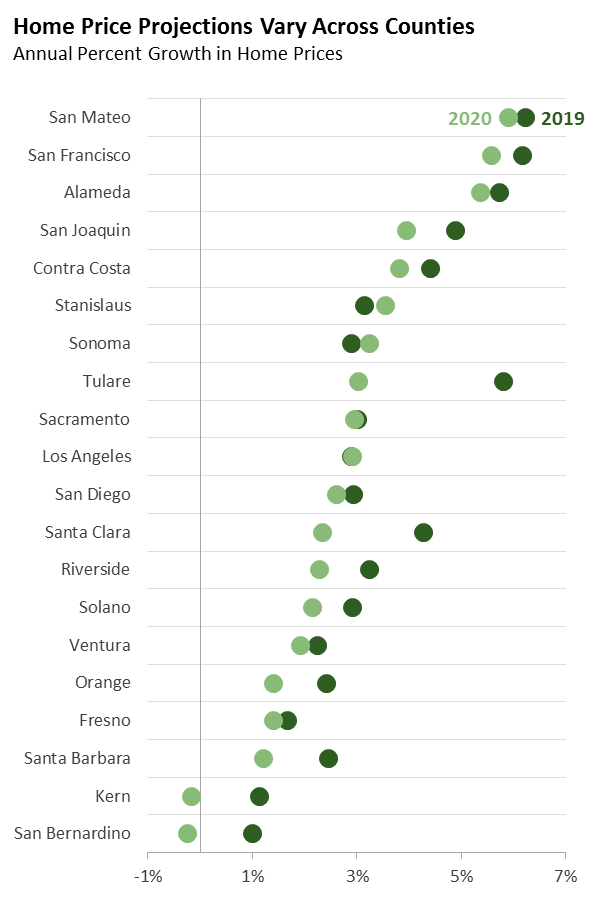 How Do We Forecast Home Price Growth? Our forecast of California's home price is an average of home price forecasts for each of the state's counties. Our method of forecasting county home prices has two main components:
Economic Model. The first component attempts to measure the relationships between home prices and other economic variables. Based on these relationships and assumptions about what will happen with the other economic variables, we estimate future price growth. For example, as the first graph below shows, price growth tends to be higher (lower) when the number of homes for sale—for sale inventory—is low (high). Recent trends in many counties suggest that inventories will rise going forward. This is turn suggests price growth will slow. Similarly, the next graph below shows that tighter standards for mortgage lending and higher mortgage rates are associated with lower price growth. The consensus of most economists is that lending will tighten and mortgages rates will continue to rise over the next couple years. This suggests slower price growth. Taken together, these factors point toward slower price growth in most counties in 2019 and 2020.
Trend Model. The second component of our forecast examines trends in home prices for each county. We then develop estimates of future price growth for each county based on the assumption that recent trends continue.
Our final home price forecast combines the results of the economic model and the trend model into a single forecast.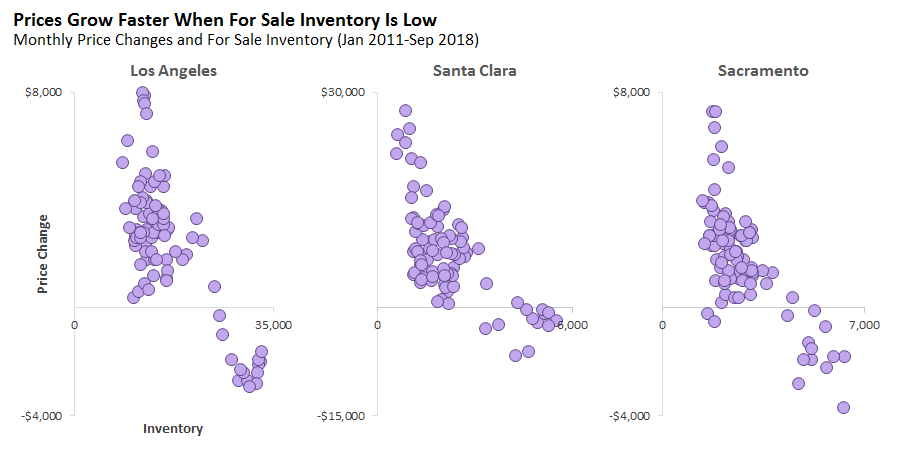 ---