California's Employment Development Department (EDD) released data last month (specifically, on July 22) concerning job growth and unemployment in California during June 2016. Solid growth in payroll jobs was reported from a survey of businesses we describe below. Based on a survey of households (the data from which can be particularly "noisy" from month to month), the official seasonally-adjusted state unemployment rate increased from 5.2% in May to 5.4% in June, as the reported size of the civilian labor force (including those actively searching for work) grew faster than the reported number of jobs in that survey.
California Job Growth Outperforming Nation in Most Employment Sectors. As summarized below, over the last 12 months, California's job growth rate in 14 of the 18 sectors we track (those displayed in green) has been both positive and stronger than that sector's growth in the nation as a whole. Overall, jobs grew in 16 of the 18 California sectors over the past year, albeit at a slower rate than the nation in retail trade and management (displayed in black). Jobs declined in 2 of the 18 sectors (manufacturing and mining/logging [which includes oil]), although California's mining sector jobs shrunk at a slower pace than that sector's jobs in the rest of the country.
California Job Growth Rate Over Past Year Ranks #7 Among the 50 States. As shown below, California's job growth rate over the past year ranks seventh among the 50 states.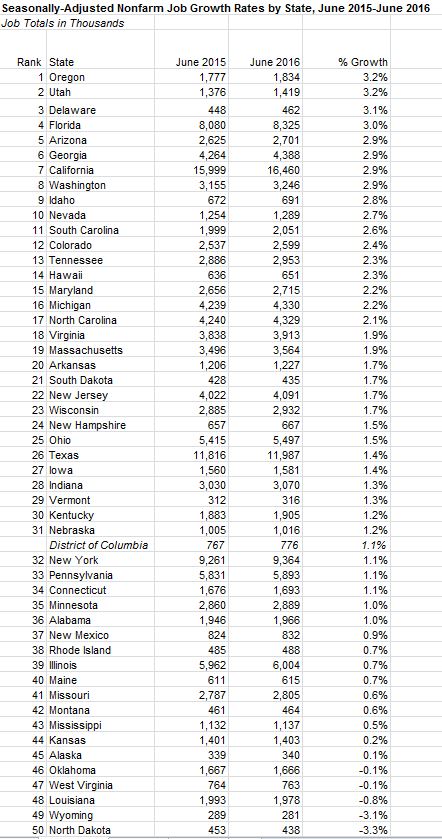 Unemployment Remains Above National Average. The official state unemployment rate as of June (5.4%) was tied with South Carolina to rank 35th among the 50 states. In other words, 14 states have higher (worse) unemployment rates than California and South Carolina, while 34 states have lower (better) unemployment rates than California and South Carolina. A number of inland metropolitan areas in California continue to post the nation's highest unemployment rates, including El Centro (23.7%), the single highest unemployment rate among the nation's 387 metro regions.
Strong National Jobs Data for July...With California Data for July on August 19. Today, on August 5, the U.S. Bureau of Labor Statistics (BLS) announced that seasonally-adjusted nonfarm payroll employment for the entire country rose by a strong 255,000 in July. The nation's official unemployment rate remained steady at 4.9%. California's July jobs data will be released at 7 a.m., California time, on August 19 by BLS, with more detail later that morning from EDD. Month-by-month state jobs data is "noisy," so a strong national report for July does not necessarily mean the California state job report for the month will be as favorable.
California's Broad-Based Job Growth. The national job expansion now appears mature and broad based across the economy, but driven more by professional and technical services (including the "tech industry") than any other major sector. California's large technology industry, therefore, is helping lead the way in national jobs growth, which is a key reason why California job growth is leading most of the rest of the nation and why the San Jose metro region has had the third-highest job growth rate over the past year among the 51 largest metropolitan areas across the country.
That being said, it is important to note that all of California's large metropolitan areas (those with a population of 1 million or more) have recorded job growth rates above the national average over the past year. In fact, when looking at the entire list of California metro areas, all but two (Oxnard-Thousand Oaks-Ventura and Hanford-Corcoran) have seen job growth in excess of the national rate over the past 12 months. Beyond the tech industry, many parts of the state are experiencing good job growth now: including more transportation and warehousing jobs in the Inland Empire, expansion of the health care industry and technology and scientific jobs in Los Angeles County, construction job growth in the Sacramento area, and growth in school employment in Fresno and elsewhere.
Follow @LAOEconTax on Twitter for regular California economy and tax updates.