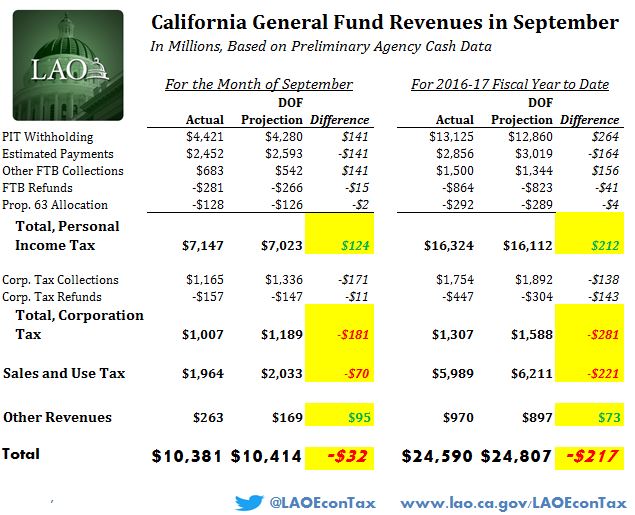 September 2016 Revenues Just Under Projections. September is a significant revenue month, and preliminary data show that net collections of California's three main state taxes came in just under projections. Personal income tax (PIT) receipts of $7.1 billion were 2% above projections. Corporation tax (CT) collections were comparatively disappointing, receipts of $1 billion coming in 15% under projections. In addition, sales and use tax (SUT) collections of $2 billion were about 3% below projections. Combined with other revenues, total General Fund revenues came in at $10.4 billion, just $32 million (less than 1%) below projections. The story is the same for the trend in the 2016-17 state fiscal year to date. Through the first three months of 2016-17, total General Fund revenues were $24.6 billion ($217 million, or about 1%, below projections).
PIT: September Estimated Payments Weak, But Not As Bad As in June. Estimated payments make September an important revenue month. (Estimated payments are quarterly payments made by individuals and businesses on expected taxable income for which there is no withholding, such as realized capital gains on sales of stocks and other assets.) Estimated payments were $2.5 billion in September 2016, about 5% under the administration's projections and about 2% under September 2015 levels. While estimated payments missed projections, they were comparatively better than in June 2016 when they missed projections by 9%. (This may be due to a somewhat better stock market picture as of this month compared to June.) Offsetting this weakness in estimated payments, withholding exceeded projections by 3% in September, suggesting continuing good growth in salaries and wages.
CT: No Year-Over-Year Growth in Gross Collections. September 2016 CT collections were well below the administration's projections, but gross CT collections (before refunds) were essentially in line with last year's levels. The lack of year-over-year growth suggests that CT revenues could be disappointing this year. State budget projections assume that gross CT collections in 2016-17 will be up 4.6% from 2015-16. December is the next important month for CT.
Continued Weakness in SUT Receipts. Preliminary data show that SUT collections in September were about $2 billion, $70 million (about 3%) under budget act projections. The poor September results follow an even weaker August in which SUT receipts were over 6% below projections. Through the first three months of 2016-17 combined, SUT collections were $221 million (about 4%) below projections.
Next Revenue Projections. Our office will produce our next set of revenue estimates when we release our Fiscal Outlook report, expected in mid-November. The administration will release new estimates in January, in conjunction with the Governor's initial 2017-18 state budget proposal.
Follow @LAOEconTax on Twitter for regular California economy and tax updates.
This post, originally released on October 6, was updated on October 11 to include sales tax data. Data for other revenues, beyond the "Big Three" taxes, were added in an update on October 18, following posting of the monthly Department of Finance Finance Bulletin.