December is a major revenue month for the state General Fund. As shown in the table below, the state's three main taxes (the personal income tax, the corporate income tax, and the sales and use tax) combined were $4 billion (28%) above the monthly target reflected in last June's state budget plan. The positive December personal income tax results could be partially offset by softer January and April collections, as some taxpayers may have made final 2017 tax payments a few months early in order to maximize deductions under the recently passed federal tax plan. (We discuss incentives for individuals and businesses to accelerate or defer income or expenses in this Twitter thread.)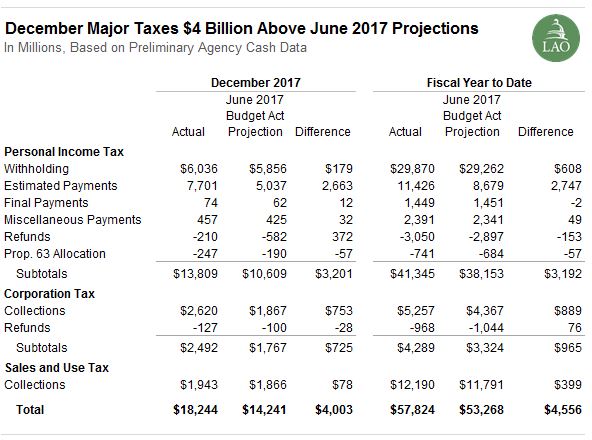 The projections above were those included in the June 2017 state budget plan. The administration released updated monthly revenue projections in conjunction with release of the Governor's 2018-19 budget plan on January 10, 2018. Future monthly revenue tracking generally will refer to these newly updated projections, not the projections associated with the June 2017 state budget.
This post was updated on January 16, 2018, to reflect information on December sales tax collections, as well as updated information on December income tax collections.
Follow @LAOEconTax on Twitter for regular California economy and tax updates.