Today the U.S. Census Bureau released preliminary estimates of nationwide retail sales in May 2020 and revised estimates for April 2020. (The data include both brick-and-mortar and Internet sales.)
Very Strong Growth in May… In May, U.S. retail sales made up most of the ground lost in March and April. Seasonally-adjusted April sales were 22 percent below February, but then sales rose by 18 percent in May.
…But Sales Still Below 2019 Level. Despite the growth noted above, May 2020 sales still were 6 percent below May 2019.
Unprecedented Monthly Swings in Retail Sales. To put these recent changes in context, the figure below displays the last 13 years of monthly retail sales. The drop in April and the growth in May were the biggest one-month changes since the federal government started publishing these data in 1992.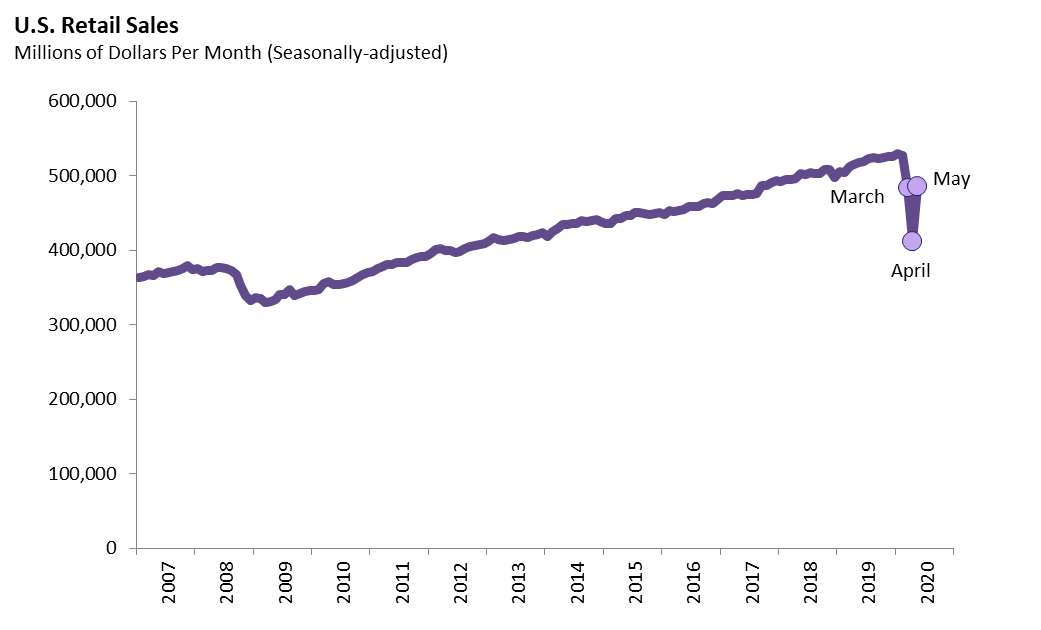 Spring Swings Hit Some Types of Retailers Much Harder Than Others. In the combined three-month period from March through May 2020, overall U.S. retail sales were 11 percent lower than in March through May of 2019. Some types of retailers fared much worse than this average would suggest, while others fared much better. At one end of the spectrum, the two hardest-hit types of retailers were clothing stores and restaurants, whose year-over-year sales were down 67 percent and 40 percent respectively. At the other end, the two types of retailers that experienced the strongest growth were nonstore retailers (for example, those that specialize in e-commerce) and grocery stores, whose year-over-year sales were up 23 percent and 19 percent respectively.