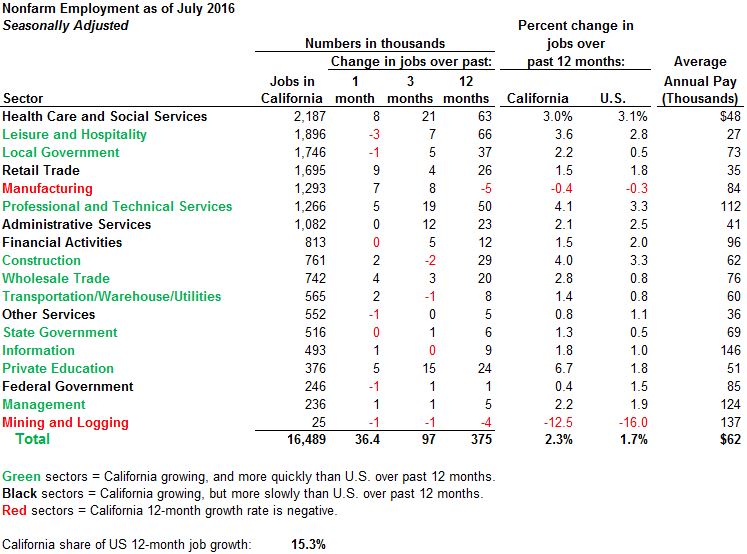 The figure above summarizes California's July 2016 statewide jobs report, which was released by federal and state labor agencies on August 19, 2016. According to a survey of employers, on a seasonally-adjusted basis, the state's economy expanded by a net 36,400 jobs in July. Over the past year, jobs in the state are up 2.3%--faster than the nationwide job growth of 1.7%--which now ranks California 11th among the 50 states by this measure of job growth. With growth in the state's labor force (those actively searching for work)--an indication of job market strength--the official unemployment rate for the state ticked up slightly to 5.5% in July: now tied with Rhode Island for 36th among the 50 states, meaning that 13 states have a higher unemployment rate now. The national unemployment rate as of July was 4.9%.
As summarized in the table above, for the 18 major job sectors we track, 10 sectors (displayed in green) have grown more quickly than the U.S. as a whole over the past year, 6 sectors (black) have grown, but more slowly than the U.S., over the past year, and 2 sectors (red) saw their number of jobs decline in California over the past year. (For comparison, as of last month's jobs report, 14 sectors were green, 2 were black, and the same 2 sectors were red.) While the "big picture" in the table above is one of less robust growth than suggested in last month's table, note that manufacturing jobs in California--while still down over the past year--reportedly grew at a respectable pace in July, with durable manufacturing jobs up broadly, led by fabricated metals, electronics, and aerospace.
Additional tidbits about the jobs report were posted on our @LAOEconTax Twitter feed:
Overall, here are our key observations concerning the state's July 2016 jobs report: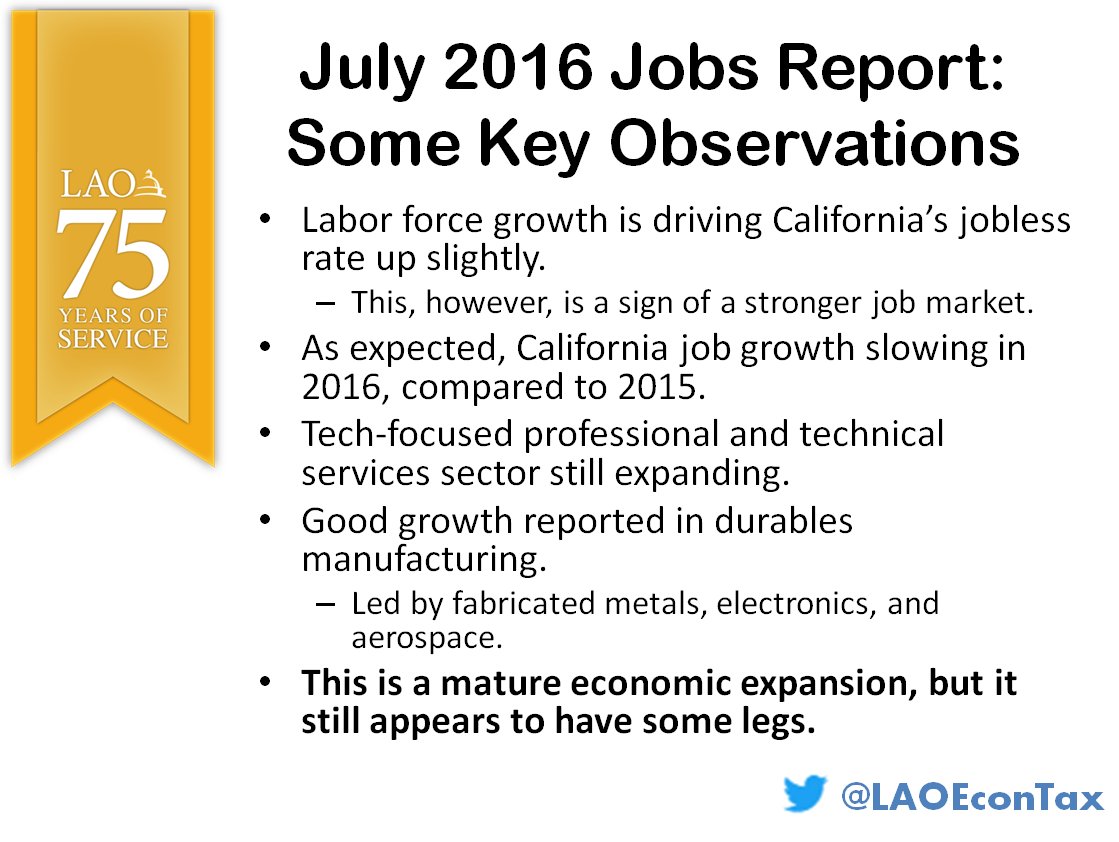 Follow @LAOEconTax on Twitter for regular California economy and tax updates.
Originally posted on August 23, 2016, this post was updated on August 31 to add information concerning metropolitan area job growth and jobless rates.