The Census Bureau is releasing a significant amount of data this week. We discussed the supplemental poverty measure in a blog post earlier this week.
Today, the Census is releasing state and local area data from its 2015 American Community Survey (ACS).
Household Income Data. The Census data shows that real California median household income grew by an estimated 4.0% in 2015, compared to 3.8% growth in the nation as a whole. As shown below, California's $64,500 median household income ranked 9th in the nation, according to the Census data, trailing Maryland, Hawaii, Alaska, New Jersey, Connecticut, Massachusetts, New Hampshire, and Virginia, as well as Washington, D.C.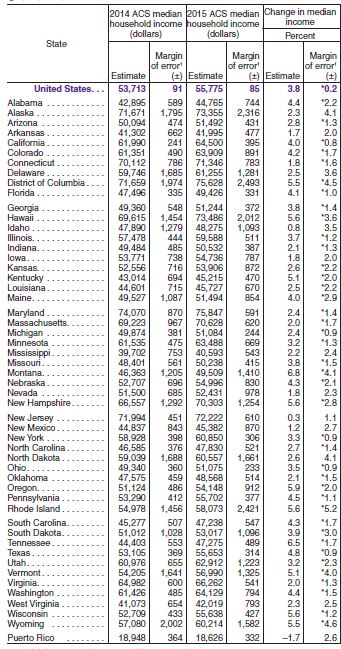 With 6.2% growth from 2014 to 2015, the growth in median household incomes for the San Francisco-Oakland-Hayward metro region was surpassed, among the nation's large metro areas, only by Atlanta's 7.1% growth. Median household incomes grew by 3.3% in the Los Angeles-Orange County metro area, 2.6% in the Inland Empire, and 1.6% in San Diego County, as shown below. The San Francisco-Oakland area's median household income of $88,518 was second highest among large metro areas, surpassed only by that of the Washington, D.C. region. (A caveat: margins of error for these estimates are relatively high, as shown below.)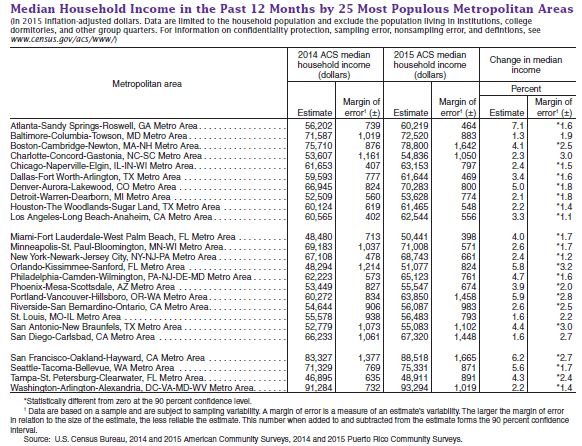 1-Year ACS Poverty Data. The Census also released 1-year ACS official poverty statistics today. These poverty statistics correspond roughly to the official poverty measure rate we discussed earlier this week, but are based on a different (larger) sample of households and use data only from 2015 instead of the three-year average of data from 2013 through 2015 in our earlier post. As we discussed earlier this week, California's official poverty measure rate does not differ much from that for the nation as a whole. In today's data, summarized below, California's 2015 official poverty rate was an estimated 15.3%, compared to 14.7% for the nation as a whole. By this measure, California's poverty rate declined by 1.1 percentage points between 2014 and 2015, representing an estimated 367,420 fewer Californians counted under this poverty measure.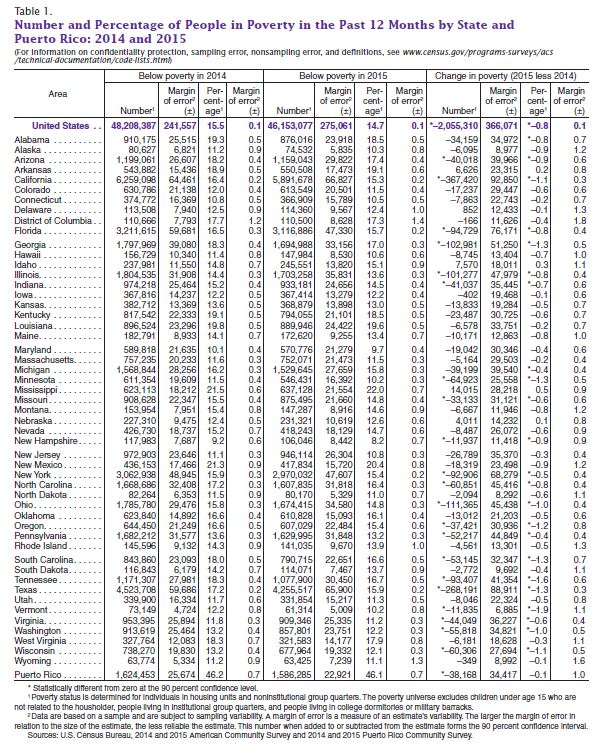 Follow @LAOEconTax on Twitter for regular California economy and tax updates.